Dorcas Anyango Muga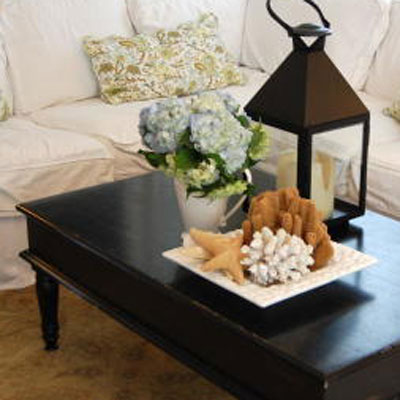 The coffee table is the centre of most living rooms, yet it is often neglected. Some homes have coffee tables choking with magazines, remotes etc., making it look cluttered and unappealing.
Since the coffee table is the focal point of your space, dress it up well to reflect your style. It may be difficult to know exactly how to style the table because it serves various purposes. Simply ask yourself what you can do with the large flat surface and the ideas will come. So, how do you create a beautiful and stylish coffee table?
Trays: A stylish tray is the best item to help you control the coffee table clutter. It adds a layer of intrigue to your table. Even wooden trays with decorative carvings will serve as functional and offer aesthetic value; you can place your beautiful accessories on the tray. What's more, the tray's flat base makes it easy to place even on an upholstered Ottoman or uneven surfaces.
Books: Books have always been used to style coffee tables; you can still do the same with a fresh approach. Creatively arrange your book underneath the table. You can also place the books in baskets and place the same on or under the table.
Sentimental items: Put something unexpected on your table. You can creatively arrange seashells or souvenirs. They will stimulate conversation with your guests. When collecting items to display on your coffee table, ensure they symbolise your interest and who you are to make the space yours.
Flowers: They provide a beautiful and colourful focal point to your space. However, it requires some flower arrangement skills and you have to always remember to replenish your vase. How about trying a potted plant instead? Its staying power is an added value. If your room is dull, the flowers will liven it up.
Candles: They are a good alternative to flowers. Place a large candle in a glass hurricane and put it on the coffee table; it brings some comfort and a calming effect to the room.
Scale and height: A stylish coffee table will have accessories of varying height and scale. Books, bowls, and sculptures provide visual interest to your space. Try and use items of varying height to give your table interest and flow. A good example to add height would be the traditional way of stacking items like books on top of each other then add candles or a flower vase.
Colour scheme: Limit the colour scheme on your table to two or three so that it does not look overwhelming.
Do not, however, fill the entire table surface; leave some room for putting up your feet and placing your cup of coffee.
Photo: Courtesy