Naomi Mruttu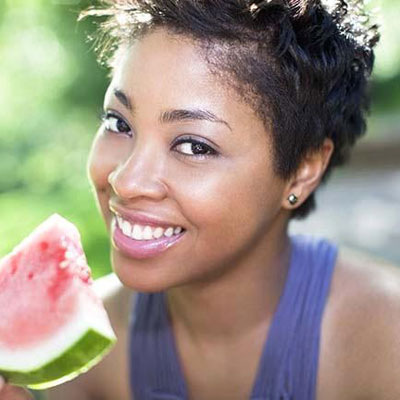 All the popular, expensive skin-care products contain fruit extracts such as alpha hydroxy acids, vitamin C, vitamin E, enzymes and various antioxidants. So why not try the original item? Fruits are readily available and great for your skin.
The only caveat is that you should not do it more than two or three times a week.
How to do it:
When at home eating fruit, rub a little all over your clean face. Leave it for ten to 30 minutes and rinse off. It is that simple. This does not even qualify as a facemask — just placing some of the fruit's natural juice on your skin. It works for a huge array of both fruits and vegetables, including but not limited to this list:
Citrus: Tangerines, lemons, oranges, limes and pineapples. You can use the fruit itself or the juice, or just rub the rinds on your face. Citrus should only be left for a maximum of 15 minutes. Avoid the sun for a few hours after doing this, as it can make your skin sensitive to the sun. It can also lead to skin lightening if used excessively. Citrus fruits are highly recommended for oily and acne-prone kin as well as skin with a lot of dead cells. Avoid if you have cuts, scratches or broken skin.
Berries: Grapes are excellent for ageing skin. Mulberries, strawberries and gooseberries are good for all skin types but especially for acne.
Fruits: Apples, mangoes, pawpaw, bananas, tomatoes, guavas and pears are great for the skin.
Melons: Watermelon and Sweet melon are very hydrating for dry skin and good for age spots.
Vegetables: Eggplant helps with moles and is high in antioxidants. Avocado works well for dry, stressed and ageing skin. Pumpkins and raw potatoes are amazing for acne and oily skin. Cucumber is ideal for sensitive and dry skin. Onions are effective on acne and oily skin.
This has to be done on clean, make-up free skin. For example, when you are eating a pear or an orange, slide a slice around your face, leave it on for a while, rinse and pat dry. If you wear make-up daily, try to do this early in the morning before you get ready. Slice your normal fruit and put a little on your face. Finish eating your breakfast and wash it off. Try it and see the magic.
Photo: www.vibevixen.com