Margot Carmichael Lester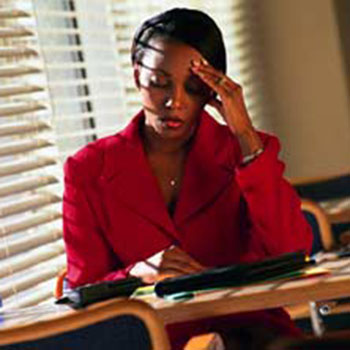 Rejection can be tough but can be dealt with. Photo: Girlsocial
You've been sending out resumes like crazy. Maybe you've even gotten a few interviews. But at some point, you realize that no news isn't good news. You've been rejected. Dealing with the challenges of a job search are never easy, but dealing with rejection doesn't have to tank your morale.
Process Your Emotions
It's only natural to feel angry or frustrated when you're working so hard to find a job and meeting with so much rejection. "Anger usually results from being hurt or experiencing a threat to one's self-esteem," says Lisa Kappesser. "Pinpoint what event and thoughts are creating the feeling of anger. Is it realistic? At the same time, vent and express the anger in an effective way. Exercise, cry, take a bath or shower, listen to music, write, and talk with a friend or partner to express the anger and understand it." Getting over it will help you move forward more constructively.
Exercise
Though you may not feel like it, hitting the gym or getting outside can help you feel better, especially after you get a rejection letter or call. "It takes about 20 minutes of exercise for the endorphins to start being released in your body," says Richard Deems. Endorphins are natural pain and stress fighters produced by your body. The activity will help you clear your head, expend some energy and recharge for the next round.
Regain Perspective
Heading to the great outdoors also improves your perspective. "Go to places that are bigger than life such as the ocean or the mountains or the desert," suggests Dennis Grindle. A change of venue will help you shake off some of your malaise and get you out of your own head for a while.
Volunteer
Volunteering is a great way to deal with rejection. First, Grindle notes, this kind of work helps you "see how much you have to offer and how much more you are valued as a human being versus as a worker performing a certain job title." You'll be doing productive work that's rewarding, which is good for your ego. And it's a great way to hone your skills, learn new ones and make valuable additional contacts.
Work Your Network
Though talking to more people about your search may feel like you're opening yourself up to even more rejection, it's actually a great way to deal with your feelings. Business coach Debra Condren, suggests asking friends and colleagues if they know of any job opportunities or industry networking events you should attend. "Don't forget to ask the most important question of all: 'Can you recommend one or two other people I should contact who might have leads?'" she says. It's also helpful to reach out for emotional support, says leadership consultant Steve Ford, "Have a couple of friends with whom you can share your frustrations," he says. These could even be others who are looking for work and share your same struggle.
Consult an Expert
"It goes without saying that you have to keep positive and persistent, but at some point, you also have to get proactive and discover what factors may be keeping you in the rejection pile," says Ursula Furi-Perry. "Is your resume formatted or worded awkwardly? Run it by a career coach, trusted advisor or colleague for a critique. Are you making it to the interview stage but no further? Practice your interview skills with someone who can honestly and clearly evaluate your presentation and presence. Are you applying for jobs that are not the right match for your skill set and qualifications? Reevaluate your job search strategy and perhaps expand your options."
Rejection hurts, but following this advice will help you make sure it doesn't derail your job search.
Source: Monster.com