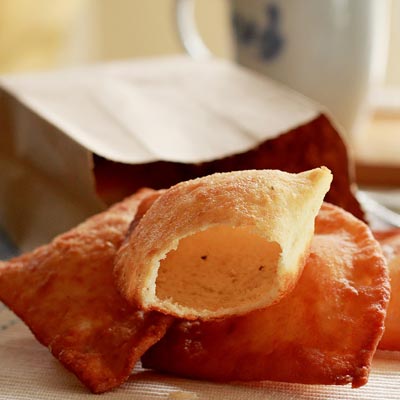 Preparation time: 30 minutes
Cooking time: 20 minutes
Ready in: 1to 2 hours.
INGREDIENTS:
• 3 cups all-purpose flour
• 1 level teaspoon dry yeast
• 1 tablespoon margarine
• 1 egg
• ¾ cup sugar
• 1 cup coconut milk
• ½ cup milk (optional)
• 1 teaspoon cardamom powder
• Salad oil for frying
INSTRUCTIONS
1. In a glass bowl, mix eggs, milk, margarine, coconut milk, cardamom and sugar until it is smooth.
2. In the mixture, add flour and knead into smooth and elastic dough.
3. Divide the dough into four to six potions, then set aside. Cover with a kitchen cloth and leave in a warm place to raise for one to two hours (if the dough is not elastic enough, add some all-purpose flour).
For More of This Stories Subscribe to the Standard Epaper to get a copy of Eve Woman in the Standard
4. Lightly knead the dough and roll out (rolling must be done in one direction) to ½ an inch thick. Cut into triangle shapes.
5. In a deep frying pan, heat the vegetable oil until it is hot.
6. Deep fry the triangle-shaped pieces until golden brown on both sides.
7. Drain on a kitchen paper, sprinkle lightly with icing sugar then serve.
Do not miss out on the latest news. Join the Eve Digital Telegram channel HERE.