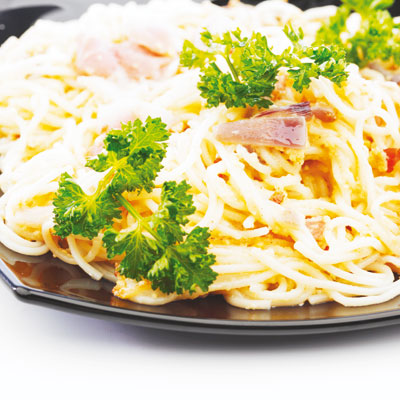 Serves 4
ALSO READ: Easy recipe: Sticky capsicum wings
Prep Time: 5-10 minutes
Cook Time: 15-20 minutes
Ready in: 20-30 minutes
Ingredients
• 2 tablespoons vegetable oil
• 1 large onion, sliced
ALSO READ: #EasyRecipe: Calamari pasta
• 1 clove garlic, crushed
• 1 cup ham, sliced
• ½ cup chicken stock
• 300ml cooking cream
• 250g spaghetti cooked, (aldante)
• 1 bunch dhania, chopped
• Salt and pepper to taste
ALSO READ: Easy recipe: Tuna ratatouille
Directions:
1. Heat oil in a deep frying pan.
For More of This Stories Subscribe to the Standard Epaper to get a copy of Eve Woman in the Standard
2. Add the ham and cook until brown, not crisp.
3. Blend in the chicken stock and cream and bring to boil. Reduce the heat and 4. simmer until it begins to bubble and thicken.
5.Season with salt and pepper, stirring constantly and let simmer for 20 seconds.
6. Stir in the cooked spaghetti and the chopped dhania.
7. Sprinkle some grated cheddar cheese on top and serve hot.
Do not miss out on the latest news. Join the Eve Digital Telegram channel HERE.