Joan Barsulai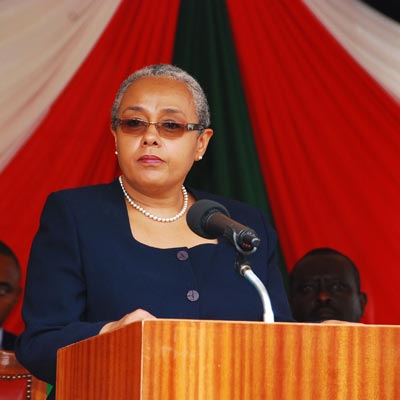 Margaret Kenyatta, Kenya's First Lady, embraces a digital outlook to her public life. The initially unusually shy First Lady has stepped out into the limelight, using her platform to advocate for issues that affect ordinary Kenyans. A humble, soft-spoken lady, she has taken on a different perspective from what we have seen from previous first ladies. Mama Ngina was discerning and colourful, while Lena Moi was largely absent from the public eye. Lucy Kibaki, on her part, was always in our faces, and was never shy about speaking her mind.
ALSO READ: President Uhuru Kenyatta issues directives on increased cases of gender-based violence
Described as a very private person, little is known about the First Lady, a daughter to former Kenya Railways Managing Director Maina Gakuo. She attended St Andrews Turi and Kianda School. Margaret and President Kenyatta met in Mombasa and soon became best friends. They married in Nairobi in 1989 at Holy Family Basilica, and have three children.
She was greatly instrumental in President Uhuru's campaign, and has been a constant by his side during the Hague trials.
Margaret has also used her platform to advocate for issues close to her heart, including HIV and Aids, cancer, education, and also championing Kenyans to save elephants.
Last year, she launched a relatively popular online anti-poaching campaign dubbed "Hands off our Elephants" whose objective is to educate Kenyans and the world on the need to conserve the elephant for posterity. She has adopted a baby elephant. Her aim was to expose the brutal ivory trade and its effects on Africa and Kenya's elephant populations. "If there aren't any elephants left in the wild, it would just be heart-breaking. That you would have to go to a zoo elsewhere to look at an elephant would be heart-breaking," she posited.
She has taken on HIV and Aids, by pledging to wage a vigorous campaign against the spread of the scourge, and to conquer stigma and discrimination against people living with the disease. In her most visible and rigorous campaign yet; she has launched 'Beyond Zero' which seeks to raise funds to help minimise HIV and Aids, child and maternal health challenges. The campaign has so far received Sh33.4 million from individuals and organisations.
The campaign is packaged as a First Ladies Marathon, and will cover a distance of two kilometres. Margaret speaks about this cause with great passion. "I am a mother to three lovely children, and I can say without hesitation that it is unbelievably moving to hold your healthy baby in your arms. Yet many women may never get this… We will run to keep mothers and newborns alive and healthy. I will run until we go beyond zero."