Anne Anjao-Eboi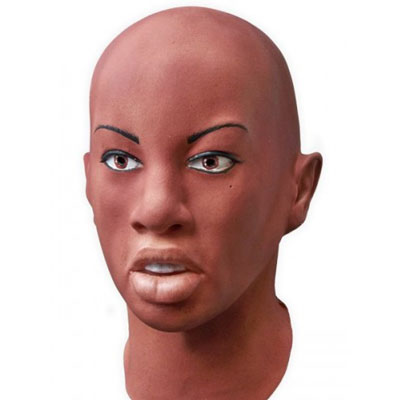 Plastic smiles. Plastic faces. Plastic beings. They are in abundance, aren't they?
ALSO READ: Women share with and without make-up photos as they ditch beauty products in lockdown
Do you know everyone you interact with on Facebook? Lonely women, young and old, put up profile pictures of young beautiful women, pretending to be something they're not in order to get attention they so longingly crave. Mask wearing!
A friend was recently recalling the naïveté of the years when movies were hard to come by. Those were the days when mobile cinemas arrived at the village playground or social hall in style. Excitement filled the air as people waited patiently for the instruments to be set up before the show began. And what a show: Action, action and more action!
There was always an extra-powerful man with the supernatural ability to slay up to 50 men, not using a gun but by physically fighting them. And there was a villain who made life miserable for everyone else, so much so that our hero needed to silence him with one momentous, fatal blow.
Satisfaction
When the film ended, moviegoers would nod in satisfaction, and discuss the great moves that had brought down the most brutal person on earth. And they would look forward to the next show.
A month later, they would gather at the same venue, and the movie would not disappoint. But wait a minute: Is that not the villain from the previous movie? The one who was killed? What is a dead man doing in another movie? Hard as it may be to believe, these people had no idea that actors could be one thing now, and something else the next minute.
Just like these actors, we, too, wear masks. Young people, for example, will wear the mask their teacher want to see in the classroom. That is why some teachers are shocked to learn that the seemingly nice, innocent-looking student organised a strike.
ALSO READ: A quick fix to your face mask fogging up your glasses
Masks are also in abundance in places of worship, from members of the congregation to the leaders. People smile sweetly during the service but unmask soon after, either in words or in deeds. We will hug and warmly shake hands, telling someone how we have missed them, only to pour vitriol against this same person moments after they leave.
Emptiness
It is not all gloom though. God delights in helping people remove their masks. In doing so, He not only helps us see ourselves as we are, but reveals to us all that we can be, and the joy found in being genuine. He knows the emptiness and loneliness that envelop a mask-wearer and the confusion and deception caused by wearing masks.
There is freedom in living a life without masks. If our motives are clean, we will see other people as God sees them and we won't have to wear faces that don't match our genetic dispositions, faces that deceive or faces that bring more harm than good.
Listen to what the Lord says: Let your yes be yes, and let your no be no. The mask looks ugly on you; do away with it, and fast!
Photo: www.masks-online.com
ALSO READ: Women in Laikipia produce face masks, sanitary pads for girls amidst COVID-19