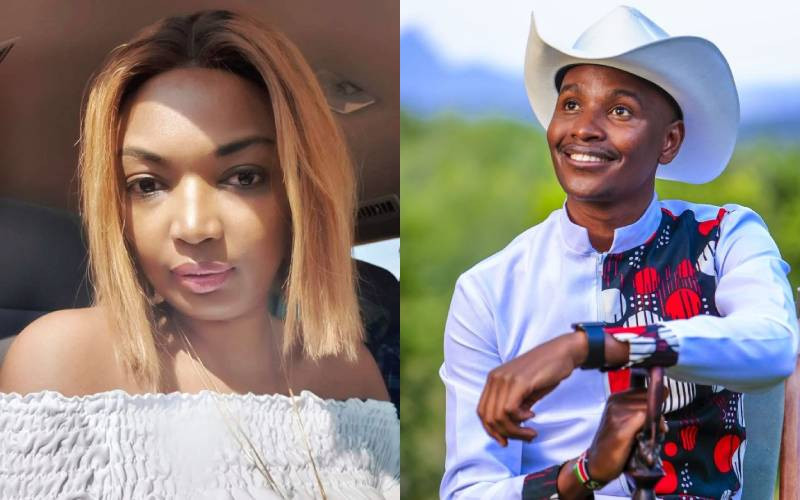 Nominated Senator Karen Nyamu has put to rest her relationship with Mugithi singer Samidoh.
Through her Instagram, Nyamu told her fans she made a "conscious decision" to end her involvement with the father of her children following an altercation in Dubai.
"Great and powerful women will attest that many times our weakest link is the men we get incloved with. I am stopping this pattern, "wrote Nyamu.
Nyamu's remarks came a day after a video where she was seen causing drama at Samidoh's concert in Dubai on December 16, 2022, went viral on social media.
In the video, Nyamu walked up to a table where Samidoh was having drinks with his wife, Edday Nderitu, and attempted to sit on the singer's lap.
At this point, Edday confronted Nyamu as she tried to get hold of her husband. Security personnel quickly intervened before a visibly tipsy Nyamu was escorted out.
In a separate clip, Nyamu was seen dancing on stage as Samidoh and Akorino singer Karangu Muraya entertained revelers. Still, she was swiftly asked to get off stage after a mini altercation.
Speaking on the incident, Nyamu said she had no regrets about how the events played out but promised never to be involved in such a situation.
View this post on Instagram
However, Nyamu acknowledged making the breakup a public scuffle instead of ending things privately.
"I know I could have called him and ended it quietly but I decided to make this as public as the drama and controversy has been," wrote Nyamu.
"I am a good woman, a good person. I'm not the woman the bouncers ordered to throw out of the stage, "said Nyamu, adding, "I don't love drama and I don't wreck homes. I am however still open to finding a great co wife in future."
In November, Nyamu, while responding to a fan on social media, boldly declared that Samidoh is worth fighting for.
The pair, who have two children, started going out in 2019 after Nyamu stated that she did not know the singer was married.
She further added that Samidoh told her his wife knew of the affair, which led to the birth of their son in December 2020.
Nyamu denied claims she was a homewrecker and said she has nothing against Edday.
"I don't think I confused Samidoh. We met at a political event that he was performing at, and we became friends. I didn't know Samidoh was married because he was not even wearing a ring. I came to know after being his friend for around four months…. I am not making excuses. These things happen; a lot of women live this life.
"The only thing I have a problem with is people thinking I am a homewrecker – that I was doing things to compete with the wife and all that," she said during a previous interview.
Related Topics