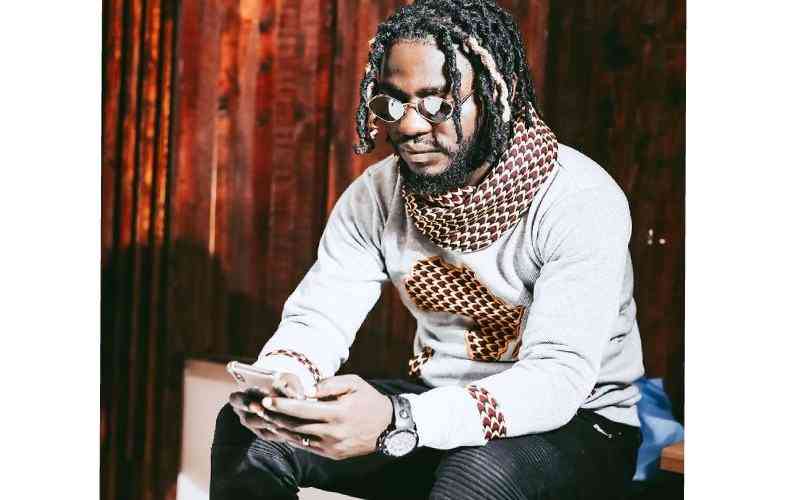 Unlike rappers and singers who are in our faces every day, there is a group of creatives who don't get much appreciation; the songwriters.
The majority of singers across all genres work hard to write great lyrics and memorable tunes. In many cases, they get all the credit. Little is said about the songwriters who are the brains behind most hits.
The art of ghostwriting has seen some creatives take it up as a career, where they write for established artists.
It is not every day that we hear about Kenyan creatives landing A-list projects on an international scale but when it happens it is worth celebrating. A few months ago, Kenya's Kaycyy Pluto was in the limelight for writing some songs for Ye's album Donda. The Kenyan-born rapper won a Grammy for his input. The tracks he co-wrote were Hurricane, Praise God and 24.
In 2020, Kenyan R&B/Neo-soul star Xenia Manasseh scored writing credits for Teyana Taylor's 2020 project The Album. Manasseh was credited for co-writing Shoot It Up that features Taylor and Big Sean.
Late last year, Bensoul and Sauti Sol celebrated becoming Grammy Award-winning songwriters after Nigeria's Burna Boy won Best Global Music Album. They were credited for their contribution to the Twice as Tall album.
Locally, we only celebrate songwriters after their success. They are often not credited enough for their work. Some are barely even known. Experts say songwriters could soon change the local music scene.
In the Kenyan context, we look at some of the acknowledged songwriters behind the pen.
Pitson
The gospel singer who was recently ordained as a Reverend is an ardent songwriter of our generation. Famed for his hit single Lingala Ya Yesu, Pitson has written some of the major hits that have rocked the airwaves. The Nisaidie hit maker has a fair share of covert scribbling for the likes of Daddy Owen, Size 8, Makena, Laura Karwirwa and Mercy Masika.
His success led him to start Pitson Pen and Paper, a song writing company.
Bien-Aimé
Bien-Aimé Baraza is a vocalist, songwriter and guitarist. His style of singing is soulful and his songwriting skills are celebrated by many. He has occasionally written songs for other artistes like Elani, Amos and Josh and Wendy Kimani.
Mr Vee
Venanzio Githae is a gospel crooner with an enchanted pen and although he has not been celebrated much as an individual artiste, he has penned unfading hits. He wrote Mercy Masika's evergreen hit Mwema and the follow-up Nikupendeze. His works include Soldier, V.I.P, Fundi wa Mbao with Gospel Fathers and Just A Way, a collabo with the late Kaberere.
He also wrote most of Kenty's songs when he left the group MOG, with the most notable one being their collaboration with Subira. So far, Mr Vee has worked with established artistes like Daddy Owen, Mercy Masika, and Janet Atieno.
Josh
Josh is an Afro-pop singer, songwriter and one-half of the popular duo - though now split - of Amos & Josh. He is famed for writing most of their songs when they were still together, including their collaboration with Calvo Mistari as well as Baadaye featuring King Kaka.
Bensoul
The phenomenal artiste is arguably one of the best songwriters of our time. His music style is a fusion of The Caribbean and Afro Pop. The producer/multi-instrumentalist plays bass, acoustic and electric guitars, keys, drums, and violin. He has written songs for a host of top African stars including Kidum, Alikiba, Nyashinski and Mercy Masika.
Nviiri the Storyteller
The singer-songwriter, guitarist, performer and video editor signed to Sol Generation Records co-wrote Melanin. Nviiri has been celebrated as one of the most authentic songwriters with an unmatched talent.
Moji Short Babaa
The short bearded funny man of what used to be Kelele Takatifu is also the brains behind massive hits. He has written and co-written the former group's singles and their album Ndoto za Kupaa, which was released in 2015. He is also behind Mr Seed's hit Kumbe, in which he features Bahati. Short Babaa also co-wrote Ben C's and Nduati's Hatudai, co-wrote Christ Cycoz's Some More and most of the songs in their album Cycology and DK's song Kwa Yesu Sawa.
He has also written Shani Sintamei's Chocha and Masterpiece's award-winning Chini ya Mwamba, Nimekubali and Confidence among many others.
Konkodi
The former shisha seller, born Noah Nganga, is not only rapper Bon-Eye's protégé but a good writer on the down-low. During the 'Who is the illest' femcee battle, Konkodi co-wrote Conoka, a diss track aimed at settling scores between Njeri and Femi One. In 2019, he set off on a project that birthed Femi One's Hiyo One.
Brian Nadra
Brian Nadra is a fast-rising Kenyan artiste signed under Musyoka's record label, Decimal Records. Off Jack Rooster's album Nyumba, Nadra is the brain who penned down the hit Complicated.
Rigan Sarkozi
He is talented in both singing and songwriting. He previously sang secular songs before switching to gospel music. He has written some of Daddy Owen's and the late Papa Dennis', a notable one being Olala, which he co-wrote with Dennis.
Boss MOG
The singer is not just talented vocally, but also pens the most poetic lyrics. The biggest beneficiary of his brilliance might be Vivian. Most of her tunes are written by him from Teren Teren, Attention, Charm and Chum Chum. He has also written songs for Santorini Bae, formerly known as Syd. He also wrote the last project that he did with Kenty as MOG Tosheka and dropped some verses in Size 8's Vumilia as well.
Related Topics