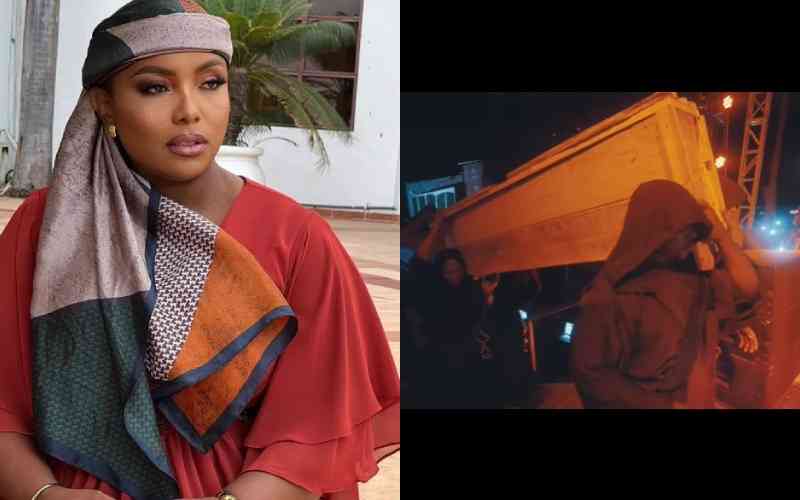 Renowned Tanzanian gospel singer Christina Shusho has opined on Diamond Platnumz's recent 'coffin stunt' as he entered the stage during the Wasafi Festival in Ruangwa on Sunday, September 10.
Speaking moments after landing in Kenya for a short tour, Shusho said she had not been following the performance due to her busy schedule but knows Tanzanian artistes are creative.
"I have not been following recent developments on that because I have been busy but I also appreciate the fact that musicians are creative and often think outside the box.
"Tanzanian artistes are very creative…I do not have an issue with creativity," she said.
Diamond's entrance in a coffin left fans divided as some felt he had gone overboard.
The audience, however, seemed thrilled as the Yatapita singer came out of a casket surrounded by 'grim reapers'.
He later admitted he was a bit scared, describing the experience as 'insane'.
"Coming out from the Coffin was an insane Experience last night, was scared as **** in there!" said Diamond.
View this post on Instagram
He is not the only artiste to pull this stunt. In 2014, Nigerian singer Kelly Handsome arrived for a show in Owerri in a coffin and he later jumped out to begin his performance.
In 2022, another Nigerian star, Wizkid, went a notch higher during a concert at the Accor Arena in France.
The singer emerged from the sky and descended onto the stage like a superhero much to the delight of the crowd which was already singing along to his popular track Soco.
Related Topics