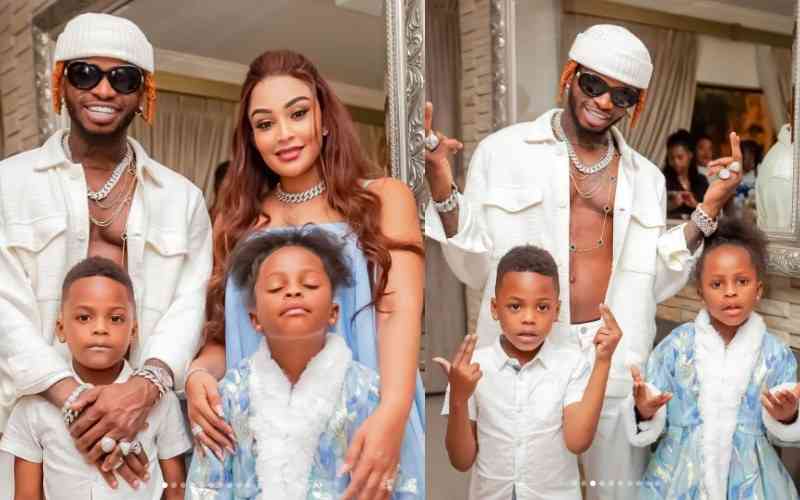 Diamond Platnumz this week said there is a lot of respect between him and his baby mama Zari Hassan in their co-parenting duties that their children still believe they are together.
Speaking to the Ugandan press ahead of his performance at the Comedy Store Foundation fundraising concert, Diamond added that they do not tolerate any negativity around their two children Tiffah and Nillan, as they want them to live a comfortable life.
He added that they do not know whether he is dating someone else and he wants it to remain that way.
"We are just co-parenting and respecting each other. As you know, everybody has a partner so we have to respect each other. We try to be more modern, and urban, and we don't want to entertain negativity when it comes to our kids and we keep it more professional. That's why when you see our kids around us, they're more comfortable.
"We don't wanna stress them. I don't even show them if I'm dating, they think I'm still dating their mother. I don't wanna stress my kids because I know what I went through when I was a little kid seeing my mother without my father…it was a little bit stressful for me. When it comes to the kids, we (Zari and I) come together," he said.
Zari lashes out at Diamond
In May this year, Zari penned a long post on social media accusing Diamond of being unsupportive.
She further stated that she is not obsessed with him and does not any more kids with him. Zari reminded Simba that she is now happy with someone else and would appreciate if the singer stopped mentioning her to seek relevance.
"I don't want u, I'm not obsessed (with) u, matter of fact it's the opp (you are obsessed with me, u can't seem to replace me). U will come running like a cheetah if I called u back. I'm only reasonable for respect sake. For the sake of the kids.
"U only hear from me when its kids fees that you pay annually (and I appreciate you for that.) Emotional support, medical, sleepless nights to mention a few is all one. Stop putting me situations with low life wh*res for clout. I've noticed u live for clout, without it, u can't breathe…" read her post in part.
View this post on Instagram
Related Topics