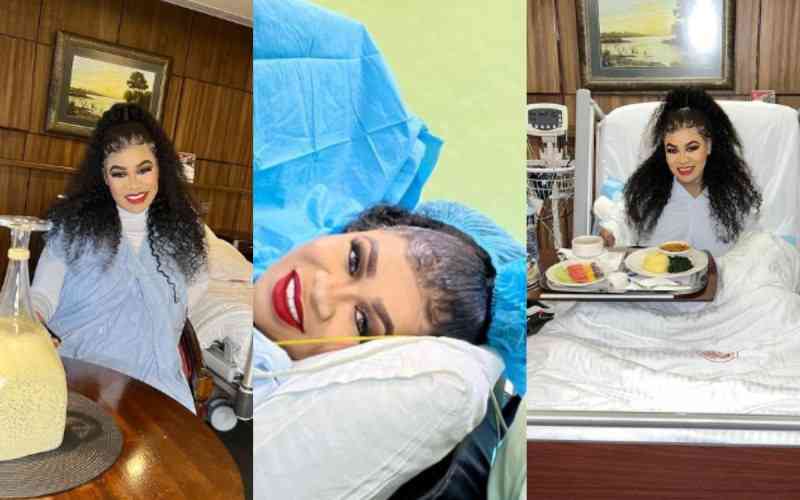 Socialite Vera Sidika has said she deliberately wore 'bad make-up' in her delivery video to give haters something to talk about.
Moments after documenting the birth of her son Ice Brown, Vera was criticized for her make-up and some of her followers asked her to consider changing her make-up artist.
Bensouda: Too much make up…
Sabina: Make-up artist from muthokinju
Lee: Congratulations Michael Jackson
Tina: Why all that make up in the labour room? This is too much
Ishamadonna: Make up mbaya
Vera quickly responded by saying it was all planned out as she wanted people to have something to talk about.
"FYI guys. There's nothing wrong with my make-up. It's exactly how I wanted it to be. Coz, I know you all never mind your businesses. Had to give you something to talk about. See y'all discussing my make-up all day and night," she wrote on her Insta stories.
This comes just days after she also announced that she specifically chose to deliver her son, Ice Brown, on March 3, 2023, adding that she wanted to have something really surrounding her son's arrival.
"His number is three. His name has three letters and he was born at 3 PM weighing 3.35kg. It's crazy, only dates and time was planned. Asia was born on October 20, 2021, at 10:21 am. Her numbers are two," she wrote.
The Veespa founder also hinted that she might be done with giving birth, having undergone two CS surgeries in a relatively short period of time.
"Finally done with pregnancy, been pregnant twice in two years. Done two CS surgeries for both. Wow! And still looking fly. Motherhood is not easy. It's a lot of work, but it's also the most rewarding thing I've ever done," she said.
Related Topics