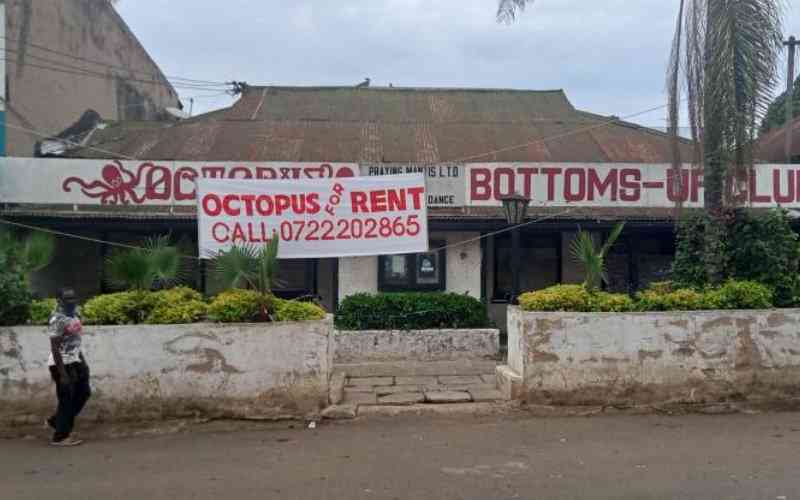 It is a few minutes to 7pm and a group of skimpily dressed women are sitting next to the bus stop at Kondele on the Kisumu-Kakamega highway.
As tens of people struggle to find their way home after a long day at work, the group of women appears to just be starting off.
They whistle and call the men trying to catch a bus home. The women feel undisturbed even by the presence of pupils using the same route to rush home.
When they agree to talk to us, the sex workers defend their work. They say the closure of the major clubs in Kisumu has turned them into refugees.
The rapid infrastructural transformation as well as the change in Kisumu's development plans have hit the group hard and pushed them to the outskirts of the town.
Most clubs that they relied on to get clients have closed down, with some turning into private businesses that are against some of the activities that characterise Kisumu nightlife.
Among the iconic clubs that have shut down their doors in recent months include the famous "Bottoms Up club" popularly known as Club Octopus, Area 51, Buccaneers, and Janam.
In the same location where Area 51 lies, several shops have been set up, replacing what used to be lodgings and pushing a majority of sex workers out.
With the changes, the unwanted lot has been forced to seek alternative green pastures to find clients. Some residents say the area is now better off after most members of the group left.
The changing trends as well as the closure of key night clubs have pushed the night queens to seek new homes with a majority of them trooping to Kondele while others have abandoned the trade altogether.
At Kondele, we meet Agnes* who worked at "Bottoms Up Club" popularly known as Octopus since 2006 but was forced out after the club closed its doors in July last year. Atieno says she used to make up to Sh10,000 at the close of business. She said business is so bad that she can close the day without making a shilling.
Due to the hard economy, the sex workers say they can charge as low as Sh50. "Clubs no longer stay open for long," said Aisha.
Joan said in Kondele, they have a standard price of Sh300. The influx of new members flushed out from the city's CBD has also hurt the business. At Kondele, it is common to see sex workers operating during the day in Migosi estate.
Josephine Awino, a groceries seller, said the increase in the number of sex workers in Kondele is affecting businesses. "Most people are uncomfortable with their presence. The worst part of it is that they start lining up even during the day." Awino said sex workers should have a designated working station.
Related Topics