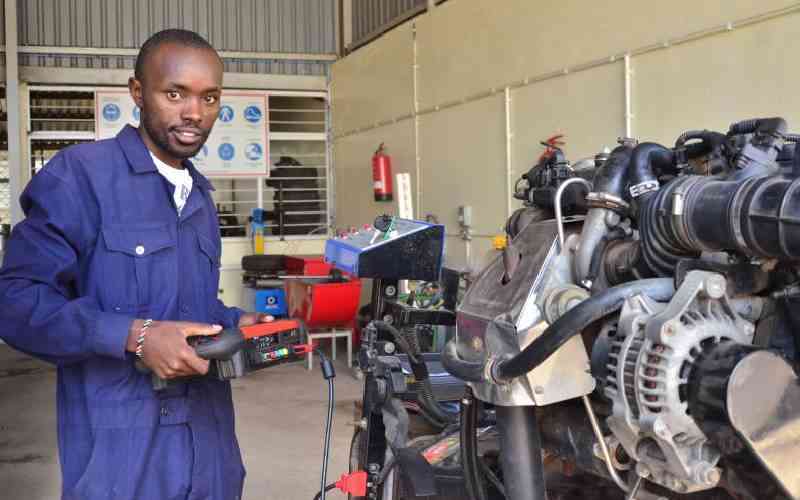 Placement results for universities and colleges are out but the government will require more than Sh30 billion to fund all the lucky students who managed to get slots.
However, if the government were to stick to its 100 per cent transition pledge, then it would require Sh66.5 billion to absorb all the 754,229 who scored between grades A and D- (minus).
This would, however, still leave out 81,345 students who scored grade E in the 2021 KCSE examination.
Releasing the placement results yesterday at Eastleigh High School, Education Cabinet Secretary George Magoha said all students who made applications for degree, diploma and certificate courses have been placed.
"This year, a total of 250,052 students submitted their applications for placement to universities, TVET institutions and Teacher Training Colleges (TTCs). I am pleased to note that all applicants have successfully been placed," said Prof Magoha.
The CS said 123,963 students who scored minimum university entry grade of C+ and above have secured degree courses.
"The majority of the students who attained the mandatory minimum of university qualification grade of C+ and above were completely placed to take degree courses in public and private universities," said Magoha.
Another 124,258 students have been placed in Technical and Vocational Education Training (TVET) colleges. Of these are 5,278 who scored university entry grades but opted to pursue TVET courses.
Basic calculations, however, reveal that by September when admissions are expected to start, the government must make available Sh30.1 billion to support learning in universities and colleges.
Ordinarily, the government allocates Sh140,000 to each university student per academic year to cater for tuition.
This means that for 123,963 students who will be enrolled for degree courses in universities, Sh17.4 billion must be available.
At the same time, Higher Education Loans Board (Helb) provides long-term loans, ranging between Sh40,000 and Sh60,000 per year for upkeep and purchase of learning materials for the students.
This means another Sh5 billion will be required, bringing the total amount needed for university students to Sh22.4 billion.
And for 124,258 students to be admitted to TVETs, the government would require more funding to support them.
Even though the average fees in TVETs is Sh56,000, the government spends Sh30,000 on each student's capitation annually. This would translate to Sh3.7 billion for those placed.
Additionally, Helb requires more funds to supplement the government capitation for all students enrolled in TVETs to cater for their fees, with each learner getting Sh26,400.
Another Sh13,600 is disbursed for upkeep to the students, pushing the total amount Helb requires to fund each TVET student to Sh40,000 per year. This would translate to Sh4 billion for the TVET students.
In total, the money the government would require to fund the students placed comes to about Sh30.1 billion.
However, under the 100 per cent transition policy, calculations by the Sunday Standard reveal that Sh66.5 billion would be required.
This means that in addition to the Sh22.4 billion required to fund the university students, more funding will be needed to support 630,266 students who could be admitted to TVET institutions.
This is the total number of students who scored grades between C (plain) and D (minus).
If all these students are supported to gain admission to the TVET colleges, Sh44.1 billion will be needed.
However, the set of 81,345 who scored grade E in the examinations will remain unaccounted for as they may not get admission to any of the colleges. Transiting all learners from secondary school to universities and tertiary education may still remain a mirage as the funding required to support the policy at this level is huge.
Speaking while releasing the 2021 KCSE examination results, Magoha only made reference to successes of the transition from primary to secondary schools.
"Under the 100 per cent transition policy, the government of President Uhuru Kenyatta has sustained the push to have every KCPE candidate get enrolled in Form One and progress to Form Four. I am proud to have led the campaigns that have achieved the 100 per cent transition of two KCPE cohorts (2019 and 2020)," he said.
This happens as universities continue to sink under a weak funding regime that has seen many institutions cut operations, reduce campuses and lay off staff.
In its 2021-26 strategic plan, Universities Fund, the body mandated to develop a fair and transparent criterion for allocation of funds to universities, notes that more innovative ways must be implemented to support institutions.
The Fund says in the 2020/21 financial year, 271,446 students were enrolled to public universities and the approved budget was Sh41.907 billion, which was less by Sh27.359 billion.
In the same year, 61,541 students were admitted to private universities and the approved budget was Sh2.73 billion, which was less by Sh9.375 billion.
In order to mitigate funding gaps, the Universities Fund in its strategic plan has prioritised to seek additional funding from regional, national and international partners so that it can grow its funds to at least Sh75 billion annually in the next five years.
"The approved allocation from government in the financial year 2020/21 stood at Sh44 billion, equivalent to about 55 per cent of the required resources, at 80 per cent differentiated unit cost (DUC) computation. The fund intends to grow this allocation to Sh75 billion annually to fill the funding gap," reads the plan.
Related Topics