Keep varsities off TVET, give them more funds for teaching, research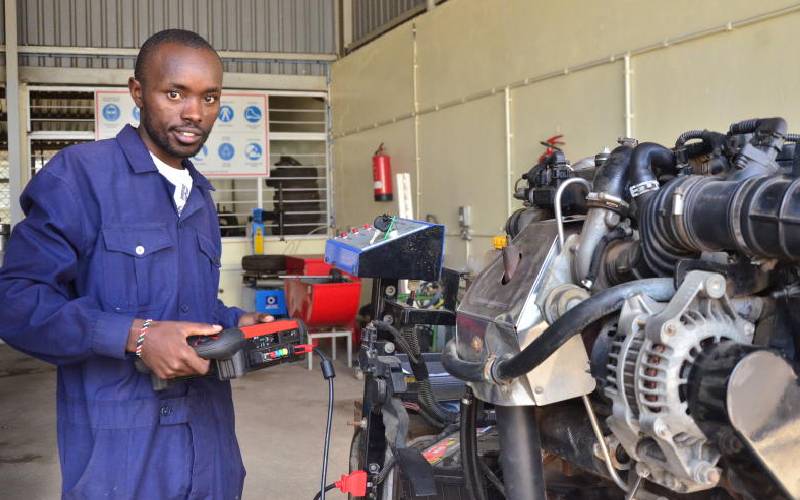 The Economic Survey 2012 describes the informal sector in Kenya, popularly known as jua kali, as one that comprises of mostly small-scale semi-organised, largely unregulated activities that use basic and simple technologies.
This would include, among others, small-scale traders, craftspeople and entrepreneurs.
Informal businesses account for 35–50 per cent of GDP in many a developing country, as data from the Institute for Economic Affairs (IEA) attests to this.
While the informal sector accounts for a significant proportion of the workforce in these countries, Kenya included, its impact on GDP is largely outsized by the more formal sectors of the economy when the value of output is taken into consideration.
A 2012 IEA report by also showed that the informal sector contributed an estimated 34.3 per cent of GDP, and accounted for 77per cent of employment in Kenya. Over 60 per cent of those working in this sector are the youth, aged between 18 and 35 years.
The formal sector only employed 2.6 million Kenyans in 2015, whereas the informal sector employed almost five times this number in the same year.
The proportion of people employed in the informal sector grew, going by the Economic Survey 2017, which shows that it represents 83.1 percent of Kenya's total labour force of 13.3 million . While more than three-quarters of the labour force is engaged in the informal sector, it accounts for a third of the GDP.
According to a research done in 2020 by Julia Faria, a research expert for Africa for German firm Statista, roughly 15 million individuals were engaged in the informal sector in Kenya in 2019. This increased from 14.2 million in 2018. Wholesale and retail trade, hotels, and restaurants are activities with more informal employees (around nine million) in the country.
The inference here, therefore, is that the informal sector arguably runs the Kenyan economy. And, innumerable numbers of workers in the informal sector are the product of our TVET institutions, where a large number of form four graduates end up in.
Can you see where I am headed with these 'convoluted' stats? Well, let's step back a tad just so you catch my drift.
University enrolment in Kenya is rapidly declining, according to official figures. This is due to the fact that more students fail to attain university entry grades, which currently stands at a C+.
In the Economic Survey 2019 report, released on April 26, Kenya National Bureau of Statistics (KNBS) indicated that the number of students eligible for university has been dropping since 2016 when the government initiated tougher measures to curb examination cheating.
In the 2016-17 academic year, total enrolment was expected to reach 564,000 students, while in reality, it increased only marginally from 501,613 the previous year to 537,689.
Whereas 170,000 learners qualified for university entrance in 2015, only 69,000 attained minimum university entry grades in 2017.
A similar trend was recorded in the 2018 KCSE examination results, where 90,775 students, representing 13.7 per cent of the total candidature of 660,204, qualified for university entrance. In the 2020 KCSE exam, a cumulative 143,140 candidates attained C+ and above. This represented only 19.3 per cent of the total number of candidates which stood at 743,299.
National polytechnics
Enrolment in TVET institutions in 2019, on the other hand, increased by 19.7 per cent to 430,598 from 359,852 in 2018. Enrolment of students in national polytechnics rose by 35.5 per cent to 102,078 in 2019, while that of technical and vocational colleges increased by 32.8 per cent to 112,110 in 2019.
According to these factual figures, over 600,000 students who did not get direct entries to universities in 2020 will be 'sprinkled' across polytechnics and other technical training institutions. These numbers present the projected personnel that will take up or create new jobs in the informal sector.
Even with this empirical evidence, however, the education sector in the country tends to overly focus on university education, where the minority of Four Form graduates end up, with little light being shed on vocational and technical training institutions where the majority end up. Ridiculous.
The anomalous emergence and expansion of university education in Kenya has threatened tertiary education. The university craze is sweeping across the country, swallowing all reputable colleges. Only a handful tertiary institutions have been spared of this vicious and wanton gentrification.
As the unbridled forage and misplaced premium is placed on degrees – some completely out of sync with market needs and demands - stretches exponentially, education policymakers and labour experts have mostly been silent. It is such a no-brainer that we do need this critical middle-level manpower!
The shortage of such professionals as plumbers, electricians and good mechanics is beginning to bite, just because most of our tertiary institutions have been converted into some ill-equipped, ill funded, mediocre universities.
Swallowed by universities
In the past, mid-level institutions were feasible alternatives for students seeking higher education. One could opt for Kabete Polytechnic, Mombasa Polytechnic or Kisumu Polytechnic to pursue engineering courses.
The same applied to Kagumo or Kenya Science for those keen on education courses without necessarily joining universities.
These options do not seem to exist anymore in the higher education sector, as many of such institutions have been 'swallowed' by universities. The Ministry of Education should and must put a stop to this. The youth should be offered a chance to pursue desired careers, particularly those who fail to attain university entry grades.
TVET colleges in Kenya comprise Technical Training Institutes (TTIs), polytechnics, Vocational Training Centres (VCTs), and Technical Training Colleges. A 2019 KNBS survey indicates there are currently over 81 TTIs, 10 polytechnics and eight TVET colleges.
Masinde Muliro University of Science and Technology (MMUST) has become the first public university in Kenya to be registered as a TVET institution. This audacious move by the university is, according to the institution, committed to supporting the capacity building in the area of TVET and Competency Based Education and Training (CBET), with special emphasis on the tertiary education sub-sector.
This then begs the question: Is the university spreading itself thin by offering courses already on offer in tertiary institutions at diploma and certificate level in addition to the undergraduate and post graduate courses?
I know not of any premium university in the world that rose to prominence by way of acquiring TVET-like status. Universities have risen through the quality of teaching and research. Through the quality of the faculty (citations per faculty) and infrastructure.
Through a balanced student/faculty ratio and rigorous programmes (academic reputation) through employer reputation and international faculty and student ratio. Such are the things our universities should be pre-occupied with and pursue with verve. Not offering diploma and certificate courses just to get capitation and charge fees to generate revenue (now that module II/parallel programmes no longer exist).
Universities should be fully funded by the government to allow them focus on their core business and mandate. The burden of revenue generation should be government's, and exclusively so. The irony is not lost on the fact that those universities that started off as technical colleges are now reverting to offering that which they ostensibly 'ran away from.'
Could it be a pointer to the fact that reality is checking in, and resorting to offer what the market really needs and demands?