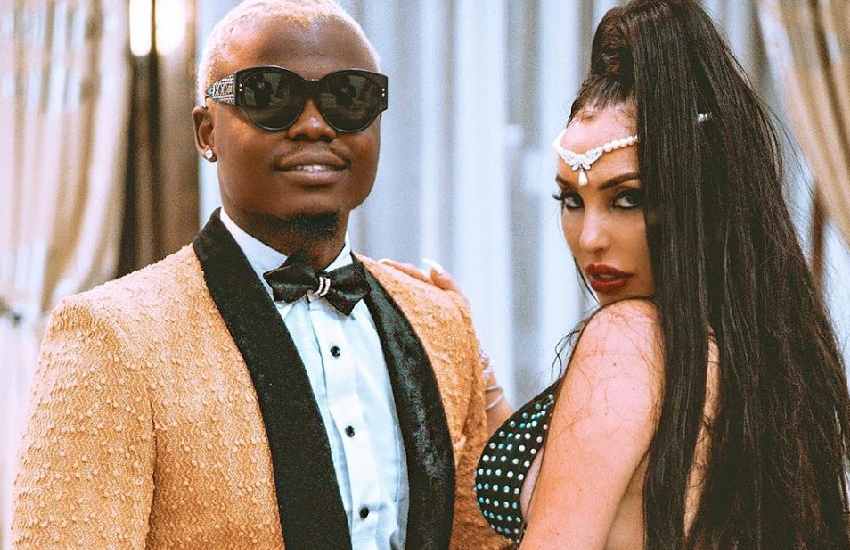 Konde Gang star Harmonize - real name Rajab Abdul Kahali - is expecting a child with his Italian wife Sarah Michelotti. Making the announcement at a mega concert in Dodoma, Harmonize disclosed that Michelotti was heavy with child, months after their exclusive wedding in Dar es Salaam, Tanzania.
Teary, Harmonize said he was in love with Michelotti and denied claims that he broke up with his ex-lover, actress Jacqueline Wolper, to be with the Italian beauty for money. Narrating how his relationship with Wolper broke down, the songwriter formerly of Wasafi Classic Baby (WCB) claimed that she cheated on him with two men; a Burundian and her current lover whom, he said, was at the time based in China.
Harmonize claimed that he unwittingly financed Wolper's cheating lifestyle having gone out of his way to make her happy. For starters, the self-styled Tembo said he selflessly forked out Tsh30 million to finance her business trip to China only to uncover her 'amorous stay' with the man.
Read Also: Men have been using us as ladders toward stardom - Jacqueline Wolper tells it all
"I have never talked about this because I do not like disparaging women. I have suffered silently but my ex in every interview says I dated Michelotti for money, that she is my sponsor…. When I toured the United States, she too, luckily travelled to Burundi on business. In Burundi, there was a man who chauffeured her around in a Range Rover and when I saw photos of them together had gotten out of hand, I asked her. She said he was her host, a brother and there was nothing to it. A month earlier, she had gone to China and I gave her Tsh30 million as capital to stock her fashion house," said Harmonize.
He went on: "I at the time had nothing to my name; no house nor land, but, I made due and handed her the money. In China, she was with a man who was also supposedly showing her around. There, their photos also got suspicious. I asked her. She told me that he was a friend and could not date him. Right now, they are lovers, it means they started dating a long time ago." The relationship was exposed when he made a surprise birthday gesture when he returned to Tanzanian after touring the United States and splashed Tsh15 million on a car gift.
"When I got back from the US, it was her birthday, so I organized her a surprise. I bought a black Crown vehicle worth Tsh15 million and booked a suite at Serena. I decorated it nicely and still have the photos of the room on my phone. I then asked my sister to call Wolper, informing her that I wouldn't make to travel to Tanzania but she must go to Serena to meet a Nigerian man who is to offer her a movie deal. So, she came to Serena and found me. I surprised her and sang her a birthday song. She was very happy. When I was about to hand her the car, the man based in China called. It hurt. For the first time, I went through the messages and found texts from different men including from the one in Burundi saying he missed her. I felt angry and betrayed but we didn't break up. I forgave her," he added.
The last straw, said the singer, was when she allegedly made passes at his former WCB boss, Diamond Platnumz, promising to bear him a son. Platnumz was at the time with one child, a daughter – Tiffah and was dating South Africa-based Ugandan socialite Zari Hassan. Wolper, said Harmonize, offered to date Platnumz saying the WCB boss was her ultimate prize. Then a close ally, Platnumz, however, confided in him of Wolper's proposal.
Read Also: Harmonize slams Diamond for 'revealing' his fiance had an affair
"We were at a party at Diamond Platnumz's house and without shame nor fear made passes at him. Speaking from my heart, I have never said this but I am saying it so that she knows. She is not aware that I know… She told him she was just with me so she can get close to him. When I left, Diamond called me and told me to be at his house first thing in the morning. He couldn't face me, he had to imbibe alcohol in order to open up. I have never told her, I was not planning to, but when you call my wife a sponsor, it hurts."
Related Topics