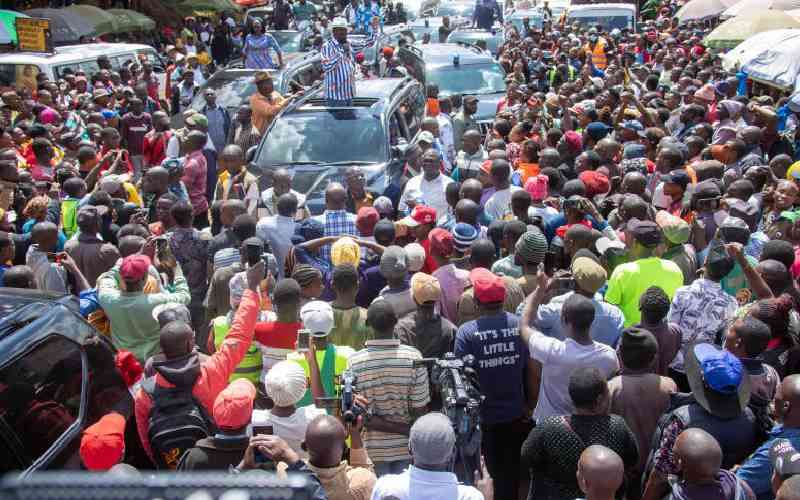 Deputy President Rigathi Gachagua has today rallied residents of Mt Kenya region to keep off Monday's planned protest by the opposition.
Gachagua claimed the demonstrations are aimed at destroying businesses largely owned by the Kikuyu community.
Speaking during an interview on vernacular radio stations, Gachagua further urged the business owners to "protect their businesses from being vandalised" even as he assured that the government will ensure that no property is destroyed.
At the same time, the DP defended President William Ruto's administration from accusations of failing to lower the cost of living, overtaxation and nominating 50 Chief Administrative Secretaries at a time when the country was hungry.
While claiming that the Kenya Kwanza administration started from scratch, Gachagua said to streamline the country and revive the economy, they needed more people in government to work round the clock and meet their targets.
"The CS for Agriculture is always airborne. He was in Pakistan to look for tea market then headed to Zambia to look for maize and then to South Africa and UAE. I have also been overwhelmed by duties and I needed three CAS because I used to retire to my home at 12 midnight everyday," said Gachagua.
On suitability of the CAS appointees and rewarding political rejects, he said those given the positions understand the Kenya Kwanza agenda and manifesto.
"We have given our people (those from Mt Kenya region) 14 slots because we participated in forming this government and, therefore, we have shares. If you want to get a farmhand to dig, you can only give to those who you have seen doing so," he said.
On high cost of living, Gachagua maintained the government has lowered maize flour prices from Sh250 to Sh170 and fertilizer from Sh7,000 to Sh3,500 promising that they have put in place measures to lower the cost of living in the near future.
"To address the high cost of living we must invest in agriculture and have more people on board to assist us. Despite the huge wage bill, we shall realize results and stabilise the country," he said.
Related Topics