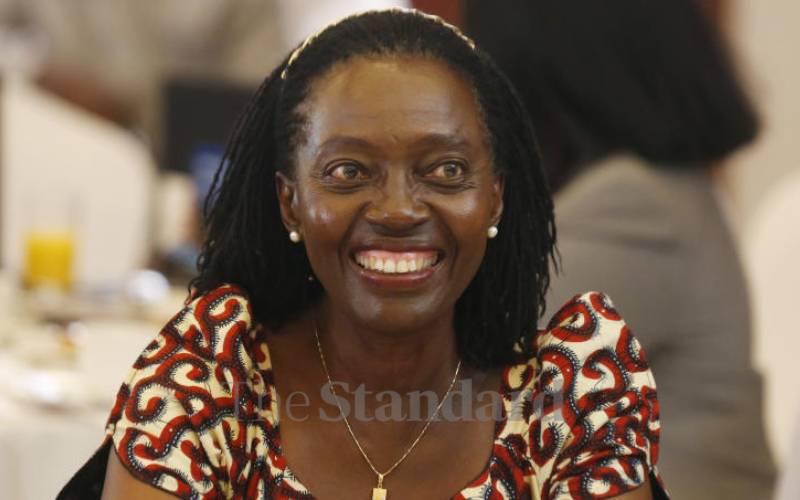 The entry of Martha Karua into a prospective presidential ticket has fixed women into their own half.
For women, who for whatever reason, justified or not, do not intend to vote for Martha Karua the authoritative Global Gender Gap Index report (2021) bears some statistics on the place of women particularly in political engagement that are hard to swallow but nevertheless important to know. Many researches locally and globally carry similar grim impressions of where history has placed women. Kenya trails others countries in closing the gender gap.
According to this Global Gender Gap Index report, "across the 156 countries covered, women represent only 26.1 per cent of some 35,500 parliament seats and just 22.6 per cent of over 3,400 ministers worldwide. In 81 countries, there has never been a woman head of state, as of 15th January 2021". Kenya is ranked 95 in closing the gender gap below Rwanda (7), South Africa (18), Burundi (26), Mozambique (32), Zimbabwe (47), Zambia (56) Madagascar (57), Uganda (66), Cape Verde (68), Botswana (71), Tanzania (82), Lesotho (92) and Liberia (94).
While active affirmative action groups and movements in Kenya have over the years successfully set the girl-child as needing special support to close the gender gap, similar efforts have not succeeded in the political space. Further, several researches, which the limited space here does not allow me to cite, show that there are even fewer women in higher up executive power offices.
The Karua wave sweeping across the country is therefore not without basis. Girls need political role models and they are now seeing one with a realistic chance of moving closer to the presidency. Like their male counterparts, girls and young women interested in politics look up to successful mentors.
That Karua has fought political battles and actively engaged in fighting for human rights entrenchment in Kenya provides hope for aspiring girls and young women that it is possible for women to be part of the development agenda of their country.
Besides, the Karua candidature has a spill-over effect to women in other sectors. Women in education, health, environment, business and indeed any other sector will look at a her deputy presidency – should the ticket win the office – as an inspiration.
Further, studies conclusively show that women have a positive influence on the kind of policies generated in legislative forums. As a matter of priority, women are interested in policies that support families, environment, health and economic empowerment for households even as they focus on global policies of infrastructural development such as roads. Additionally, women are better agents of peace if they ascend to influential positions in government.
Interestingly, some studies inconclusively argue that women are less corrupt when they assume high-level offices. Granted, there are women whose performance is below par when in positions of power. The same applies to men.
The positive contribution of women to development cannot be limited to a few non-performing examples. Karua's focus on corruption, which her boss-to-be equally believes in, will demonstrate the extent to which women in power cab fight corruption should this pair win.
Moreover, the choice of Karua as a running mate for Azimio presidential candidate Raila Odinga, has thrown under the bus several peripheral issues that have characterised the campaign in the past two years. Beyond downplaying gender as a contemporary factor in elective politics, women opposed to Karua will be faced with a very hard time explaining why in spite of a glaring opportunity to climb up the political radar they opted to fight for a smaller cake when a larger one was within reach. Men who genuinely support women empowerment are at a break-point of whether their beliefs bear any fruits or women will prove them wrong.
It is a tormenting time to stand against Karua, even by raising the strongest justified counter-arguments. Women have unenviable hard choice in writing their 2022 history.
Dr Mokua is Executive Director, Loyola Centre for Media and Communication