Chaos show cultural diversity yet to be embraced in South Africa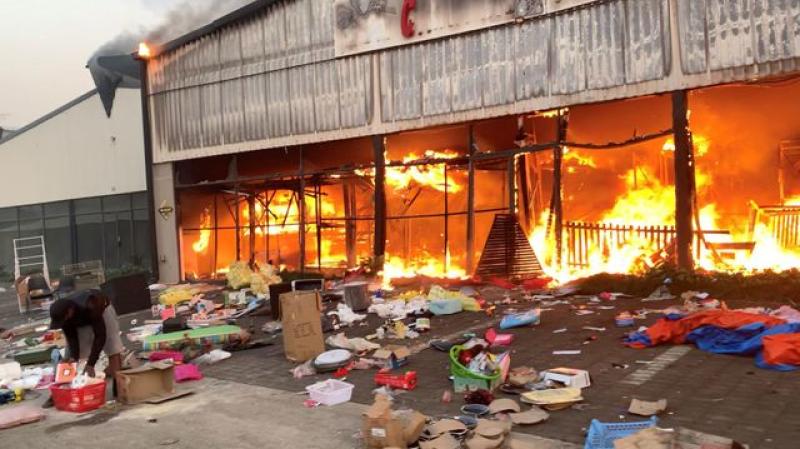 Whether provoked, spontaneous or incited, public violence is deadly.
Scenes from South Africa in the past few days following the jailing of former President Jacob Zuma, are, to say the least, scary. The courts found the former leader guilty and applied the law of the land in exacting punishment.
The protests, evidently resulting into looting and reported cases of deaths, go beyond words in their symbolic meaning. From some of the interviews run through global media, the stores belonging to whites in that country, together with their businesses are vandalised with a degree of vengeance. The race card played in the protests is worrisome regardless of who is right or wrong.
The young men and women shoveling other people's property are nothing but hungry, jobless yet energetic agitators who want something bigger than the loot they are seen scavenging for. They see no future in their present circumstances. There is a story deep down there to tell.
First, public anger, justified or not, is built over time. People don't just wake up and start bringing down other people's property, burning cars or 'othering' fellow citizens. There are normally many unresolved grievances. The protesters who spoke to the media directed their anger at the whites in the country.
The apartheid narrative should have ended with the release from prison of global peace icon, Nelson Mandela. However, what we have seen in the media from South Africa, is not encouraging in the path of peace and reconciliation. This is the same path that the other South African global reconciliation icon, Desmond Tutu, has courageously promoted. Cultural diversity should be encouraged, beginning with South Africa.
I do not know the day-to-day relations between the Blacks and whites in South Africa. Nevertheless, violently reviving history will not heal the great nation that South Africa is. Energies should be directed at post-conflict reconciliation, not running racial battles laced with political incitement.
Second, political events shape the way citizens relate with each other. Political leaders represent general and specific public interests. The way a leader frames political competitors influences how those they represent perceive their neighbours.
Many leaders across Africa have a tendency of pitching their political identity using demonising frames. That is, they are good because their competitors do not belong to their tribe, their colour, age and so on. Remember the "digital duo and their laptops for children?" The competitors were demonised on the basis of age. The voters dug into each other as digitals vs analogues. And, kids loved it. Ten years down the line, no one wants to revisit that narrative.
Third, class protests are deadly. The jailing of former President Zuma is a trigger for unbolting the bottled up resentment. Once jobless people are set up to imagine that whoever drives a car is unfairly advantaged over them, deadly protests can erupt at the slightest provocation.
Seemingly, the young protesters in South Africa have resentment towards those whom they see as denying them opportunities to improve their lives. A political trigger provides the immediate justification to attack the perceived enemy holding them back from development.
Fourth, our own politics here in Kenya has many faulty lines that as a trigger, violent class protests can be justified. More specifically, it's in our DNA to somehow keep hopping from crisis to crisis without ever thinking of long term solutions. Look, voter mobilisation towards next year's general elections is largely based on direct and indirect bribery, feel-nice political events and building political alliances completely blinded to why we tore each other in 2007 and went to courts in 2013 and 2017.
Instead, we are busy marking "hotspots" for conflict prevention. How many years do we need to come to our senses that we are brewing a national civil upheaval if we continue ignoring conflict danger signs every election time and now palpable all over this country?
Dr. Mokua is Executive Director, Loyola Centre for Media and Communications