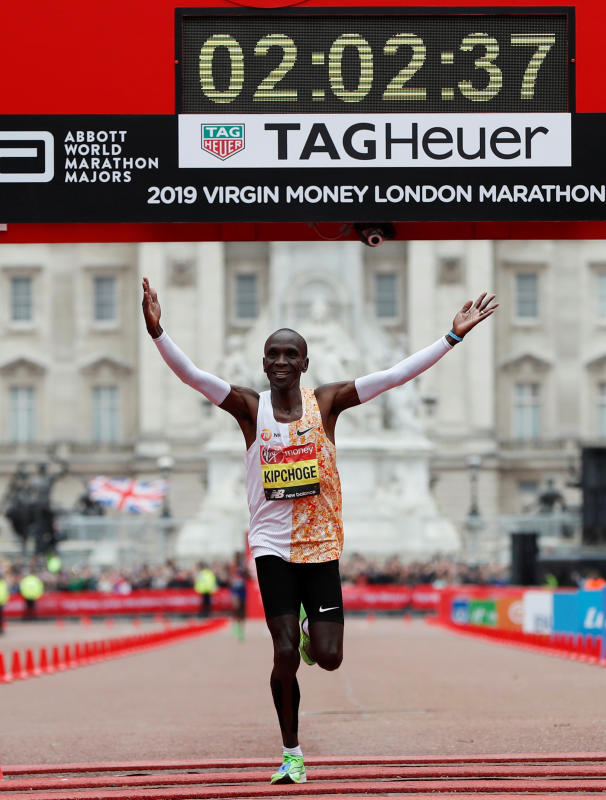 Eliud says he wants to inspire at least three billion people in the Ineos 1:59 Challenge. Although the Ineos 1:59 Challenge mark will not be recognised by IAAF, world marathon record holder Eliud Kipchoge is determined to rewrite history in Vienna, Austria, on October 12. Organisers have set an eight-day window (up to October 20) to pick the day when the weather conditions in Vienna would be ideal for a fast race. "This is about history and making a mark in sports. It's like the first man to go to the moon. If I can be the first man to run under two hours, then that will inspire generations," Kipchoge said yesterday when he signed brand sponsorship with motor vehicle dealer Isuzu East Africa.
SEE ALSO: Learn to cope with virus, Kipchoge says
If he breaks the two-hour barrier, the company will reward him with a brand-new Isuzu single-cab DMax pickup valued at Sh4.1million. This the second time Kipchoge, the 2016 Olympic marathon champion, will attempt to dip under two hours following his 2:00:25 in an event dubbed Nike's Breaking2 Project in Monza, Italy, in 2017. The 34-year-old went ahead to break the world record by shattering the record after clocking 2:01:39 in Berlin last year. "I have learned from the mistakes I made in my first sub-2 in Monza. This time, I am mentally prepared for the event and have no doubts that I will be able to make history. I have had three months of hard training and I believe in myself and my team that we will break two-hour mark. I think they believe in themselves too," he said. With pacemakers drawn from across the world, organisers held a dry run at Vienna's Prater last week on the course that Kipchoge will attempt the feat. The pacemakers include Augustine Choge, Victor Chumo of Kenya, Australian duo of Jack Rayner and Brett Robinson. Also in the list are Norway's siblings in Henrik, Filip and Jakob Ingebrigtsen and former Kenyan Bernard Lagat of USA. "The quality of pacemakers is incredible, the whole world is represented and that's why the race is very important. The rehearsal was hugely successful. I hope to inspire around three billion people worldwide and show that no human is limited," Kipchoge said.
SEE ALSO: 7 reasons why Kipchoge's historic INEOS feat was not recognised as World Record
Asked if he will attempt the sub-2 in an IAAF ratified course next year maybe in Dubai or Berlin, Kipchoge said: "I am a Kenyan. I come from Rift Valley and a Kalenjin and a Nandi in particular. In Nandi I come from Talai clan. "In Talai, as a young boy I was taught never to chase two rabbits. That means you should avoid multi tasking. So, I am now focusing on INEOS 1:59." Meanwhile, Isuzu East Africa Managing Director Rita Kavashe reiterated their partnership with Kipchoge. "As Eliud continues to stretch and redefine athletic boundaries, Isuzu is committed to his vision of being the first man in history to run under two hours in marathon. We look forward to celebrating his victory with this outstanding gift of a single-cab DMax pickup," said Kavashe.