Dr Ponge: Man who rose from the ashes of truancy and rubble of alcoholism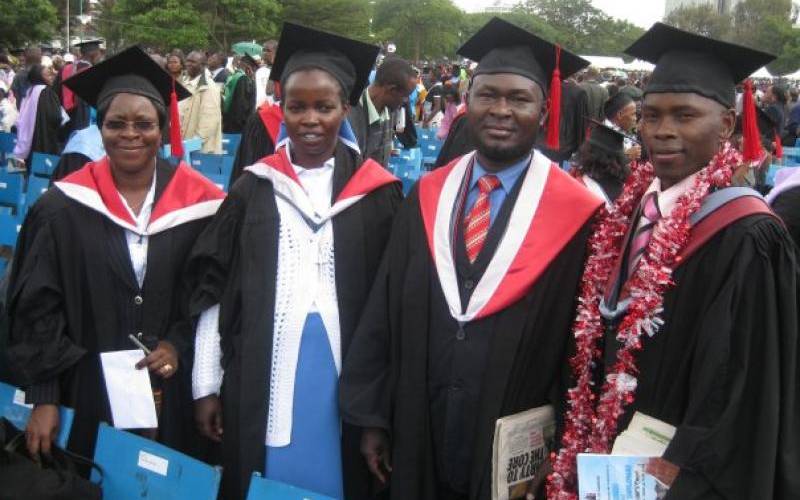 Dr Awuor Ponge might have been awarded the highest university degree four months ago, but he has also sunk to the lowest depths during an academic journey that spanned three decades.
This is a story of a brilliant man– though a legendary campus truant and misfit who stole from his loved ones to feed a raging alcohol addiction that saw him joined at the hip with the dregs of society.
When the university grew tired of his militant tactics and expelled him, he ended up hawking water in the slums. A mishap in one of the infamous pubs in the city would lead to his incarceration at the maximum security wing of Mathari Hospital.
In this first installment of a three-part series, Dr Ponge narrates how he found peace in Allah, beat back the bottle and poverty, turned off the self-destruct switch, went back to university and granted himself a fresh lease of life.
I joined the University of Nairobi on July 23, 1990, and, interestingly, that is the same date when I graduated with my Doctor of Philosophy this year, a roller-coaster 31-year journey of promise, despair, rebirth and, finally, redemption.
I was born at the Lady Grigg Hospital in Mombasa on November 28, 1971, a cool Sunday I was told. I was born into a polygamous family-the fourth and last born of my mother's children. My father, Fredrick Crispus Ponge Odindo, has two official wives (my mother is the second wife), but he had also inherited a third wife following the death of his cousin.
My mother, Everlyne Ajwang' Nyar Okumu Ka'Mugelleh, separated from my dad when I was less than two years old, and I moved in with my step-mother who laid the foundation for my future academic life.
I have only seen my mother in family photos. But from what I hear from those who knew her well, she was a tough, no-nonsense woman who always wanted the best for her children. Just don't ask me why she had to leave her infant son. All the same, my daughter is named after her grandmother and I pray that she will have her strength.
My father told me that after I was born, I cried continuously for a whole week until they worried that I would die. They tried all the traditional ways of handling a new-born, but the crying would not stop. Then one night, my father's grandmother, Awuor Nyaguda Nyasembo, appeared to him in a dream and asked, "Why are you punishing this baby?"
When he awoke, he sent word to his mother, Agnes Wamuoso Osuka Nyar Owuor K'Okeno, and narrated what had happened in the dream. His mother told him to call me 'Awuor' after his grandmother. When he called me that, I immediately stopped crying. And that is how I got the name 'Awuor'. Most men change the women's names given when young, but considering the circumstances surrounding my naming, I will never change it.
When my step-mother (the inherited one) visited Mombasa where my father was working as a meat inspector, she must have realised that I was sharp and she came to love me. She wanted me to start school, but I was still young and could not join Class One because in those days, you had to stretch one arm over your head and touch the opposite ear as proof that you were ready for lower primary.
But my step-mum, who was a teacher in one of the local schools, pulled strings and I joined Wagai Primary School in 1977. Madam Dolphine, as she was called, did not have children of her own so she doted on me. But we had a falling-out in 1979 that saw me going back to live with my father.
The previous year, President Daniel Moi had introduced a free school milk programme. My step-mum, whose house was always full with other children she was looking after, had instructed us to carry the milk home to prepare tea. But on this fateful day, I drunk my milk and went home expecting to drink tea. That earned me a proper flogging and marching orders back to my father. I had to adjust to living with my father's first wife, and soldiered on as the semi-orphaned child that I was. I sat for my Certificate of Primary Education (CPE) exam in 1983, and was in the last class under the 7-4-2-3 system, which paved the way for the 8-4-4 system of education.
I passed well and hoped to join my desired school, Kanunga High in Kiambu. At the time, my father worked at the Dagoretti slaughterhouse. But as fate would have it, I ended up joining Maliera Secondary School in Siaya. This was not a school known for academic excellence, but I prayed that things would turn out different for me.
God answered my prayers and when we sat for the 'O'-level exam in 1997, we performed well with two of us scoring Division One. The other student, Prof Joseph Lang'at Awange, who is a survey professional and lecturer in Australia, was selected to join Mang'u High. I was invited to join St Mary's School, Yala, which was my dream school. Others who joined St Mary's include Dr David Okello Otieno, a social research lecturer at Kenyatta University; Dr Silvanus Owuoth Magundho, an engineering lecturer in China; and Dr Edwin Odera Ogumbo, a lecturer at Moi University. In that same year, we also produced the current Bishop of ACK Maseno West, Rt Rev John Mark Haung Godia.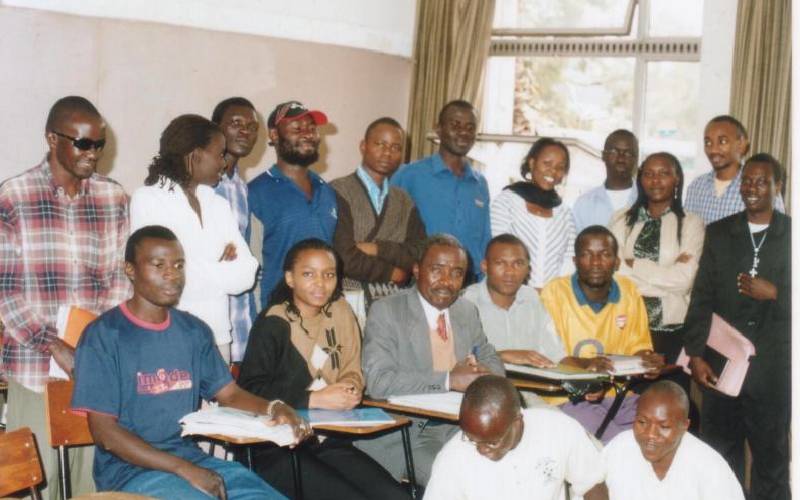 While at Maliera, I used to smoke a lot, especially with the senior students–don't ask me what I used to smoke. This put me at loggerheads with a new headmaster who was transferred to the school during the third term of my final-year studies. Mr T. T. Were Apudo engaged the services of Form Ones to track down and report all smokers to him. I was thoroughly caned by Apudo when I medalled in ten lists given by his spies.
For the record, we used to smoke and drink anything. Day scholars would smuggle in the smokes, and there were homes away from school where we'd go and drink. One time, we were strolling and smoking on a Sunday when one of our teachers, Okatch Miduri, rode by on his motorcycle and suddenly stopped next to us.
I swallowed the smoke I was about to exhale and slipped the still-lit cigarette into my pocket. Mr Okatch lectured us on the evils of smoking and we begged him not to report us. He was a young teacher and let us go, but only God knows what I was going through. The cigarette burnt a hole in my school short, meaning it could never be worn again.
Because my father had passed away, my admission to St Mary's was only possible because my elder brother and cousins struggled to raise Sh5,500 for fees. The total came to nearly Sh10,000 because of the items I was expected to buy. I reported to school on the last day, February 12, 1988. The school was in high demand and failure to report by the deadline meant your slot could be easily snapped up by another student.
The principal, Sir John Oswald Were, ran a tight ship, but I somehow survived despite my wayward behaviour. I had stopped smoking weed after a woman back home said that I was not smart, but rather it was the marijuana that aided me to pass exams. I was offended and immediately quit the 'big cigarette'. One time, my friend, who was the Education minister's son, disappeared one Saturday evening and as fate would have it, his mother came to visit him. She demanded that the principal produce her son yet nobody knew where he was. As his friends, we had a rough time. It turned out that he had gone to drink and wound up in a disco in one of the pubs in Yala town.
On his return the next day, Mr Were sent him away indefinitely, and he did his final exams from home. Rest in peace, Peter Caroli Oloo Aringo. No amount of pressure from his father could convince the principal to take him back. Word went round that the principal said something to the effect of, "Hon Aringo, you could be the Minister for Education in your Jogoo House office, but when you come to St Mary's School, I'm the boss and you will do as I say."
Were had 'hard eyes' because he was in the good books of the Board of Governors chairman, Justice Masime, and area MP Grace Ogot who made the president visit regularly and give us money for meat and bread. At St Mary's, I had the privilege of rubbing shoulders with the likes of Justice George Vincent Odunga 'Lakwena' and Justice George Radido Okiyo (chairman of chairmen), who were both one year ahead.
In my class, we had Eliud Owalo, a political strategist and former Kibra Constituency aspirant; Ochieng' Rapuro, the Editor-in-Chief at the Standard Group, Philip Muganda Kichana, former Executive Director at Kituo Cha Sheria, and John Onyango Orindi, the Corporate Affairs Director at the University of Nairobi.
Early Life at the University of Nairobi
I did not perform as well as I had hoped at St Mary's. I had hoped to qualify to study law, but was instead called to pursue Bachelor of Arts. I received my letter of admission three days to the deadline, which was very late. One had to visit the sub-chief, chief and DC for their signatures and official stamps. Had it not been for my uncle, a retired military doctor, who gave me money to move around and go to Kisumu to mail the letter by Speedpost, I might have missed my slot.
We were scheduled to join university in July, and we had great hopes for the future. But with that came unlimited freedom especially for those of us from rural towns who had been under strict rules at home and school. Then there was 'boom'-a Sh5,340 cash allowance paid by the Government to subsidise our living-that we collected from the local Kenya Commercial Bank before reporting to campus. But perhaps to crown it all, there was free food in university. There were special days when we ate meatballs and chapati. Chicken and beef were daily items on the menu.
The food was a big deal and on days when, say, chapati was missing, students would go to the streets to seek 'dialogue' with the administration. Hence chapati was nicknamed 'dialogue'. If meatballs were missing, students often mounted such fierce protests that it was enough for the university to be closed and learners sent home.
I dutifully reported to campus and after registering, I went to visit my cousin, a senior civil servant who lived in Westlands. He told his son that I had been admitted to pursue an arts degree and the excited child, who was either in class 5 or 6, excitedly rushed to his room and returned with a drawing book, and drawing and coloured pencils. He then asked me to draw a picture of him. To this day, I have never asked Otieno Ogara whether I drew him.
There was a one-week orientation when students who had been ahead of us in high school took us under their wing and showed us campus life. That is when we were introduced to the famous Karumaindo Bar and Restaurant-also known as Sabina Joy. This is despite the fact that you could get robbed with your eyes wide open, only getting the shock of your life when you went to pay for your drink only to find your wallet was missing.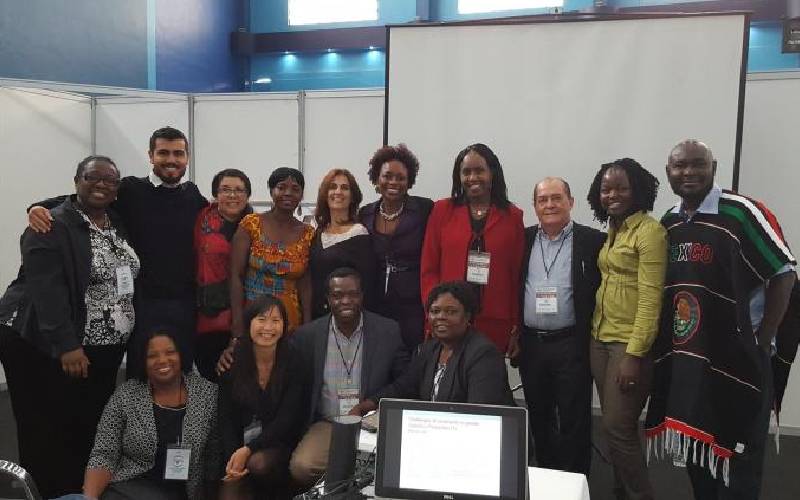 But beer was cheap. Guinness and Pilsner, the most expensive brands, sold for Sh13.50. Kenya Breweries tried to test the market with another stronger brand, Kenbrew, but it did not last long in the market due to its higher cost. We loved Karumaindo and another club called Modern Green because the entertainment was affordable. This is not to say we were poor, but in most cases, fellow female students did not associate with us from the village. Because we were getting the same 'boom', there was no way they could expect us to treat them using our money while they kept theirs.
There was the culture of 'gold rush' where senior students competed to snare naïve freshers during orientation. Many students got their wives this way. Then we had sugar daddies who targeted female students. For male students, there was the practice of 'collection', which meant picking up anything in a skirt from pubs in town.
We had become bad boys in campus, known for 'collecting' but failing to pay for services the next morning. It reached a point where the Karumaindo ladies could smell a campus boy from a distance-as they say, wanatuonea 18- and steer clear of him. But the lure of fun and cash was strong so they devised a pre-pay strategy where the agreed amount was safely deposited at the counter. It did not take long for campus boys to devise a 'cost-sharing' strategy.
End of the free lunch
So, the University of Nairobi decided to introduce a Pay As You Eat (PAYE) cafeteria system for students who had grown accustomed to free food. We were not going to take this lying down so we mobilised our colleagues in preparation to storm a Senate meeting in the council chamber, which was supposed to ratify this decision. We were led by our president, Hon Kabando wa Kabando, and one Ras Omullah Ndezwa carrying the JahYouthKrew flag and singing Chant Down Babylon.
Then out of the Council chamber stepped the chairman of the Department of Literature, Prof Henry Indangasi. He confronted me and said, "Ponge, you are one of our best students. In fact, we are grooming you to come back for Masters once you finish your undergraduate studies. I did not know you could join such a bandwagon of ruffians led by one Kabando wa Kabando, who are pursuing an agenda that is purely non-academic."
The university was closed indefinitely after this and we had to go home. To make sure students did not hang around to roam the streets of Nairobi and cause mayhem, we were required to report to our local chiefs on Mondays and Fridays-and they had to confirm this in writing when we returned to campus.
But some of us did not want to go home. We were living in Hall 13 and we were not even engineering or architecture students. One of us, Arch Ochieng' Sisso (RIP) had made a duplicate room key that allowed him access even after ostensibly clearing with the hostels department.
We had stored mattress covers in an electric power duct, and these served as blankets. At night, we'd climb the wall of Hall 13 from the side with a staircase. Once on the first floor, we could easily access the second floor and our room. This was the refuge of some of the roughest and toughest in campus-Man Odindo Bush Doctor, Man Solo Senior Bush Doctor, Ndirangu Wang'ombe, GunJahMan Odera Solo (RIP), Omwami Curtis, Mwalimu Onyango Opugge (RIP), Ras Wachira Kivoi, I-JahMan APC...Who did I leave out?
One day, a security officer doing the rounds at night spotted some 'creatures' climbing the wall. Don't ask me what he did or whether we were found, but the university decided it would be a good idea to have grills on the staircases across campus. I can say we helped the university identify a serious security lapse... good thing no one thought to enter the women's hostel when students were in session.
Life in the Kibera Slums
The year was 1991 and I had received my Sh5,340 boom for the semester. That was a lot of money then, but I used to drink it all in the first week. Beer was still a luxury item so you can guess what I used to drink. So I was broke and had to get money for food and drinks for the remaining 14 weeks. As fate would have it, birds of a feather flock together. In this case my rescuer was Passi Jo. That was the other name for Pascal Okello Nyang'on ..Wuod Got Nanga, Jera Inn.
He told me non-resident students received Sh5,000 in addition to the boom so I left the hostel, got the money and drank it with Pascal and friends in two days. So I had no money and nowhere to stay. Passi Jo took me to Kibera slums to stay with his 'sister' who we simply called 'madhe' (mother). This was one woman who loved and lived with many people. She did not care whether you were her relative or not. If she sympathised with your situation, you were welcome to stay in her house. Many of my friends thought that we were related. May the Almighty give Mama Loice Adhiambo long life for giving me a roof over my head when I had nowhere to turn to. That was the start of my life in Kibera.
As I was 'surviving' in the slums, I still needed to drink and smoke but I had no money. I started fetching water for households, clinics and brewers of traditional liquor. One day, I was dead drunk at around 11pm and carrying jerrycans to a clinic when I bumped into my cousin's wife, Marggie Oguna. She was shocked to see me, and the clinic owner, who was Marggie's friend, was shocked that Marggie knew me. Marggie vowed she could not leave me in the ghetto, so she went and told her husband, Philip Samo, about our encounter. The following day, they returned, grabbed me by force and took me to live with them in Komarock estate.
They say you can remove a villager from the village, but you cannot remove the village from the man. I was uncomfortable living in this 'posh' estate until I found out that my friend Solo GunMan Odera (RIP) lived with his brother in the same estate. So he would come to visit when I was alone and we would smoke. Before long, neighbours started complaining that I was a security risk. But you remember that I had quit weed, right? Odera was the solo ganja smoker. I had not smoked cannabis sativa--the sister of oryza sativa (rice) since joining Form 5 in 1988.
So, as they say, weed only enhances what you already have. If you are a glutton, it will enhance that. If you are sharp, you will be sharper. But wait a minute. I'm not saying that you should smoke weed. Word goes round that one puff lasts seven years in the head. I'm not sure if what I smoked has cleared from my head.
I would go to Mathare with Solo GunMan for our normal 'Orchestra' aka Okech aka chang'aa. So one night I alighted from a Kenya Bus along Kangundo Road at around 10pm and walked across an open field headed to Komarock. Suddenly, I met a group of people carrying crude weapons.. pangas, rungus, bows and arrows, hammers, you name it.. and they were baying for my blood. They accused me of being part of a gang that had burgled their houses and said they intended to kill me on the spot. I wish you could have seen how angry they were.
I sobered up instantly. I explained that I had just alighted from a bus--an innocent passer-by who was not part of any gang. They ordered me to show them where I lived and I took them to Philip's house. The family was asleep but Marggie heard me knocking and looked out of a window from the upper floor. She was asked if she knew me and her YES saved my life. To Philip and Marggie, I apologise profusely for all the inconvenience I caused you while staying with you in Komarock. Please accept my sincere apologies.
The Campus Ghetto
There was this ghetto next to the university situated between the prefabricated hostels and Nairobi Primary School. Just below the present day Club 36 and above the ADD Building across Mamlaka Road. This was a perfect market for fast-moving commodities from the university and they had all forms of traditional brews--from chang'aa, muratina, Texian Tornado Rosso--you name it. It used to come in handy when you were nursing a hangover and had a lecture at 8am. That is where we used to go to 'remove lock' before attending early morning class.
I swear, university students can do anything under the face of the Earth to make ends meet. So, good people, talk to your sons and daughters to steer clear of bad company in campus. Note that I was not involved in some of these incidents; I'm just saying what I saw.
Some of us had gotten married to booze a long time ago and female students were not into that lifestyle. It is said that nature has a way of making demands at the most unholy hours, which calls for innovation. So guys would would opt for Koinange Street. One night, a guy was lured by a skimpily dressed siren on Koinange and he made his move. On closer scrutiny the catch turned out to be his classmate! The boy sobered up while the girl took off at speed to the hostels. Not even Ben Johnson on steroids would have caught her.
The Waseduogo Group
I was part of a notorious group that would drink one too many and return to campus at ungodly hours singing, chanting and sometimes wailing 'wase duogo', which was heard differently by various people. It could have meant 'we have come back' but others decided to hear it as 'wazee duogo', meaning 'the old men are coming back'. But whatever you heard, you were right. We were announcing our return. It was so regular that some students would not sleep until they heard us announcing our return. Otherwise, we would still have to wake them up. Actually, we could have been called "The Wailing Souls". If one did not hear APC saying 'wase duogo' for three nights, they would have had to ask whether APC was still in campus.
As part of the Waseduogo Team we used to go to pubs in the company of karatekas. These were six persons whom we referred to as the Mobile Human Weapons (MHW), and they ranged from green belts to black belts. These men were so tough that we always felt secure in their presence (some of had long mouths but no body or strength when it came to war).
We would go to pubs after getting boom and 'chafua meza'. "Waiter, leta vile tuko..," one would order before another ordered the same. In short order, everyone would be staring at five or six unopened bottles. It was not always our intention to attract the "collections" to our tables, but girls had a way of inviting themselves to tables where they knew their chances of drinking and 'after services' were high. One thing always led to another and before you knew it, you'd be waking up in your room in Hall 9 or Hall 11 nursing a serious hangover and longing to 'remove the lock'--but you would not be alone.
So when the pub tables were awash with brown bottles, some men found themselves on the receiving end when their girls left them and joined us. You could only watch your woman go but if you dared raised your voice, you would get a thorough 'muochment' or 'chwadment' as MHW commander Omondi Ocholla Rampell (RIP) called it. You would be a double-loser--earn a thrashing and also lose your girl.
On this day, I had been drinking at Modern Green, gotten high and left for campus, wailing and chanting as usual. I later received news that one of the MHWs had been stabbed to death at the pub. That was one of the saddest days of my life. I wept for one week. I would lie on the road and wait to be run over. On reflecting, I knew it was me who could have been stabbed. On the day the body was to be transported home, comrades had planned to go and burn down the pub but police got wind of this and gave it security. That was the end of my visits to Modern Green, but any time I pass there, I think of our departed brother. It was such a painful loss. Rest in peace, brother.
First attempt at student politics
In 1992, and after a long, hard fight, the university finally reinstated the students union that had been disbanded by the Nyayo regime. It even came with a new name--Sonu'92. This was the time there was struggle in the whole country for the repeal of the obnoxious Section 2A of the Constitution that made Kanu 'Baba na Mama ya Taifa'. President Moi bowed to pressure and multi-party politics was re-introduced. Those were the days when comrades power was real power.
Elections were called and those who had been at the forefront in the fight for the reinstatement of the union were made election commissioners. We had Kajwang' TJ and Ochilo Ayacko, then students at the Parklands Law School, to conduct the Sonu'92 elections. For post of president we had Kabando wa Kabando running against Hon Ambrose Otieno Weda Mc'Weda… And I was not left behind.
I was running for the position of external affairs secretary against other Sonu greats like Otieno Aluoka, Dr Olang' Sana and Kogello Colmky. The election supervisor was current Supreme Court Judge Smokin Wanjala.
Now, this candidate-buying thing did not start today. my competitor knows I'm popular on the ground and sees me as a threat. He wants to buy me and my supporters so he takes us to Eastleigh and buys us toivoh. He gives me money and tells me that during a campaign rally later in the day, what we used to call a kamukunji, I should declare in public that I have stepped down from the race. I agreed... so I could get drinks and money.
During the kamukunji outside Hall 9, my competitor said, "I have talked to my brother Ponge here, and he wants to make a declaration." I stood up and said that I was in the race to the ballot. I think the guy must have gone to the toilet to cry. That said, when election day came, I was defeated by Aluoka. The president was Kabando, Mike Oliewo (The Boss) was deputy president, Kamau wa Mbugua was secretary general, Hon Moses Kuria was treasurer and Judy Muthoni Kamau was the organising secretary.
This was when we did not know what tribe was, and we did not care who became Sonu officials as long as one had an agenda for the student fraternity and the nation at large. How I yearn for a return to the glorious past.
After losing the election, the leaders felt I had a following and was influential--that I could be more relevant inside the union than outside. During the swearing-in ceremony of the new officials, one of the MHWs, Ocholla, was made commander of the Sonu military wing with me as his deputy. That is when I started rubbing the administration the wrong way. I will not say whether or not we had an army... whether we went for any training... or whether we had weapons. That should have been the work of the university intelligence.
During this time, the Special Branch used to pay some students on spy on their colleagues. There was one who was assigned to track me in class, residential place and even to my drinking joints. Interestingly, he was one of my closest friends until an incident occurred where his cover was blown and he was given marching orders by students to vacate campus premises.
As we engaged in activism to keep the university in check, officials thought we were a threat who needed to be checked. I was not even a Sonu official but when its officials were being sent home, the list included my name and that of my innocent roommate, Moses Awili (RIP). Willy Mutunga assembled a battalion of 40 lawyers to represent us. The university blinked first and we were reinstated.
My joy, however, did not last long. I received a letter from the vice chancellor, Prof Francis Gichaga, purportedly on behalf of the Senate, claiming that following my appearance before a Senate disciplinary committee, the Senate had decided to expel me. The letter did not say when I appeared before the Senate, what the charges were, and whether or not I was given a hearing. But I had never appeared before such a disciplinary committee.
After receiving this letter, I could not go home. I decided that I would be 'pirating' (that is, staying illegally on campus) in other students' rooms when they were in session. I would perfect my 'cargo cult mentality' in order to survive. This saw me drown in alcohol and I would occasionally stage what became known as "one-man demonstrations" against President Moi. I engaged in other acts that I have apologised for, and for which I'm truly sorry.
My attempts to appeal the expulsion fell on deaf ears. It was not until 2003, when the Narc government of President Mwai Kibaki came into power, that a new Vice Chancellor, Prof Crispus Kiamba, and a rejuvenated Sonu leadership of Fwamba CN Fwamba, David Okindo, Makhoka Wanjala, Oulu GPO (RIP), Tedd Munovi and Ngaruiya KJ fought hard for the reinstatement of students who were 'politically expelled'.
The university constituted a Senate disciplinary hearing for me. Actually they wanted to endorse the expulsion. But Prof Solomon Monyenye (RIP), my philosophy teacher, prevailed upon Prof Florida Amakobe Karani, the DVC Academic Affairs (who was chairing the meeting), to have me re-admitted. To all those who accommodated me at my time of greatest need, and whom I greatly inconvenienced with university security--Nelson Juma Otwoma, James Ochieng' Maende (RIP), George Oguta Osuri, Jared Odindo, Fred Odhiambo, Ken Ouma Owiny (RIP), Onyango Opugge (RIP), Solomon Odera Rangala (RIP) and any others whose names I may have missed, I apologise.
Election time 1992
It was time for the 1992 General Election and as was the nature of university students, that was the time for political harlotry and trying to reap from politicians. So Raila Odinga organised to have students register in Lang'ata constituency so as to vote for him. He brought 'manyanga' matatus to ferry us from campus to a registration place between Nyayo Market and Ngumo shopping centre. After registering, our coordinator called Raila to address us. He briefly talked about the urgency of the time and the need to remove Moi from power. After the speech, one student boldly asked for 'fare' back to campus. Raila really lectured him, "You disappoint me, you university students. This is the culture we want to get rid of in Kenya, and you are the first ones to ask me for money." In brief, not a single coin came out of Raila's pocket.
After the disappointing Lang'ata registration exercise, one of us hatched a plot to approach Perez Olindo, who was vying for the Lang'ata seat against Raila but on a Kanu ticket. We moved to the Olindo's Embassy House office but not all of us could fit inside. The leader and a few students entered while the rest remained outside. But when they emerged, the leader said he had been given promises but no cash. We, however, heard different but everyone went their separate ways.
I went to the pub with a few others and drunk until 10pm. That is when the guy who had taken us to Olindo's office turned up with some campus guys. They were also drunk. I was enraged and demanded that he gives us our share or there would be trouble. A fight broke out and it was so fierce that the whole bar came to a standstill. Then out of the blue, Kefa Awuor hit me so hard with a beer bottle that I lost consciousness. I woke up in the university sick bay with stitches on my head. I still have a scar on my forehead. And because of that attack, MHW Ocholla ordered Kefa never to step foot in campus if he valued his life.
Interestingly, Kefa was searched and found to be in possession of a student ID. He even lived in a hostel but no one really knew which course he was doing. He would attend all the classes where lecturers rarely knew students by name, but his real job was to track the students perceived as being 'radical'. We never saw him in campus again (even though he had married one of the cooks). The next time some students appeared before the Special Branch for grilling at Nyayo House, they were shocked to find Kefa was one of the interviewers.
He was one of us, a guy we would drink with and share secrets, but we had no idea he was a government spy. That is how bad campus was.
We had missed Raila's and Olindo's cash, but we had to get a politician's money to spend. And that is where 'The Boss' came in. His sign was a baby, and he had flooded the city with big goggles with no head. And a slogan, 'Think, Work and Grow Rich'. In reality, we were taught to think in campus but we did not want to work yet we wanted to get rich.
So we started asking what those big goggles were all about. By coincidence, Syprose Oloo Rabach organised a birthday party at Nairobi Railways Club. Who did Rabach invite as the chief guest? The Boss, himself. Oh my God! Si tulikunywa! Ikapata wale wamezoea toivoh na chang'aa kama mimi now today they got free beers.
The party started at 8pm and ran till 11pm. The birthday gift was Sh1,000 for everyone who attended. We carried all the bottles and crates of beer back to campus. On the way, we uprooted road signs.. the Railways sign, the Uhuru Park sign, the Serena Hotel sign. Surely, what did we benefit by carrying these signs to our rooms?
And that is how 'The Boss' John Harun Mwau got a foothold in campus. Once we had been recruited as his supporters and the money was flowing freely, we assured him of our votes. But Mwau was vying in Westlands while our votes were for Lang'ata. So we had two different campaign bases, and I was based at the Italian Furniture compound in Kileleshwa. We would campaign the whole day, come back to eat supper and get paid for the day's work. And then we'd head out to town to drink.
People chewed free meat until I heard some of Matiba's supporters say, "Otia magego ..ka ka ka." I have never asked for a translation to date. So one time we went to campaign for The Boss, in a long convoy of trailers, in a slum in the outskirts of Westlands. Wueh! We were almost lynched. This was a fanatical Matiba support base yet here we were trying to sell Mwau.
If it were not for the swift action of one Ndirangu Wang'ombe, I would not be writing this today. I would have been buried long time ago. It was Ndirangu who told them to take Mwau's money and chew, but reserve their votes for Matiba. That is how we survived.
Come election day and we convened at the Italian Furniture place. We were paid upfront and briefed on the different polling stations where we were to act as polling agents. One person told The Boss, "But we have not taken breakfast. How can we go to the polling stations?" And The Boss replied, "Wewe ni heckler. Unajuwa maana ya heckler? Ni mtu wa kuharahara maneno kama wewe."
"We burst out laughing and headed to the different matatus that transported us to the polling stations. When the results were announced, we all felt guilty. After chewing his money for nearly 30 days, he did not get a single vote from my polling station. On behalf of all the comrades who chewed John Harun Mwau's money but did not campaign or vote for him, please accept our apologies. It was not only your money that they ate. Walikula mingi.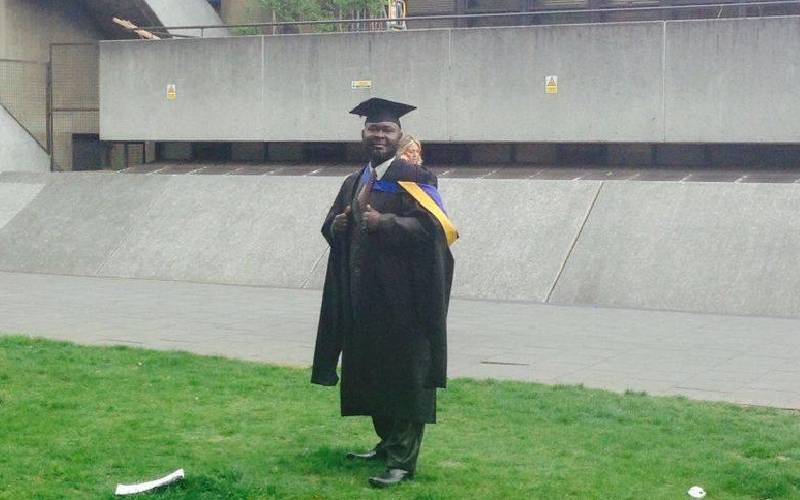 The Sick Bay Days
After I was knocked unconscious at Modern Green, those who saw me thought I would not make it to the next day. When I was being treated in the sick bay, a consultant psychiatrist from the University Health Services who was doing his rounds asked what I was being treated for. He told the university chief medical officer, Dr Githahu, that I did not belong in the sick bay. So Dr Fred Owiti took over my case and referred me to the Mathari Mental Hospital's Maximum Security Unit for treatment. That is how he started treating me for dipsomania, which is the uncontrollable craving for alcohol.
I was in Mathari with the real mad men and women. The hard-core type. Dr Owiti tried his best, including introducing me to Alcoholics Anonymous. After my reversion to Islam and quitting alcohol, it was Dr Owiti who assessed me to confirm that I was no longer 'mad' and that I could complete my studies. Good people, join me in thanking Dr Owiti of Chiromo Lane Medical Clinic for saving a life. I share with him the joy of my PhD.
Life in the Ghetto no sweat
You recall my trips to the infamous Mathare slum. This time we were at a place called Number 10 near the Moi Air Base. Students with connections could easily get duty free beers, cigarettes and even canned beef from the base. But for me and my friends, we could only afford illicit liquor that was brewed and consumed at source. The liquor was served in a 500 grams Blue Band tin called 'Orchestra'--or 'Okech'. We would say, "Nyar Sakwa leta Okech!"
I had drank all my money but I still wanted booze. So what did I do? I promised the brewer that I was going to bring her a 32-inch television that she could use to show football matches for a fee. We agreed on a price of Sh2,000, and I drank a down payment of Sh500. Rest in peace, Nyar Sakwa, Nyar-gi Amollo Tinga. I think I still owe you.
I did not have a television so where was I to get one? My cousin had just been promoted to a permanent secretary–the highest-ranking position for a civil servant. He had upgraded all his furniture and electronic equipment, and his 32-inch TV was in a store. I thought he did not need it and arranged to go pick it up in Kileleshwa.
I hatched a plan with Solo GunMan. He would wear a lab coat that had been channelled from the university bookshop, thus passing for an electrician. We arrived at my cousin's home and I told the houseboy that I had been sent with the fundi to pick up the TV in the store. But I had under-estimated the intelligence of the houseboy who went to the reading table, wrote down the office telephone number and called my cousin. The boy asked for confirmation and my cousin demanded to speak to me. "Cannon! Bende wiyi ber-ga? Have I sent you with anyone to go and pick my TV?" I do not know how I hang up the phone and how we snaked our way from Kileleshwa to the matatu stage. By him in whose hands my life is, I apologise to you, my dear cousin.
The Bookshop Allowance
Back in university, the government thought it was doing us a favour by depositing Sh3,500 for every student in the university bookshop. We had to use this money to buy books or else it would revert to Treasury. This decision was pushed down our throats without asking for our views. This is why I tell my students that stakeholder participation is critical in decisions that affect their lives. The university realised that we were not buying books because we had the best library in sub-Saharan Africa (at least before Kenyatta University came up with their post-modern library).
What did the university do? They turned the bookshop into a supermarket. It is true that luck comes at the time of greatest need. We survived from the bookshop for long. We did not even need the boom. We would go to the bookshop in light clothing but leave when wearing several T-shirts. Even the track-suits came in handy. There was ready market for these. What Mosse Sakar calls 'fast-moving goods'. The medical students also needed lab coats and we could 'channel' them easily from the bookshop and sell to them at 'comrade's price'.
The photocopy and printing papers helped us do good business. The price for one ream was Sh120, which would be deducted from my account. So what was one to do? You added one zero at the end of '1' ream, so it read '10' and another zero to make the price read Sh1,200. This meant the university lost nine reams of photocopying papers, which had a ready market in downtown Nairobi where a ream sold for Sh80. After all, we did not 'waro-gi'. It was pure profit. I think it took the university a whole year before they did stock-taking and realised the loss they had made. Security was improved and those who were caught in the act served as a lesson to those who harboured such business ideas. That is how early adopters benefit in business and laggards are caught in the tail-end. It was a lesson for the bookshop. These days, you have to show the original receipt and carbon copy to be issued with an item.
There are some people who believe they are entitled to certain things. A Maasai will look at a cow anywhere in the world and feel like this was stolen from his people and righty belongs to them. That is how some people felt about track suits. They could not see a track suit at any time of the day or night without thinking that it rightly belonged to them. This made it a fast-moving commodity.
The bookshop sold track suits that were clearly labelled 'University of Nairobi'. People wanted to identify with UoN then and even today, so a group of students took their economics and entrepreneurship classes to the next level. They were innovative enough to come up with a company--UoN Urgent Cargo Handling Services LLC--whose slogan was 'Malo gi Piny'. I'm not sure whether they had gone for bench-marking at the JKIA cargo section, but they were swift. They believed anything Top and Down was theirs so the track suits came in handy.
Given that demand was extremely high, especially in Dandora, Eastleigh and Kibera--which they called the 'motherland'--the suppliers had to up their game. They became ruthless, getting hold of any 'cow' they believed was theirs. They did not care whether the 'cows' were grazing or drinking water or were in the kraal. It did not matter whether the 'cows' had been rained on or not. It reached a point where when you were grazing your 'cows' or giving them water, you had to wait for them until it was time to return to the kraal and lock the gate. Any time the entrepreneurs passed by, you had to counter-check to confirm that your 'cows' were safe.
Because they came from the same source, the 'cows' were the same save for the colours. So you could not say this was my 'cow' or not. I think this is the same technology that Mugelle Wuod Seme Lango used to steal cows.. Mugelle Wuod-gi Gavana ma Profesa manigi Degree kod Masters kod Pihechdi .. Joma nokawo Kisumo gi run kend-gi kaka Jo-Seme. He would steal your 'cow' and replace the horns so the 'cow' would look exactly like yours but you would let it go because you don't have a 'cow' with such horns. On behalf of the entrepreneurs-- to all those who were victims of the 'Malo gi Piny' illegal entrepreneurship--please accept our sincere apologies. The act was to satisfy an immediate need without being mindful of the welfare of others. ?