New CBC teacher will allow pupils to take the lead in learning process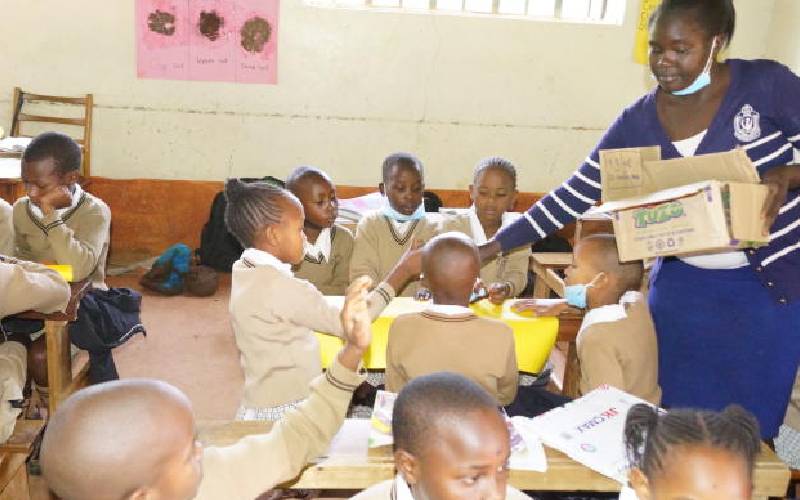 The Kenyan teacher is increasingly faced with major reforms aimed at helping him adopt to the new classroom realities that require children to take charge of their learning process.
With the role of the teacher redefined to that of a facilitator of learning in the classroom set-up–and the children empowered to be at the centre of learning–the new tutor must work hard to adopt.
Education experts, however, argue that the ideal teacher for the Competency-Based Curriculum (CBC) is still not in the classroom.
"These teachers need to undergo thorough training right from college level to grasp the right skills needed for the new curriculum delivery," said lead technical consultant at Tathmini Consulting, Wesaya Maina, who is also a trained teacher.
Mr Maina says that the new teacher must have the right approach to pedagogy (skill of teaching) and be a good manager of data and information.
"This teacher must be able to collect and piece together data for all children, which shall be translated for consumption by stakeholders," said Maina.
He also says that the new teacher must be a good counsellor to understand why the learner is not meeting expectations, and also be a good communicator with capacity for precision and incisiveness.
The CBC majorly focuses on enlarging learners' knowledge, experiences and imaginative understanding as well as the development of moral values for life-long learning.
Kenya Institute of Curriculum Development Senior Deputy Director Jacqueline Onyango says that the CBC is "an organisational or systems approach to schooling and learning where students move ahead primarily based on the demonstration of what they know and can do, rather than time spent in class."
It is envisaged that the new learning experience shall rely on visual content, and embrace hands-on and personalised learning in a classroom set-up that embraces technology.
This calls for a major shift in teachers' roles, behaviour and ability to create a proper environment to facilitate learning.
The need for reforms is captured by concerns raised by Teachers Service Commission (TSC) Chief Executive Nancy Macharia.
"The teaching profession has received criticism with secondary school teachers termed as semi-skilled while primary teachers are accused of being unskilled," said Dr Macharia.
The pressure to adopt means that teachers will undertake continuous courses dubbed Teacher Professional Development (TPD) every year to retain a valid teaching license.
Teaching certificates
"At the end of each module, successful teachers will have their teaching certificates renewed after every five years," said Macharia.
This will put pressure on the teachers to step up to keep their jobs.
Other educationists have likened the new teacher to a medical doctor who should be able to see the symptoms a patient is presenting, diagnose and prescribe medicine, or decide whether the patient should be admitted or discharged.
"The new teacher should be a highly skilled teacher because the demands under the new curriculum–from teaching to school-based assessments, compiling and interpreting data–are demanding," said Moses Ayier, who is also a teacher.
A curriculum expert, Jane Imbunya, a professor at the Gaborone University College in Botswana, said the teacher must inculcate in the learner both theoretical and practical knowledge and skills that liberate the learner.
She added that teaching CBC should not be "the academic slave mentality of rote memorisation for purposes of passing written exams. It must ground teaching and learning activities into real-world context."
According to Imbunya, an effective CBC teacher must be creative enough to use resources found in the immediate learning environment of the child for affordability. The teacher should also strive to achieve milestones instead of scores, bringing out the potential of every learner so that at the end of the day, every child is a winner.
But what is clear is that the days of standing in front of a class and dictating notes or pouring education content to be regurgitated by learners in an end-year examination are long gone. The 21st century skills on curriculum delivery under CBC will require teachers to be facilitators of learning, a move that requires a new approach to classroom management.
This even as TSC released a detailed teaching plan that instructs all school heads to supervise preparation of the teaching timetables that list the learning areas complete with the duration of each lesson.
The instructions released in 2019 require that each class lasts 30 minutes with a total of five lessons per day in pre-primary level and seven for lower primary learning stages.
In total, pupils in Pre-Primary One and Two (PP1 & II) should be taught 25 lessons per week. Lower primary classes (Grades I, II & III) should be taught 35 lessons.
TSC also said pupils in special needs education schools should be taught 20 lessons per week.
Curriculum experts say that as opposed to the old teaching ways where every child was given the same learning experience, and every student taken through the same learning activities, the new method will lay emphasis on social collaborative, flipped/blended and personalised learning.
Even though teachers will play a minimal role in the classroom, the pressure to mold them to deliver effectively in class is increasing.
And the reforms have started from newly introduced changes in curriculum in the training college and continue through their teaching careers when they will be required to undertake refresher courses every year.
In college, teachers will now be trained and prepared to help children acquire the right competencies under the new education curriculum.
With P1 phased out, five core learning areas have been approved under the new Diploma in Primary Teacher Education (DPTE) training, ushering in a major change in delivery of the curriculum.
The curriculum designs for DPTE show that professional courses, teacher-support courses, English, Kiswahili (or Kenya Sign Language for trainees who are hearing impaired) and physical and health education will form the training at college level.
KICD says that these designs will guide trainers and trainees on how best to deliver quality teaching in line with the requirements of the CBC.
"TTCs will ensure that the teacher-trainee receives appropriate training and professional development, which will accord them an opportunity to engage in research," reads the DPTE curriculum designs.
The approved curriculum designs reveal that micro-teaching and practicum in teacher education have been given prominence in order to enhance experiential and reflective learning with support from experienced teachers as mentors.
Still in the college, teacher trainees will be taken through the micro-teaching process for three months before proceeding for another two terms (six months) of practicum.
According to the designs, the one-term session is meant to give the trainees thorough practice before meeting and interacting with learners in a class. Coaching and community practice have also been embedded in the micro-teaching and practicum for teachers.