Parents say pupils' workload too heavy and materials expensive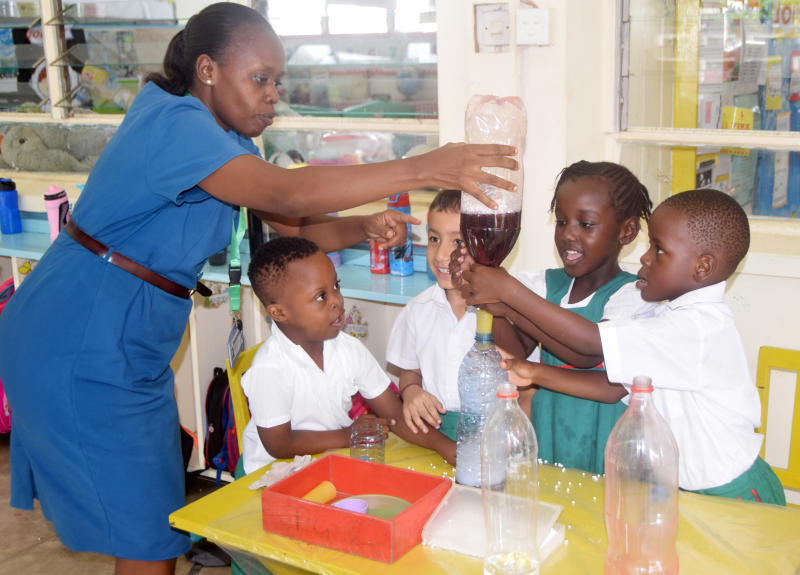 Parents, teachers and academic experts have raised diverse opinions on the impact of the Competency-Based Curriculum (CBC).
The new 2-6-3-3 system unveiled in 2017 to replace the 8-4-4 is yet to be fully embraced.
Various stakeholders feel some gaps need to be addressed for the curriculum to succeed.
Prof James ole Kiyiapi, a senior lecturer at the University of Eldoret and former Education Permanent Secretary, faults CBC for failing to achieve its intended objective.
According to Kiyiapi, CBC is overwhelming to pupils. He blames it on the lack of training of teachers.
"Giving children unnecessarily too much work defeats the very purpose for which this whole educational reform was done in the first place," he says.
"I recommend that the Kenya Institute of Curriculum Development (KICD) reviews the curriculum and makes it child-friendly, child-driven and focused. KICD should understand the spirit of the reforms and the underlying principles of the reforms. Once that is done, CBC should be a major reform in Kenya."
Kiyiapi notes that access, relevance, and equity of resources needed in the new curriculum are sensitive matters that need consideration to avoid marginalising schools in rural areas.
He argues that if the curriculum is not sustainable, there is no harm in going back to the drawing board and receiving feedback from teachers, parents and experts on changes needed.
At Hill School Primary in Eldoret, Uasin Gishu County, teachers said the new curriculum brought forth pupil's full potential while encouraging aspects of creativity and nurturing talents.
"CBC is good because it is activity and outcome-oriented and helps learners discover a lot on their own as teachers guide them. It even led to an increase in the enrollment of new pupils because there are no exams which would often scare away learners," says head teacher Hesbon Ngaira.
The new system, he notes, encourages the assessment of learners, and has made parents more involved in their children's education.
"It is easy for parents to monitor the education of their children," says Ngaira.
However, he says lack of adequate resources, including classrooms and enough trained teachers, are challenges that the Ministry of Education should address.
Nancy Mijide, head of Early Childhood Development (ECD) at the school, says teachers and parents should embrace the new system wholeheartedly.
"CBC helps children learn new things every day. It is demanding, especially to the teachers, but it is the right place to be. Only lazy teachers will complain about this new system."
Mijide notes that the outcome-oriented curriculum demands more space and more activity books that some parents might not afford.
"The syllabus requires at least five workbooks for each student. At the moment, some parents have not bought the books, and it becomes a challenge to move on when some pupils lack the required resources," she says.
Some parents admitted that the new curriculum is very costly.
Joyce Momanyi, whose son studies at Kipkaren Primary School in the outskirts of Eldoret town, says CBC requires too many materials and is complex for illiterate parents.
"Children always demand various things, which need to be bought in bookshops or supermarkets. Today, my son will ask for crayons and tomorrow for clay. Children are also burdened with a lot of assignments that they do not have free time at home," says Momanyi.
Another parent, Faith Misikhu, agrees. "Helping the children with their homework is also challenging. I once beat up my son for pronouncing some sounds differently only to realize later that I was wrong."
The National Parents Association Chairperson Nicholas Maiyo says CBC is a good match for children, adding that teachers should only demand locally available materials.
He is also calling for more teacher training. "Learning under this curriculum is also very interesting. I have attended CBC classes, and I see it impacts well on our children since they are more engaged in the learning process," he says