Kenya School of Law told to reduce fees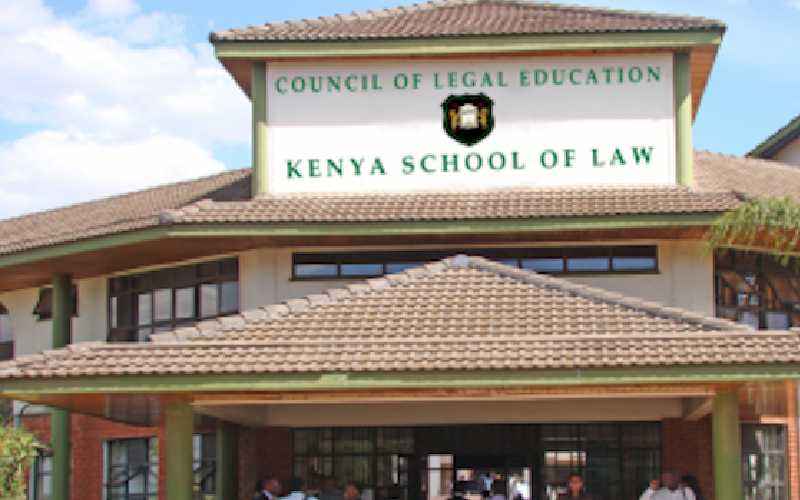 The Kenya School of Law (KSL) has been challenged to reduce fees to accommodate disadvantaged students from poor backgrounds.
Yesterday, members of a Senate committee investigating reported mass failure at the institution lamented that many students could not afford to learn at institution.
This came amid revelations that the school charged Sh145,000 as tuition fees. Students pay an additional Sh45,000 to the Council for Legal Education (CLE) as examination fees.
CLE charges Sh5,000 per paper, with students seeking to re-sit an examination required to fork out Sh10,000. The fees for remarking a paper is Sh15,000.
Senators from the Justice, Legal Affairs and Human Rights Committee also raised concern over the expenditure of the fees collected by the institution.
"The school of law is churning as many lawyers as it can… where do the resources collected go in terms of expenditure?" posed Makueni Senator Mutula Kilonzo.
"The students raise concern over the high fees charged on repeat exams. You collect a lot of money that you give to the exchequer at the expense of very poor students," said committee's chair, Okong'o Omogeni (Nyamira).
In response, Emily Chweya, a member of KSL's board, said most of the money was channelled towards paying lecturers, running school operations and development projects.
"It has been difficult since budget from the government has been very low," she said, adding that KSL had signed a memorandum of understanding with the Higher Education Loans Board (Hleb) to provide loans to needy students.
Attorney-General Kihara Kariuki called on Parliament to secure sufficient budgeting for the school, saying KSL's current financing was inadequate to provide quality.
"It (KSL) is basically on its knees. And whereas the legislative interventions will seek to resolve some of the problems, I think it is imperative to ensure the school is adequately financed," he said, citing the high number of students enrolling.
He further said families, mostly from poor backgrounds, should not be burdened by putting their children through the institution.
Mary Mutugi, CLE's chief executive officer, said the council was working towards regulating the lawyers' training fees.
"The council is evaluating the entire advocates' training programme framework. Part of those recommendations (reducing fees) will be considered in it," said Mutugi.
"I hope as you review this you will take into account the nature of our economy and poverty levels," said Omogeni.