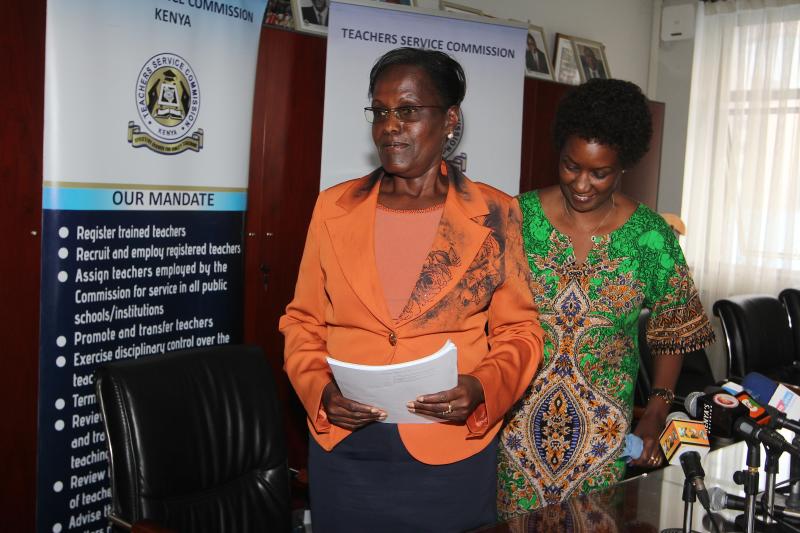 The Teachers Service Commission (TSC) selection panel has recommended nine candidates to replace the three Commissioners who retired last year. Commissioners Cleophas Tirop, Salome Gichura and Saadia Abdi Kontoma exited the TSC after their six-year term ended last year. The selection panel, chaired by John Munene Njenga completed interviews and sent the names to President Uhuru Kenyatta. Details of a confidential document seen by
Saturday Standard
reveal that the successful candidates were picked from the three regions previously represented by the retired commissioners.
SEE ALSO: TSC ordered to return 130,000 union members
Regional balance
The three regions were Rift Valley (Tirop), Central region (Gichura) and North Eastern (Kontama). Under the central region, four candidates have been recommended. They include lawyers Isaack Wamute Gathirwa and Mbage Nga'ng'a, accountant Pius Nduati and human resources expert Florence Wanjiku. In the wider Rift Valley region, either Margaret Lesuuda or Mary Rotich are the two possible replacements for Tirop. Both candidates are teachers or educationists by profession.
SEE ALSO: Six teachers win pay, promotions case against TSC
Under the North Eastern region, three candidates have been recommended to replace Commissioner Kontoma. They include educationists Abdijadir Kike and Salesa Adano and auditor Leila Abdi. President Kenyatta will now pick only three names from the list of nine and forward them to Parliament for approval or rejection. The TSC Act requires the president to, within seven days of receipt of the names, forward them to the National Assembly for approval or rejection. Parliament will resume in February. The three new commissioners will join Beatrice Adu, Mbarak Twahir, Kinoti Imanyara, Tache Gollo, Albert Ekirapa and Dr Lydia Nzomo who is the current chairperson of the commission. The terms of these commissioners are still valid, but some are expected to end this year. In total, the nine will fully constitute the Commission and will be critical in the appointment of a new Chief Executive Officer or grant a second term to Nancy Macharia, who is the current secretary.
SEE ALSO: State loan will help struggling private schools remain afloat
Dr Macharia was appointed on June 30, 2015. Her term will expire in June this year after serving for five years. Macharia, who is the head of the TSC secretariat and works with eight directors, is eligible for a second term. Overall, 24 applicants had been shortlisted to replace the three commissioners. Prof Maurice Amutabi, Flora Maghanga, Cleopas Ondieki, Bernard Adow Mohammed, Dorothy Kimeu, Lilian Wachira, Gituro Wainaina, Boniface Imbali Nudi and Mohamud Kasai were some of the candidates invited to the interview. Others were Stephen Nthiga Mitugo, Mukulu Ngilu Kariuki, Amina Hassan Ahmed, William Yator Kibowen, Mohamed Mwinyipembe and Benard Kibet Kurgat. Some of the regions with applicants already had representation among the sitting commissioners. During the interviews, regional balance, gender and persons with disability factors were critical determinants.
Critical phases
Also critical were categories of minorities, the marginalized and persons with disabilities. Section 8 (16) (a) of the TSC Act requires that in nominating or appointing a person as a member of the Commission, the panel and the President will observe the principle of gender equity, ethnic and other diversities of the people of Kenya. It also requires that the process ensures equality of opportunity for persons with disabilities and also takes into account the national values and principles set out in Articles 10, 27 and 232 of the Constitution. Uhuru appointed Prof Njenga to chair the nine-member committee. Other members of the selection committee are Mary Gaturu, director of quality assurance and standards at the Ministry of Education, Solicitor General Kennedy Ogeto and Nura Mohammed. Uhuru also appointed Hellen Ambasa to represent Federation of Kenya Employers (FKE) at the panel. Former Kenya National Union of Teachers (Knut) Secretary General Francis Ng'ang'a and Dr Margaret Nchabira Kirai represented teachers' unions. Kenya Private Schools Association CEO Peter Ndoro and former Mount Kenya University Vice-Chancellor Stanley Waudo were also members of the committee.