Dr Jwan on CBC: 'We engaged all stakeholders on new curriculum'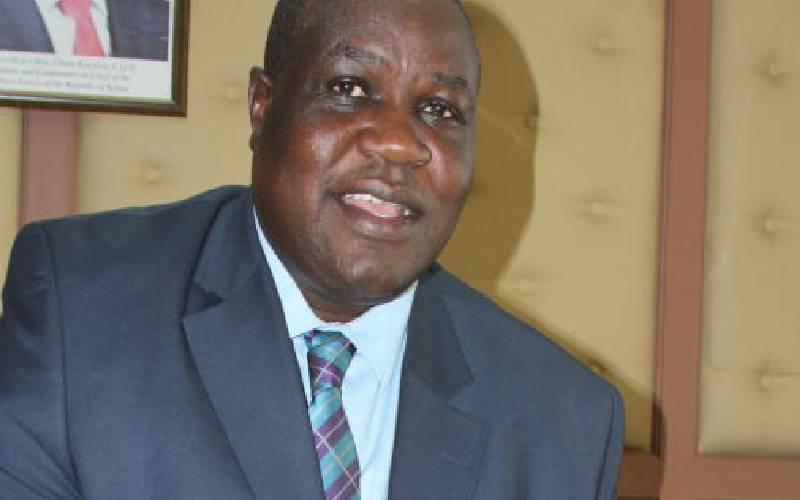 The roll-out of the Competency Based Curriculum has kicked up a debate, with those for and against the idea giving various reasons why they have taken such positions. 'The Standard' writer Protus Onyango spoke with KICD CEO Julius Jwan. The following are excerpts from the interview on the new system.
Question: Has the country made adequate preparations for the new curriculum?
Answer: Yes. We are good on all three main aspects of implementing a new curriculum anywhere in the world. The three are the technical bit — teacher preparation and curriculum support materials.
We have developed the curriculum designs. This is after we presented our needs assessment report to Kenyans on May 30, 2016. Kenyans gave us the go-ahead to proceed and develop the CBC. This was launched by Deputy President Dr William Ruto.
On January 1, 2017, then Cabinet Secretary Dr Fred Matiang'i launched our CBC framework on values and vision for the CBC. We presented this to Kenyans and they told us to implement the new curriculum.
Together with the Ministry of Education and Teachers Service Commission (TSC), we have trained teachers and more will be trained. We have also developed curriculum support materials which are basically books and prototypes.
Question: Some say the training of teachers is rushed and the two or three days set aside for training them are not enough.
Answer: This is a myth that is being bandied around that teachers have not been trained. Teachers are not trained on a specific structure. They were not taught to specifically deliver the 7-4-2-3 or 8-4-4. They are taught on general principles of education and teaching. You can then teach using lectures, activity, collaboration and discussion. This is what CBC is meant to deliver by focusing on competency and skills.
There are those who are saying that the teacher trainers are incompetent. These are the same people who developed the designs for 8-4-4 and now the current designs. At the third tier, are the champion teachers and CSOs. Referring to them as incompetent is an insult to the curriculum developers and teachers of this country.
Pre-service teacher training does not focus on a specific curriculum but principles of pedagogy which runs from lecture method to activity-based learning.
The best is the combination of all, discussion, collaborative activities, question and answer, individual activities. The kind of training required is more of orientation for them to use more of collaboration, discussion etc than lecture.
We can't take teachers back to class for two years. We engage them on how deliver knowledge in this 21st Century and let them go to apply in class. We have not reinvented this. It is how teachers are oriented on a new curriculum worldwide.
Question: Has the system been evaluated?
Answer: Yes. Summative evaluation was done on 2009; Totally integrated quality education and training (TIQET), Davy Koech Report, 2000; Dr Douglas Odhiambo Commission report in 2012, and earlier, several other studies all captured what Kenyans wanted and clear recommendations.
First I dismiss the lie that the needs assessment done in early 2016 was poorly- done. Nobody has specified where the weaknesses were empirically, and it was presented to the whole country at KICC on March 30, 2016 presided over by the DP. It was endorsed. Several other studies have been done that indicates that our system is too examination-oriented and it ignores the effective and psychomotor skills — the Heart and Hands at the expense of Cognitive (Head). It ignores the component of character building embodied in ethics and values.
Question: Are there enough facilities in schools because there are complaints that learners in rural schools might be disadvantaged because they lack ICT materials?
Answer: The infrastructure in schools will be determined by individual schools. Nowhere in the world has there been a unanimous agreement that all the schools have 100 per cent infrastructure before implementing a new system. Kenya needs this system like yesterday.
Question: Please comment on the claims that CBC has failed in some countries and that it is being pushed by foreigners.
Answer: I have heard people say that CBC failed in UK and South Africa. Scotland and Wales practice CBC. The socio-cultural and historical factors in South Africa are very complex. There are eleven languages of instruction in the various types of schools. A study by World Bank shows they have better learning outcomes than Kenya because their system is outcome-based. First summative exams at the end of Grade 12 to the university. Why don't we also mention where it has succeeded? England is outcome-based but still focuses on outcome, competencies and skills.
Question: What is the difference between CBC and OBE being pushed by Knut?
Answer: Competency-based education is an approach to teaching and learning more often used in learning concrete skills than abstract learning. Competency based education is an outcome-focused approach that concentrates on the mastery of skills at the learner's pace rather than within a specific period of time.
Outcome-based education (OBE) is a process that involves the restructuring of curriculum, assessment and reporting practices in education to reflect the achievement of high order learning and mastery rather than the accumulation of course credits.
This means that everything that teachers do must be clearly focused on what they want students to know, understand and be able to do.
This focus on a knowledge based curriculum, which lends itself to traditional teacher focused pedagogical practices, which is underpinned by a view that we need to "ensure that every child has a firm grasp of the basics and a good grounding in general knowledge. The focus of a knowledge-based curriculum is on knowing in the sense of being able to recall and explain information.
I have also heard people say that CBC requires small number of students. It is being practised quite well in Shanghai yet classes are quite big and they sit in rows the same we do in Kenya.
Another myth is that CBC only focuses on skills and competencies because of activities and learners do not use books. But, one cannot apply competencies without the knowledge. "I hear and I forget, I see and I remember, I do and I understand" (ancient Chinese philosopher Confucius). It is a lie that CBC is foreign-driven. However, curriculum requires international input so that we don't speak to ourselves all the time. This provides global perspective which is a plus.
Question: What about public participation?
Answer: Evidence is there including the declaration by Knut on January 3, 2018 that they support CBC. Knut is also a member of the national curriculum steering committee. They sign on all proposals that are adopted.
We have held stakeholder engagements with Parliamentary committees on education, religious organisations, professional organisations, teacher unions, universities, private sector, national dialogues on education reforms in 47 counties and civil society. We have evidence that from June 15, 2015 up to March 30, 2018, we met will the stakeholders above. I personally made a presentation to Knut annual delegates' conference on December 7, 2016 and they supported the new curriculum.
Question: Compare 8-4-4 with the CBC which is 2-6-3-3.
Answer: 8-4-4 has served us well but the technical subjects were removed. So those leaving primary had no skills for the market. It focuses 75 per cent on exams, leaving out close to 90 per cent of those who don't qualify to proceed to the next level. Out of 660,000 KCSE candidates last year, only 90,000 will join university. Where will the rest go? CBC will solve this. Those opposed to CBC are taking their children to private schools that offer competency-based education. They are selfish and don't want majority in public schools enjoy the same.
Question: What about the cost of CBC?
Answer: The current lack of opportunities for learners is more expensive. Kenyans should leave this to Government which is willing to fund the process to its logical end.
Question: There are claims that curriculum reforms are driven by publishers who want to make money.
Answer: Publishers will make money even if we continue with the current system. When we launched the programme to take books directly to schools, we saved Sh13.8 billion. These were 8-4-4 books. CBC books are only up to Grade 3. Parents were and are paying as much as Sh600 for a book that should cost Sh100.
Question: Next steps?
Answer: We have started monitoring and evaluation to see how the CBC is being implemented from pre-school to Grade 3. This will make us readjust where we have challenges.