Report reveals how candidates in teachers' colleges failed qualifying exam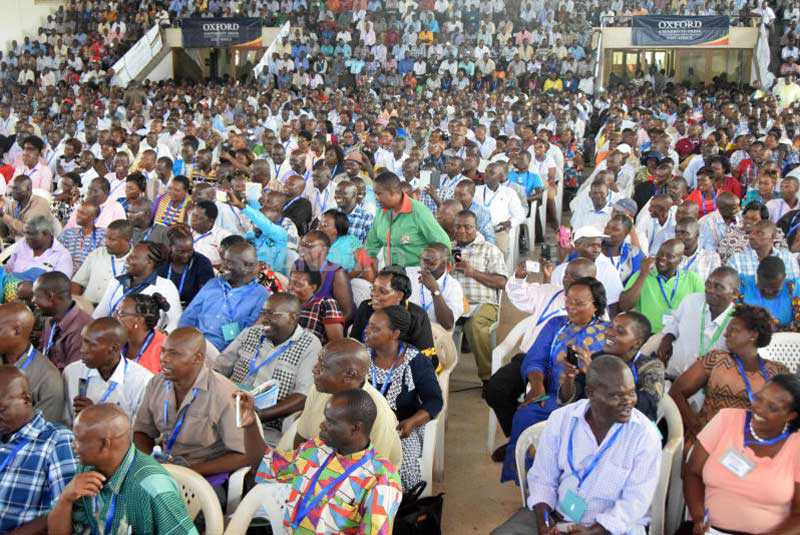 Almost half of primary school teacher trainees failed their final examinations last year, according to a confidential report by the Teachers Service Commission.
The report seen by The Standard says last year's examinations recorded the worst performance, with TSC expressing concern that some colleges had a failure rate of more than 50 per cent.
Of the 12,438 candidates who sat last year's teachers training college (TTC) exit examinations administered by the Kenya National Examinations Council, 5,739 failed and will have to re-sit the tests.
Only five candidates scored a distinction, with statistics showing declining performance since 2014.
Mass failure
The concerns about the mass failure come in the wake of a recent study that showed that one-third of the teachers surveyed failed simple tests in their subject areas, with some scoring as low as 10 per cent in mathematics.
Once they leave colleges, the teachers apply for teaching licences from the TSC and are posted as P1 teachers in primary schools. TSC recruits about 10,000 teachers every year to meet demand in public schools.
The five candidates who scored a distinction sat the examinations at Murang'a, Kitui, Machakos, Aberdares, and Kilimambogo teachers' colleges, with each institution producing one distinction.
During the first year in college, students study English, mathematics, Kiswahili, home science, agriculture, religious education, physical education (PE), music, creative art, science, social studies, and education.
And during the second and final year, the students study compulsory subjects - English, mathematics, Kiswahili, education, and PE - and pick a science or a humanities subject.
Failing any of these subjects leads to referral and delayed graduation.
Data from the report show that 200 candidates did not pass any of the above subjects, resulting in total failure.
Details show that only 4,992 candidates managed a credit score in last year's examinations, with 886 registering a pass. Thirteen students had their results cancelled.
Examination performance
The details are contained in an analysis of Primary Teacher Education (PTE) examination performance in public teacher training colleges.
Overall, of the 25 TTCs that registered candidates for examinations, only 10 managed a 50 per cent pass. Borabu and Mandera TTCs did not register any candidates for last year's examinations.
This means the remaining 15 colleges fell below the pass mark in last year's examinations.
Eregi TTC registered the highest pass mark at 72.45 per cent followed by Kamwenja with 71.93 per cent.
Murang'a TTC was third with 70.11, Migori (67.96), Kitui (67.93), Machakos (64.75), Meru (64.41), Narok (63.68), Kigari (54.72), and Aberdares TTC posting 54.55 per cent pass.
TSC Chief Executive Officer Nancy Macharia expressed concern at the poor performance.
Speaking last week during a graduation ceremony at Kamwenja TTC, Mrs Macharia said in some colleges more than half of the candidates failed.
"It is of concern that some colleges had a failure rate of more than 50 per cent. Most of them also registered a high number of referrals, meaning that many students had to re-sit examinations and could not, therefore, graduate," said Macharia.
Analysis of the results show that at Kanyenya TTC for instance, 178 students failed the examinations against the registered 356 candidates.
At Kilimambogo TTC, which had a total candidature of 500, some 243 failed. Kericho TTC registered 559 candidates but 281 failed.
Total candidature
And at Shanzu TTC, which had 459 candidates, 234 failed. Egoji TTC had 554 candidates and registered 292 failures. Thogoto TTC, which registered 504 candidates, recorded 270 failures.
Other colleges that registered high failure rates are Mosoriot, Ugenya, Kaimosi, Garissa, Tambach, Bondo, Asumbi, and Moi Baringo.
Asumbi registered the highest number of referrals, 589 candidates, followed by Moi Baringo with 551 and Tambach 442.
Analysis of TTC results for the past three years shows that only 48 candidates managed a distinction score between 2014 and 2016.
Macharia said TSC was working closely with the institutions to improve performance.
"We have discussed with the Kenya Teachers Colleges Principals Association and come up with measures to reverse this trend," she said.