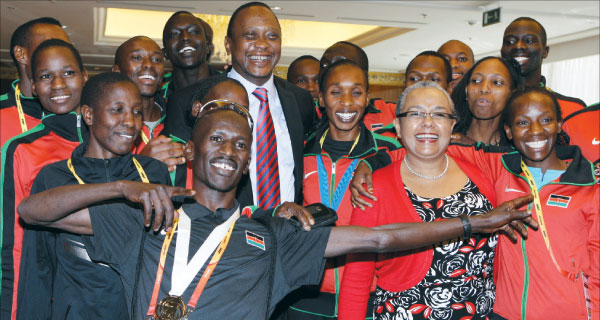 President Uhuru Kenyatta will give state commendations to selected individuals during celebrations to mark 50 years (Jubilee) of independence on December 12.
By JOE KIARIE
Exactly who should receive presidential awards and recognition as Kenya marks 50 years of independence, towards the end of this year?
This question has been thrust to the fore as government officials continue to nominate individuals to receive state commendations from President Uhuru Kenyatta during the [email protected] celebrations to be marked on December 12.
The commendations are supposed to be in recognition of outstanding or distinguished services rendered to the nation in various capacities and responsibilities.
Under the selection criteria, those to be honoured must be persons of proven integrity whose role and contribution to the country and society has been exemplary, profound and inspiring.
Read More
Also considered for the awards are people who have excelled in service to the society and to the country in social, economic, scientific or professional spheres through display of exceptional brilliance, courage, commitment and valour in their service.
But there has been growing public discontent that the awards are increasingly being handed to undeserving individuals, particularly cronies or relatives of the president and other top politicians.
While the awards are made by the President upon the advice of a National Honours and Awards Committee in the Office of the President, critics say the selection process is shrouded in secrecy.
Faded into obscurity
"It is unfortunate that majority of Kenyans who sacrificed their lives for this country are yet to be honoured in any way while others whose only merit is loyalty to the presidency have multiple decorations," says Mr Njeru Kathangu, one of Kenya's second liberation heroes.
Kathangu terms it shameful that famous sportsmen, scientists, activists, clergymen and peacemakers who have made Kenya proud have equally faded into obscurity with no official recognition.
The former Runyenjes MP, who served as a political detainee during the push for multi-party democracy, says the decorations are no longer a source of pride in the country and he would welcome a change in the selection criteria.
"During this monumental year, the President has a chance to change the attitude as far as the awards are concerned," states Kathangu. Let him not use the medals to please individuals but instead use them to recognise the real heroes of this republic".
Former Assistant minister Koigi Wamwere, who was twice jailed and detained due to his vigorous push for democracy in Kenya, avers that state commendations have largely been given to the most undeserving individuals.
"What do these awards stand for? Should being a friend or loyal associate of the president automatically qualify one for a national award?" he poses, noting that only a few real heroes have been honoured, albeit begrudgingly. "What is it that the likes of Dedan Kimathi, Ngugi wa Thiong'o and (Prof) Miceere Mugo did not to deserve any commendation?"
He cites reports that unscrupulous government officials sold invitation cards to businessmen who wanted to attend the State House luncheon during last month's Mashujaa Day as evidence that anything goes in Kenya. "If the cards were being sold for Sh50,000, do not be surprised if the medals fetch millions of shillings," he states.
The former Subukia MP says individuals who have sacrificed themselves to fight national problems thirst for official gratitude.
"You all saw how emotional the late Achieng Oneko was when President Kibaki decorated him in 2004," he says.
But he accuses the government of betraying many great Kenyans by denying them the most important yet the least costly reward; recognition.
"It won't cost you anything to just let the heroes know that you recognise their contribution. In China among various other countries for instance, there is no question as to who did what for the country. Their names, even statues, and are displayed in museums and other public for all to see," he avers.
But he says the Kenyan awarding system follows the colonial pattern to honour loyalty and should be changed, if not scrapped altogether, as it only serves to spite the real heroes.
Veteran politician Abuya Abuya, a member of the group nicknamed "the seven bearded sisters" says it is a pity that "many political sycophants receive state commendations as the heroes watch from the periphery".
"These awards seem to be a preserve of the powers-that-be and I will never campaign to have this changed if that is what they feel is right," says Abuya. "It is a really hurting and emotional affair for the Mau Mau and other Kenyans who put their lives in the line for the sake of this country".
Kathangu explains that the decision to ignore heroes was a British idea that was inherited by Kenyans after independence.
"The colonial masters were careful not to leave power in the hands of the Mau Mau and ensured as many home guards as possible took top leadership positions," he states. "This marked the start of suffocation and the government has neglected Mau Mau and other liberation champions to date".
But he says this idea will be counterproductive. "A country that does not recognise its heroes is an abstract state," he says. "If you do not put your heroes in the frontline, you deny the young ones role models as far as commitment to nationhood is concerned".
Last year, former President Kibaki presented his two children Judith Wanjiku and Jimmy Kibaki with the national awards.
Judy received a First Class Chief of Burning Spear (CBS) while her brother Jimmy received Second Class Elder of the Order of the Burning Spear. According to the Kenya Gazette notice of December 11, 2012, Judy was conferred CBS alongside Supreme Court Judges Njoki Ndung'u and Jackton Ojwang.
Close friends
Those awarded EBS alongside Jimmy included Justice Erastus Githinji, Justice Kalpana Rawal, constitutional lawyer Prof Pal Yash Ghai, Vision 2030 CEO Mugo Kibati, Police Service Commission chairman Johnston Kavuludi, Cotu boss Francis Atwoli, and then government spokesman Muthui Kariuki.
But strikingly, the list included some of former President Kibaki's close friends and associates, most of whom hail from Othaya, with the presidential medals.
They included his longtime buddy Peter Kanyago, who received an EBS to add to the Moran of the Burning Spear (MBS) he received in the early years of the Kibaki regime. Other awardees include then Othaya Constituency Development Fund chairman Karanja Mwangi (OGW), Othaya Development Association chairman Gichuki Mugambi (MBS), and another Kibaki buddy Naftali Wachira alias Wamahuro (HSC). Government ministers have traditionally qualified automatically for the awards.
The criteria used in the nomination of people to receive national awards and recognition was in 2011 put under the spotlight after some civil servants accused Cabinet ministers of forwarding undeserving persons for State commendation.
The officers from the Ministry of Local Government wrote to then Head of Public Service Francis Muthaura and the Kenya Anti-Corruption Commission claiming that persons with questionable characters had been presented for decoration and recognition by the President.