Do not handle dormitory arsonists with kid gloves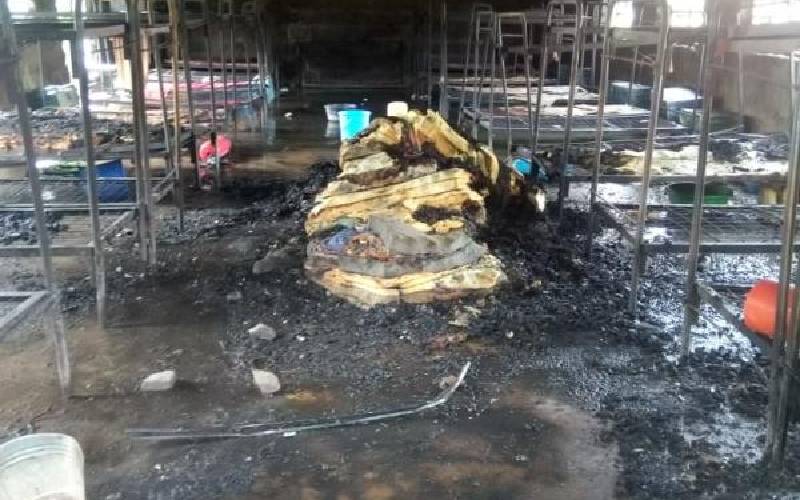 Dormitories in more than 35 high schools have been torched this term alone. The latest cases include Sigalame High School, Buruburu girls, Maranda, Chavakali Boys, Mukumu Boys, Mwala Girls, Ofafa Jericho High School, Vihiga Boys, Kahuhia Girls, Kijabe Boys and Malindi High School.
Increased incidences of school fires have drawn public condemnation. With no end in sight to the school fires, questions are beginning to emerge regarding the causes and the faceless people behind the arson cases.
For instance, how do boarders smuggle incendiary substances into schools, plan and execute arson attacks without the school managements getting wind of such a scheme? How can the fact that the fires occur while students are in class be explained?
Often, blame is put on rogue students, parents are surcharged and the matter let to pass. However, what is happening now points to a much bigger problem that runs deep. The need for serious investigations, especially by law enforcers, cannot be overemphasised.
In some cases, high-handedness by school administrations has resulted in serious cases of indiscipline. However, no matter the grievances that students have against their school management, there is no excuse for setting buildings on fire and in so doing, endangering the lives of other students. That is criminal.
Covid-19 imposed restrictions have adversely affected all sectors of the economy, among them, the education sector. Schools remained closed for 10 months and on resumption, the Government designed crash programmes to recover lost time. While this might put some pressure on both teachers and learners, Education CS George Magoha believes there is more than meets the eye and has called for stiffer penalties against culprits.
Some students are already in police custody. It is the expectation of Kenyans that the suspects will shed more light on the matter that will lead to more arrests. Those found culpable - be they students, teachers or outsiders - must be punished severely to deter such incidences in future.
Tackle teen pregnancies
In the past 10 months, thousands more girls aged between 10 and 14 have been impregnated, Nairobi leading the other counties with 2,379 cases.