Rotich, discard the credit card or history will be unkind to you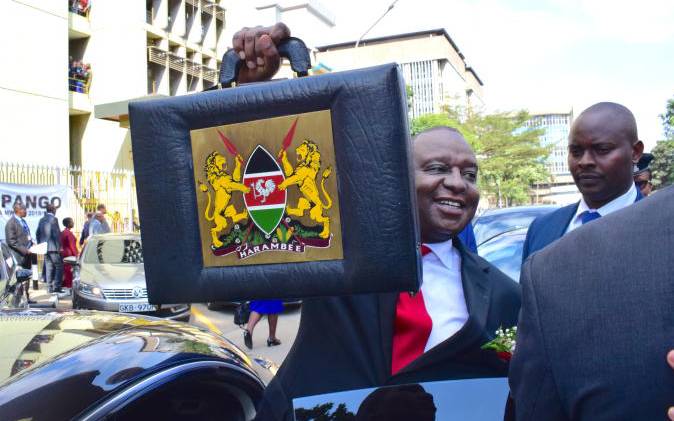 How credit cards work is that you get to spend the money you do not have and all of a sudden you are a man or woman of means. For whatever reason, if you are unable to pay, the credit card company gives you the option of securing another credit card or taking another loan. So, instead of solving an emerging debt crisis, you fall deeper into a vicious debt cycle.
This anecdote offers food for thought for Finance Cabinet Secretary Henry Rotich as he unveils his seventh budget today. First, he ought to consider that the 4.5 times oversubscription of the latest Eurobond could be read as confidence by the market or alternatively, the case of a chronic addiction.
The CS will read a Sh3 trillion budget today and like a rainmaker who has run out of favour with the gods, but still hopes for a miracle, predict revenues of Sh2.2 trillion knowing too well that the Kenya Revenue Authority took 10 months to raise Sh1.1 trillion this year, even after introducing fuel, mobile network, bank transfer and several other new taxes.
Mr Rotich has turned to the credit card, borrowing at an average of 7.6 per cent of GDP over the last five years, or around Sh570 billion every year.So, why is Mr Rotich so eager to have Kenya live beyond its means? Are his stakes in this economy- and those of his hirelings at the National Treasury- less?
According to him, developing countries had better borrow today to build the future like say, invest in infrastructure and thereby grow the economies. He also contends that since the money is cheap, available and that Kenya can still borrow, we might as well borrow as much as we want. Make no mistake, there is nothing wrong with borrowing.
However, good economics teaches also that one should not borrow just because there is a bank with money to dish out as loans. Rather, they should borrow with an investment in mind that will give a return and help pay off the debt and leave enough to generate more wealth. From his calculations, Mr Rotich knows that absorption in government is cumbersome; generally, only 70 per cent of the budget is executed. So, why add more money when you cannot use it within a year, and instead budget for what you will manage to spend? It can only lead to two things.
That Mr Rotich's expansionist budget must also accommodate a cut for the corrupt cartels; unreasonable demands from Members of Parliament; an unsustainable wage bill and an ever increasing cost of new borrowing and refinancing debt that we cannot pay from Treasury coffers.
Worst of all; less well thought-out projects whose progress cannot be tracked. Mr Rotich has in the past admitted that a balanced budget would be good because you don't accumulate debt, but these are not easy to achieve in light of the prevailing circumstances. Former US President J F Kennedy cautioned that we do not do things because they are easy, but because they are hard. It is time Mr Rotich stood up to President Uhuru Kenyatta's ambitious legacy, his Deputy President William Ruto's future ambitions and even MPs and cut spending.
Former Finance Minister David Mwiraria conjured up a budget where revenues met expenditure during the 2003/2004 financial year. Rotich is no exception.