Drama at Kabati Market as suspected thieves return stolen goods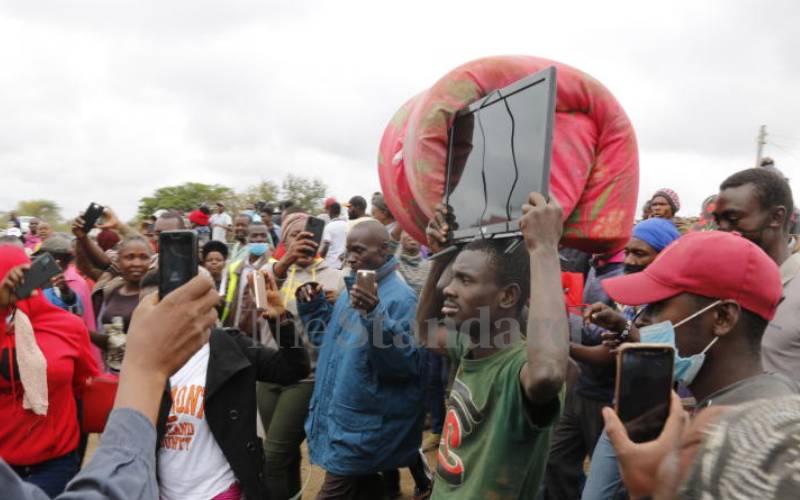 There was drama Kabati market in Kitui County on Thursday when two suspected thieves returned household goods they had reportedly stolen from a homestead.
Residents were caught by surprise when the two men emerged carrying a television set a gas cylinder and a mattress and confessed they had stolen.
The owner of the stolen items had reportedly visited a witch doctor who later "arrested the thieves".
The incident attracted a huge crowd as residents milled around to catch a glimpse of what was happening as the men were paraded in the town. This was after they had reportedly visited the said witch doctor who cleansed them.
Some of the residents threatened to lynch the two but officers from Ndolos Police Station intervened and took them away.
The owner of the stolen items, Joshua Mumo, said he was happy to have his property back.
"I was away in Makueni County where I had gone to visit a relative when my house was broken into and the items stolen," said Mumo, a resident of Katutu.
He said he will still pursue the matter to ensure the two are punished according to the law.
"I reported to the police when I returned just to find my house had been broken into but I also sought other ways to punish the criminals," Mumo said.
Kabati residents lamented that cases of burglary are on the rise in the area and called on the police to enhance patrols.
"It is sad to see such young and energetic men refusing to work and opting to be thieves. Let it be a lesson to them and others with similar behaviour or intentions," said Purity Maangi, a resident.
Mr Benjamin Kanini, a shopkeeper, said: "If there is an alternative way of exposing and arresting criminals other than going to the police, then I support it. Sometimes, the police take too long to investigate crime and punish those involved."
Mama Zawadi, who is said to be the witch doctor who made the men return the missing items, said the complainant had asked her to help him recover the items.
"My first assignment was to cast a spell on the suspects to ensure they don't sell the items. By the way, I work closely with the police and my work ends after I hand the suspects to them," she said.