Leaders demand equitable share of Oloitokitok river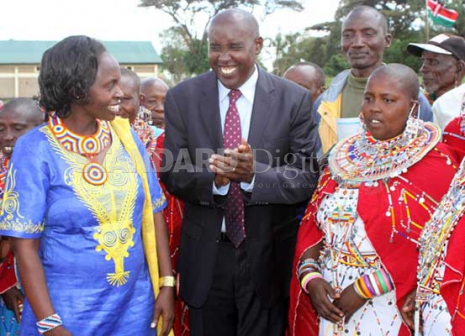 A major confrontation is looming between Kajiado and two neighbouring counties over sharing of water from Oloitokitok springs.
Kajiado Governor Joseph ole Lenku has threatened to disconnect water supply from the springs to neighbouring Machakos and Makueni counties, saying his people had been given a raw deal.
Yesterday, the governor declared that the neighbouring counties would have to relinquish part of their water supply for Kajiado residents or face disconnection.
Speaking during the 54th Jamhuri day cerebrations held in Oloitokitok, Ole Lenku said water from the Oloitokitok springs largely benefited Makueni and Machakos at the expense of Kajiado residents.
"Fifty-four years after independence, we are still classified as a water-scarce county, yet we have water that is enjoyed by our neighbours more than us," he said.
Tanathi water
He said he had already engaged Tanathi Water Services officials on having Noolturesh Water pipeline, which draws its water from Oloitoktok springs, supply more water to Kajiado town and other urban centres.
"If we cut off some water that is going to areas outside Kajiado, we shall supply the bulging population in Kitengela and other rural areas.That is the direction we are taking from now," said Ole Lenku.
Should the governor make good his threat, it might a trigger a water war between Kajiado, Makueni and Machakos, which Ole Lenku said he was ready fight.
"We shall fight this battle. We can longer suffer while our natural resources are benefiting other people," he said.
Sentiments supported
Local leaders led by Area MP Katoo Ole Metito, Senator Phillip Mpayei and Kajiado West MP George Sunkuiya supported Lenku's sentiments.
In Embu, workers have demanded the removal of Embu Water and Sanitation Company Ltd Managing Director Hamilton Karugendo.
The Kenya County Government Workers Union (KCGWU) Secretary General Roba Duba accused the water firm boss of blocking a new collective bargaining agreement on better terms of service.