Heartbroken wife collapses and dies next to the husband after finding him dead
CRAZY WORLD
By Mirror | January 29th 2016
UK: A devoted wife who found the body of her husband in their home was so heartbroken she may have "given up" her will to live, lay down and died next to him, an inquest heard.
The bodies of retired bank manager Raymond Shepherd, 76, and his wife Paula Shepherd, 70, were found lying next to each other on their bedroom floor almost three weeks after anyone last saw them.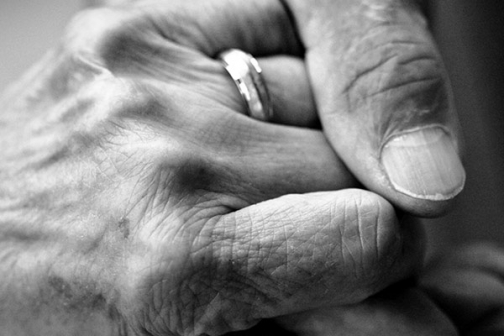 When police were called to the house after an estate agent raised the alarm, they found the body of Mr Shepherd, partially covered with a duvet.
Mrs Shepherd was lying next to him on the floor in her night dress.
Pathologist Dr Basil Purdue said housewife Mrs Shepherd's world had "collapsed" after seeing her husband's body, adding: "She couldn't see a future without him."
The couple had a history of ill health, Portsmouth Coroner's Court, Hants, heard.
The last people to see them alive were paramedics on March 18 last year when they were called after Mr Shepherd, who used a mobility scooter, fell at home in Locks Heath, Hants.
Take a quick survey and help us improve our website!
Take a survey
Mr Shepherd's daughter Alison White called round but because the couple often went on cruises "at the drop of a hat", no one suspected the sad truth.
Their bodies were finally found when estate agent Suzanne Ashman, who was handling the sale of their home, raised the alarm on April 7 - 20 days later.
Mrs Ashman noticed a bad smell coming from the house and what looked like blood stains inside.
"I said to my colleague, who said we should go further, that it could be a crime scene," she added.
Police found there were no suspicious circumstances.
The inquest heard Mr Shepherd was diabetic, suffered from gout and arthritis, had a pacemaker fitted and was confined to a wheelchair.
Mrs Shepherd was diagnosed with epilepsy and had recently suffered a seizure before her death.
Dr Purdue aid attributing a cause of death was difficult because the bodies had deteriorated after death but Mrs Shepherd died "some time after" Mr Shepherd.
An autopsy showed his arteries had narrowed and that it was a "strong likelihood" he died from natural causes.
He continued: "It seems certain she survived him by quite a number of days.
"The placing of a duvet may suggest some attempt on her behalf of covering him up.
"It isn't clear why she didn't summon help, but the imminent house move and the sudden realisation of losing her partner may have rendered her seriously confused."
He added: "It may be she despaired and chose to lay by her husband, having a final seizure, and she may have given up the will to live.
"But I don't want to speculate too far. The circumstances were very distressing for her and that stress may have been enough to precipitate a seizure that ultimately proved fatal."
Her step-daughter Alison agreed his assessment was "quite possible", adding: "She always took the back seat and dad was her anchor."
Senior coroner David Horsley said: "Her world had collapsed totally without him. They had been together a long time and I think she couldn't see a future without him.
"I'm satisfied her death, like his, is due to natural causes. We can't imagine what went on in the time between the deaths and it's such a tragedy."
He concluded they died from natural causes.
Misled campus goons and wannabes today, they deserve pity
The time is ¼ past one; walking towards the student centre, a conglomerate of students are seated on the benches at the frustration square. Some murmurs followed by uncultured laughter emanates. Just then it dawns on me that this is not the place I want to be, especially at this time.