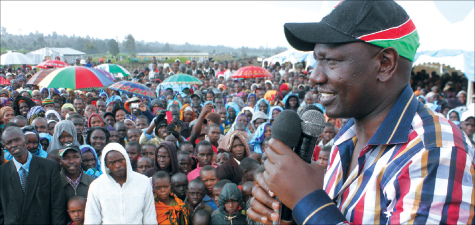 William Ruto addresses crowds in Eldoret during a recent rally in the cosmopolitan town. He is the party leader of URP [PHOTOS: MOSES OMUSULA/ ELDORET]
By Edwin Makiche
Defections and emergence of new political alliances have sent ripples across the Rift Valley as former friends-turned-foes; Prime Minister Raila Odinga and Eldoret North MP William Ruto dig in for fresh fights over the region's vote-rich basket.
In a week marked by political intrigues, Ruto's United Republican Party (URP) raided ODM, snatching Sotik legislator Lorna Laboso in what the party insiders say could be a harbinger of more high profile defections from the Orange party.
As the URP celebrated Laboso's defection, Mr Odinga landed in her constituency to tell his supporters the defection was inconsequential. He was captured by press photos dancing with Laboso's forest opponent- former area MP, Anthony Kimeto and two of his close allies in the region — Roads Minister Franklin Bett and Energy assistant Minister, Magerer Langat.
Alliances
But as Mr Odinga and Mr Ruto locked horns in their new round of fights, a new alliance between Nicholas Biwott's National Vision Party (NVP) and Ruto's former party, United Democratic Movement (UDM) is tilting the landscape amid talk it was meant to water down Mr Ruto's influence in the Rift Valley.
Key among them is whether the new alliance which has hinted that it will soon bring Kanu into the fold would be a political game changer especially among the Kalenjin community that has historically been voting as a bloc.
"The new alliance has opened a new battle front for the vote-rich Rift valley because Mr Ruto will have to fight hard to stop it from eating into his political enclave," said political scientist Martin Koske.
Mr Koske says the real motive of the new alliance was still not clear but says he will not be surprised if the leaders of the three parties decide to each field a Presidential candidate.
"I suspect there is something going on between Biwott, Gideon and Koech," he told the County Weekly.
There was talk last week about Kanu having already joined the alliance but the County Weekly could not independently confirm this because top Kanu officials were unavailable for comment.
The party national chairman Gideon Moi was last week quoted as saying that his party was ready to work with 'like minded' parties a head of the next general elections. This was after he refuted press reports that his party had resolved to back Mr Odinga's presidential bid as a sign of things to come. Mogotio MP and former Minister Hellen Sambili announced that she will defend her seat on a Kanu ticket and not URP as widely expected.
Presidential candidate
Mr Ruto's allies are said to be burning the midnight oil plotting how to face the new alliance. Mr Biwott, a former powerful minister in the Kanu regime still has influence in the Rift Valley because of his close association with retired President Daniel arap Moi while UDM is associated with retired Army major John Koech.
It's worth noting that there is no love lost between UDM and Mr Ruto because the party resisted his attempts to take it over last year, forcing the Eldoret North MP to decamp to URP. The UDM team even went to court and to the Registrar of Political Parties to bar Mr Ruto from pushing them out of the party.
The new alliance comes amid intensive campaigns by Mr Ruto to shepherd all the votes from the region to the party and ensure that the party sweeps all the seats right from ward level to the presidential level.
Speaking to the County Weekly, Major (retired) Koech said the new development was informed by a 'continued' concern from the grassroots that there were too many political parties that were dividing people along tribal lines. "People all over the country are concerned over the swelling number of political parties and that is why we are coming together as parties with the same ideologies" he said, adding that any party willing to join the fold was welcome to do so.
He said that since the parties had not yet decided on which presidential candidate to support, members were free to support any candidate. His sentiments are shared with the former Kipkelion MP and NVP elections director Bishop Daniel Tonui who says that the alliance would level the political ground by providing 'quality' and a variety of leaders for residents to choose from.
The three parties have strong roots in the region. Kanu which ruled the country for 38 years still has deep roots in the region. They singled out, the recently concluded URP grassroots election in which some delegates from Bomet and Kericho counties claimed they were shortchanged as some of the blunders the alliance should zero in on.
"Politics is a matter of numbers and strategy and the alliance should prove that it will exercise transparency in its undertaking, it will be a force to reckon with," Former Bomet mayor Leonard Barsumei said. He further argued that the new development was a wake up call to URP that it would not have a field day in the region in the coming elections unless it joins the alliance. "It would be the worst mistake if URP overestimates its support in the Rift Valley and therefore over look other political parties like NVP and Kanu which are already established," he said. Moi University lecturer Lukoye Atwoli however expresses his pessimism over the impact the alliance would create on the vote rich Rift Valley. "What we are seeing is a desperate effort by some little known parties to make themselves relevant," he says.
Weak candidates
He says that it would be a tall order for the alliance to challenge URP's support in Rift Valley adding that it might only win a few seats in some counties where other political parties might field weak candidates. "Whether or not the alliance will shape the Rift politics is out of question but it might only get seats in some few 'pockets' where the other parties fail," He says.
Nandi County NVP chairman Christopher Taptengele however denies that the alliance was formed to counter Ruto's popularity in Rift Valley saying that the party members were free to support any presidential candidate of their choice. He says that the party had already sent a delegation to discuss with Ruto on the possible alliance.
"He (Ruto) is welcome to join us because so far he is the only person from the community who is running for the presidency,'' says Mr Taptengele. He added that the alliance would do carry out joint campaigns while maintaining their independent status. Former East Africa Community minister John Koech who is running for the Bomet County's governor's post says that the party euphoria would not influence the voting patterns in the coming elections.
Belgut MP Charles Keter dismissed the proposed alliance as inconsequential saying that URP commands a nationwide support.