Suspect in kin murder 'is unfit to stand trial'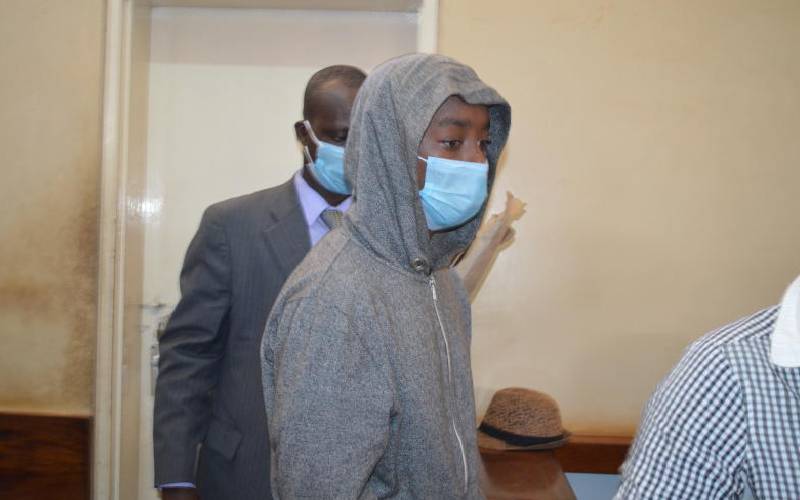 Lawrence Warunge, the chief suspect in the murder of his parents and siblings, is not fit to stand trial.
A medical assessment done at Mathari National Teaching and Referral Hospital shows that Lawrence suffers from induced psychosis, a condition characterised by hallucinations and/or delusions.
It further states that he has a history of smoking marijuana and drinking alcohol.
The prosecution tabled the report yesterday before Kiambu Chief Magistrate Patricia Gichohi and made an application for extension of custodial orders, which the Chief Magistrate granted.
"I have carefully gone through the mental report and the first respondent is unfit to stand trial. In the circumstances I allow the application to hold him for a further 30 days," Gichohi said.
The court ordered that Lawrence be taken back to Mathari Hospital to start treatment. The case will be mentioned on March 1.
Lawrence has been in custody for 15 days as police investigated the killings of Nicholas Warunge, Ann Wanjiku, Maxwell Njenga, Christian Njenga and a construction worker at their home in Karura, Kiambu.
The court released the suspect's co-accused Sarah Muthoni after 15 days in custody under section 87(a) of the penal code.
Muthoni, who is Lawrence's girlfriend, will be a State witness in the case.
On Monday, she was brought to court during an application to extend custodial orders for a day. Muthoni, who was not represented by a lawyer, did not object to the application and was remanded at Gigiri Police Station.
Lawrence and Muthoni were arrested and presented in court on January 11 when DCI Homicide Unit swore an affidavit to detain them for 14 days.
During the application, the police said the matter was complex and that they needed to move from one location to another to piece up evidence.
The police further told the court that Lawrence's surviving siblings would be in danger if he was released.
They argued that since he had gone into hiding after the killings, he was a flight risk.
Gichohi said owing to the gravity of the matter and the number of victims, she was convinced that police needed more days to conduct investigations.
The murder victims were buried on January 16 at their Karura home.