Legal option still on in maritime dispute with Somalia, Kenyatta says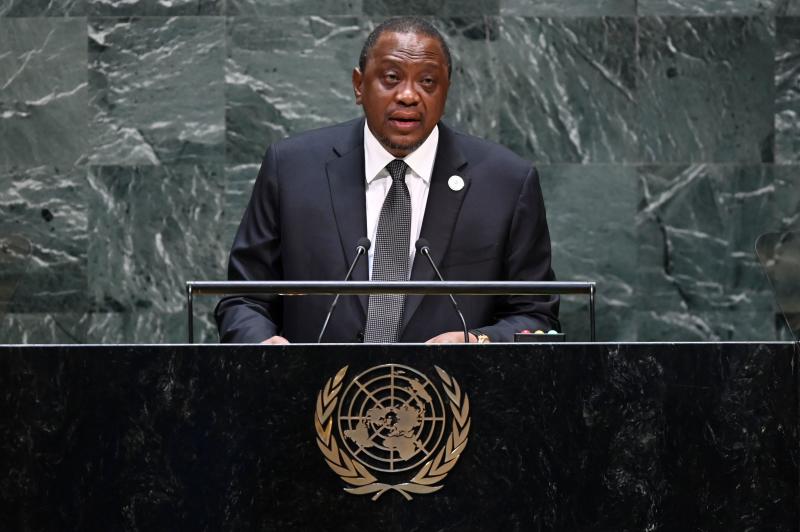 President Uhuru Kenyatta has urged for a negotiated settlement to the maritime dispute with Somalia.
Uhuru, who spoke after talks with his counterpart Mohamed Farmajo, said court action should be a last resort.
Sources said during his meeting on Tuesday with Farmajo, he stressed that the fight over borders by neighbouring nations distracted them from crucial regional security concerns such as the war on terror.
Uhuru, who talked to journalists yesterday after addressing the UN General Assembly in New York, and a day after his conciliatory meeting with Farmajo, affirmed that a legal process was still on the table. The case is pending at the International Court of Justice in The Hague, but Kenya recently sought postponement of the hearing.
The President said he was open to anything, but affirmed his commitment to dialogue as the best option to finding a solution.
Stood ground
"As I said, we are open, but I have always believed and stood my ground that dialogue is the best and amicable way for finding the best and positive solution. This brings us together as opposed to a conflict that pushes away from each other," he told journalists.
Uhuru said they were brought together by Egypt's President Abdel Fattah al-Sisi, the Africa Union (AU) chairperson, to resolve the maritime impasse.
The meeting on the sidelines of the ongoing Assembly was the first step to normalising relations between the two sides.
It was the first face-to-face meeting for the two leaders since March, and although the parties agreed to normalise relations, they fell short of a deal on the disputed coastal territory.
Mr Sisi organised the meeting after Kenya requested out-of-court negotiations through the continental bloc.
Sources privy to the developments told The Standard Mr Farmajo had earlier declined the meeting and that it took Mr al-Sisi's initiative to have side meetings with them before they were later brought to a private meeting room.
Uhuru called upon Somalia to embrace dialogue to solve the tussle once and for all. "In this regard, we welcome the decision of the African Union Peace and Security Council of September 2019 that encourages both parties to engage," he told the Assembly.
He added: "I have always wanted dialogue and not a confrontation. Dialogue has enabled me to solve disputes with other countries along the borders and this is exactly what I want to apply to solve the problem that we currently have with our neighbour country Somalia."
Uhuru said as neighbouring countries, they should not be fighting about a border but instead work together to ensure citizens got the right services.
"As neighbours, we should not be fighting about borders instead be working together to have a secure environment so that our people do not have to work with the fear of Al-Shabaab," he said.