Uhuru-Raila handshake tops issues Kenyans want addressed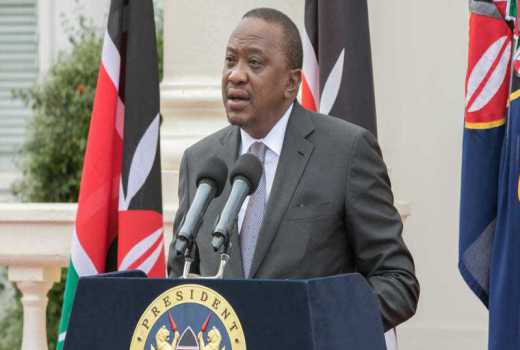 President Uhuru Kenyatta is expected to finally open grounds for discussion on his famous handshakewith his Opposition leader Raila Odinga when he makes his first State of the Nation address in his second term.
Both the President and Raila have remained mum despite pressure from the church and both sides of the political divide to declare what was contained in the deal that ended months of political hostility.
The only response from the duo is that their truce has nothing to do with 2022 politics and that those against their new found friendship should find something better to do.
Government's achievement
"We cannot continue differing at the expense of our country, and I know there are many who were not happy when we came together, because they thrive on commotion," the President said on Thursday during the funeral of multi-party hero Kenneth Matiba.
"We agreed that division that has prevented Kenya from achieving its dreams will end with us so that we have a better country," said Raila.
In the past, the President has used his once-a-year address to Parliament to highlight the government's achievements especially health, economic growth, infrastructure, education, security and the fight against corruption.
The address is usually held in March, but was postponed this year, a move insiders say was meant to give technocrats at the President's office and Raila's to work out details of their unity deal.
During the unveiling of their unity last month, Uhuru and Raila promised to roll out a programme that will implement their shared objectives on dealing with ethnicity, lack of inclusiveness, electoral justice, devolution, corruption, security and promotion of national ethos.
Since then, the two leaders have kept their cards close to their chests, fueling speculations that are now threatening to tear apart their coalitions. The National Super Alliance (NASA) has already disintegrated while there is tension in Jubilee Party.
State House Spokesman Manoah Esipisu told Sunday Standard that the President's speech on Wednesday will be around the progress he has made in uniting the country and the issues facing the mwananchi.
"The President will talk about the state of the nation in terms of measures taken and progress achieved in realisation of national values," said Esipisu.
President Kenyatta has made it clear he wants to centre his second term on the realisation of food security, affordable housing, improvement of the manufacturing sector and provision of affordable healthcare in a plan dubbed 'Big 4 agenda'.
He is also expected to explain to Parliament how these ambitious targets will be met.
Already, the government has begun rolling out universal health care and provision of medical insurance to school going children.
"The address will most definitely centre on the trajectory the country has taken since the handshake. If he had given this speech before the handshake, then he would have talked about how he would bring the country together," said Political analyst Herman Manyora.
'Drop a bomb'
Mr Manyora also thinks the President might use the address to "drop a bomb" like he did in 2014 when he read the list of shame comprising of a hundred top government officials suspected of being corrupt. Five Cabinet Secretaries resigned courtesy of the list, but most of them have been acquitted by the courts.
Among the issues Kenyans who spoke to Sunday Standard want addressed is the high cost of living, the lecturers' strike, insecurity, lack of jobs and the economy.
"He should tell us what he is doing to improve our standards of living. Our salaries haven't increased but the cost of living is constantly rising," said John Chesire, a driver.
"Can he tell us what he is doing about the disabled? The current environment does not favour us at all in terms of access to jobs and opportunities," said Mariam Mzanza.
Coming from a terse election year which greatly affected economic growth, the president is also expected to explain how he intends to jump start the economy. Kenya's economy grew by a paltry 4.9 per cent last year, its worst performance since Jubilee party came to power.
A prolonged drought, lengthy electioneering period and reduced uptake of credit by the private sector might conspired to deny the President the opportunity to end his first term in office in style.
When he came to power in 2013, President Kenyatta promised a double-digit economy. In his first four years though, the economy has averaged just five per cent annually before taking a dive last year.