IEBC Chair Chebukati's security withdrawn in unexplained move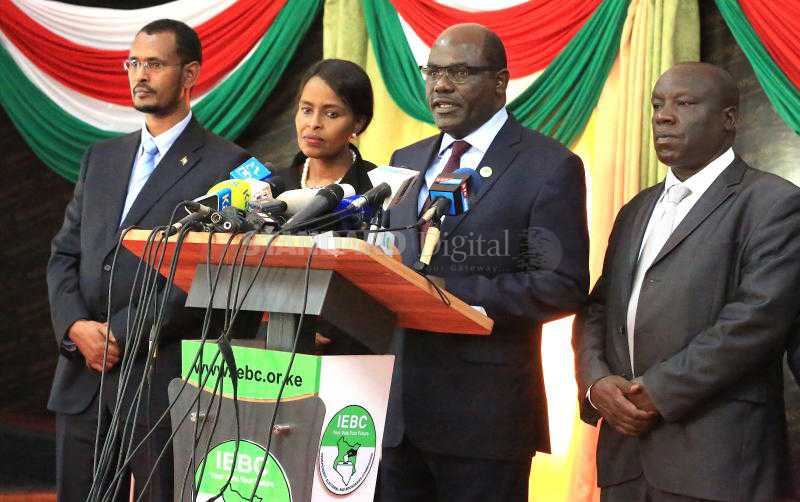 The Independent Electoral and Boundary Commission (IEBC) has protested the unexplained withdrawal of security seconded to its Chairman and two commissioners.
The commission said Chairman Wafula Chebukati and commissioners Ayub Guliye and Boya Molu woke up Tuesday morning and realized their security had been withdrawn.
They tried to seek explanation from relevant authorities in vain.
"Consequently, the Commission has written to the Inspector General of police seeking for an understanding of the circumstances leading to this action," said IEBC spokesman Andrew Limo.
Limo added the withdrawal of security is likely to expose the chairman and the commissioners to security risks and the action undermines their effectiveness in executing the work of the commission.
"The provision of security to the chairman and members of the commission during their tenure is within their contract of service and that this obligation ceases only when the contract expires," added Limo.
This comes a day after three other commissioners resigned in a surprise move. The commissioners Connie Maina, Paul Kurgat and Margaret Mwachanya faulted Chebukati's leadership as the agency's Chair.
Their move to resign has attracted calls from a section of political class on those remaining to also follow suit. This is seen as part of efforts to cripple planned political changes in the country ahead of 2022.
A convergence of various interests has fueled the crisis that led to the resignation of the three members of the country's' electoral agency.
The exit of three commissioners is being attributed to forces both external and internal.
The interests include external influence by political forces, commercial interest fueled by fight for tenders and claims of scuttling a proposed referendum.
Many are seeing the hand of powerful individuals in government in the developments, while those in government link the crisis to internal wars fueled by commercial interests and fight for lucrative tenders.
Some observers also see the forces of individuals hell-bent to scuttle a planned referendum as fueling the wrangles with the aim of crippling the commission, given that there is a lacuna on how to replace commissioners who have left.