New conditions for supplying maize to NCPB anger farmers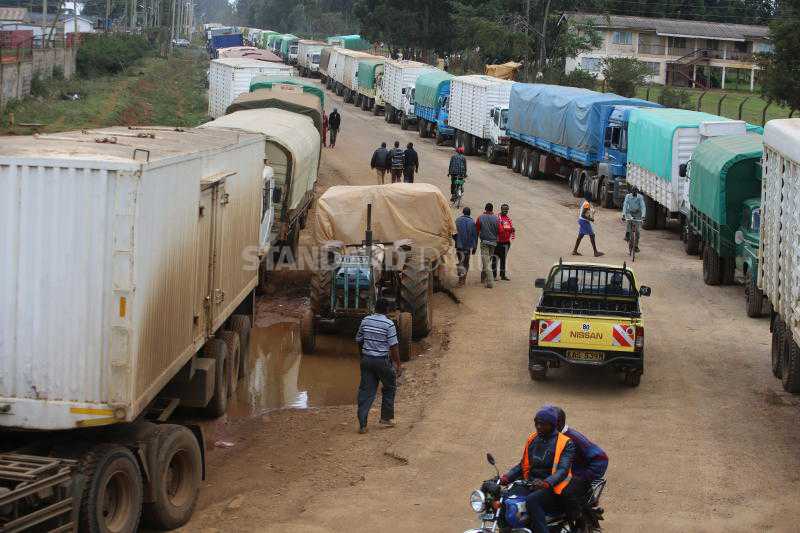 Farmers in Uasin Gishu and Nakuru counties have protested against new stringent conditions set by the Government for supplying maize to the National Cereals and Produce Board (NCPB).
Under the new measures, farmers will be vetted thoroughly in a move aimed at locking out businessmen who import maize for supply to NCPB.
Currently, hundreds of lorries carrying maize are stranded at the NCPB stores in Eldoret and Nakuru as farmers complain about unpaid dues for past deliveries.
Farmers are required to fill out a serialised document giving personal details including names, identity card and telephone numbers, vehicle registration numbers as well as farm registration numbers.
Farm location
They should also the state the location of their farm and land registration number, ward, sub-county, county and total maize acreage on own farm or leased land.
But out of the all conditions contained in a maize supply vetting form seen by The Standard, the one stating that farmers will be paid three months after supplying their produce has angered them the most.
"The purpose of this letter of undertaking is to confirm that I agree to the terms of delivery and payment, viz; I shall be paid during the 2018/2019 financial year... confirm that I shall not demand for any payment prior to the end of 2018/2019 financial year," said the letter from the Ministry of Agriculture.
Top ministry officials are already going around maize-producing regions explaining to farmers the new terms of delivering maize to NCPB silos.
The farmers are also required to state if they purchased fertiliser from NCPB or not.
The vetting is being done by NCPB and officials from the county commissioners' office.
Farmer must confirm that they agree to the terms before delivering maize to NCPB.
"I confirm that I accept the terms and conditions of the transactions without any undue influence and confirm that I shall not demand any payment prior to the end of 2018/2019 financial year," read part of the letter.
Kenya Farmers Association (KFA) Director Kipkorir Menjo yesterday termed "unfair" the decision to delay payment, saying it would affect planting.
"Farmers should be given priority to enable them to go back to farming and produce food for the country," said Mr Menjo after he and farmers' representatives met Uasin Gishu Governor Jackson Mandago.
Tom Korgoren and Kimutai Kolum, both maize farmers in Uasin Gishu, said farmers would be handicapped if the Government continued holding onto their money.
Hurt producers
"We cannot be lenders of the Government. If the State wants to buy our produce, it should not give conditions that will hurt producers. There is enough machinery to identify genuine farmers in the country," said Mr Kolum.
Mr Korgoren said farming was a business and farmers would be frustrated if the State failed to pay them promptly.
"The Government should come out clearly and state if it has no money. How will farmers operate if they are not paid on time? After planting, we need to weed our farms and this requires money," he said.
Some farmers from Nakuru County said it would be difficult to meet the tough conditions.
Benard Ndung'u from Rongai, who is has been waiting for a month to offload his 170 bags of maize at the Nakuru depot, said he grew the maize on his father's land, which does not have a title deed.
Gladys Kamuren, also from Rongai, said she was looking for middlemen to buy her maize. Middlemen buy 90kg bags of maize at Sh2, 600 each.
The Government buys the same for Sh3, 200.
To fight drought, involve communities
According to the latest information from the Meteorological Department, rainfall will be poorly distributed in April, May and June, and this will have a serious impact on agriculture