Matiang'i, Boinett and Kihalangwa face risk of being declared unfit to hold public office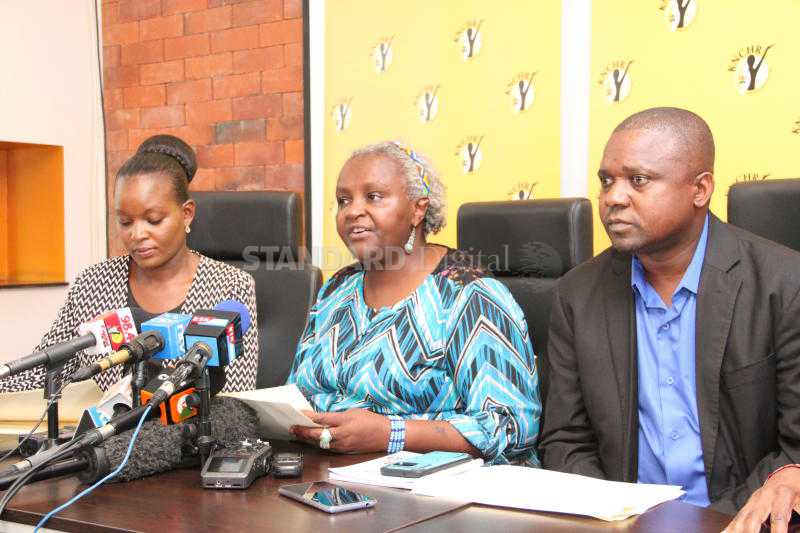 Interior Cabinet Secretary Fred Matiang'i and Inspector General Joseph Boinnet now risk being declared unfit to hold public office after being found guilty and fined for contempt of court.
Justice George Odunga ruled that although he could not find Matiang'i, Boinnet and Immigration PS Gordon Kihalangwa unfit to hold public office at the moment, his declaration that they had violated Article 10 of the Constitution had opened the way for any citizen to petition for their removal.
"The three officials have conducted themselves in the most despicable manner and the most appropriate order is to issue a declaration they have violated Article 10 of the Constitution for repeatedly disobeying court orders to release Miguna," he ruled.
He ruled that the three officials have failed to honour the oath of office they took by conducting themselves in a manner that does not inspire confidence, adding that any person is at liberty to seek further actions against them.
As punishment for contempt of court, Odunga fined the three Sh200,000 each to be deducted from their salaries.
Article 10 of the Constitution provides for national values and principles of governance. A person found to have violated the principles can be deemed to have failed the leadership and integrity test provided in Chapter Six of the Constitution and be declared unfit to hold public office.
"They have displayed arrogance of unimaginable magnitude in disobeying court orders. They are the people in charge of the county's security and if they claim they were not aware of the court orders then they are not fit to hold those public offices," said Odunga.
Lawyers interviewed following the ruling said the ruling put the three in real danger of losing their positions.
Violated law
Any of these four things, they said, is likely to happen. The court could be asked to order their removal from office for violating the Constitution, Parliament could be petitioned to prompt their dismissal, the appointing authority could kick them out or the officials could opt to resign.
Kenya National Commission on Human Rights (KNCHR), which had been tasked by the court to oversee Miguna's return, welcomed the declaration that there will be no immunity for impunity, saying its time the three are shown the door.
KNCHR Vice Chair George Morara said: "... the most honourable thing for them is to leave office immediately. The President who is the appointing authority should be in the forefront to ensure compliance with Chapter Six of the Constitution and ensure these individuals are relieved of their duties."
According to George Kegoro of Kenya Human Rights Commission (KHRC), there are two options: Either they resign or their bosses fire them.
"This means that they are liable for removal from public office. It's either they resign failure to which appropriate removal procedures can be instituted. There is no need for another court process to remove them because the same court has declared them to be in violation of the Constitution," said Kegoro.
Lawyer Ndegwa Njiru said: "Contempt is against the people who give the courts powers to sit. Judges should boycott sitting in protest for failure by the executive to obey its orders. Someone is entitled to move to court and have the three removed under Chapter 6 and Article 10 of the Constitution."
"There are legal implications and one can petition court for declaratory orders that the three are unsuitable to hold office on grounds that they have been convicted and found to have acted in violation of Article 10 and 74 of the Constitution and several other provisions in law," said Law Society of Kenya Vice President Harriett Chigai.
Lawyer Oduor Odinga argued: "Once a court makes an order against an individual who happens to hold public office then that order is not obeyed, then any citizen who by the nature of article 1 of the Constitution delegated that duty to the public officer has a right to move to court again for enforcement of the same."
Lawyer Okweh Achiando said: "I am in fact contemplating going to court and have them removed from office. Lawyers should also agree that they will not go to litigate in criminal cases. How can the Government be prosecuting other people while it cordons criminal acts?"
Contempt of court
NASA leader Musalia Mudavadi said the disobedience of court orders meant "the law is itself in danger".
Odunga spared the officials the six-month jail term, ruling that the court cannot issue orders in vain as he knows it will not be possible to arrest and jail them.
"The respondents are the ones in charge of security and cannot be put under the custody of their juniors and even if the citizens were to arrest them, they will still not comply. The court orders should not be in vain," he ruled.