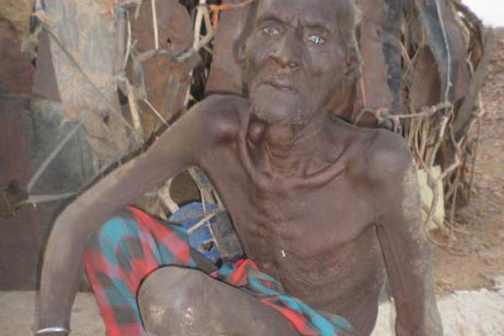 Ekornop Lotieng lays prostrate in his compound at Nakulumei village, Turkana County. Pangs of hunger have taken a huge toll on him, with no end in sight.
Lotieng, 65, has not eaten for several days and is too weak and emaciated to walk in search of food or water.
He desperately hangs his head on a traditional stool locally known as 'Ekicholong' hoping against hope for a miracle. He lost all his livestock to drought.
He is among hundreds of starving residents in Turkana County, struggling to stay alive in the dusty and scorching earth that stretches far and wide.
"My hopes of coping with this hunger are thin. I am not sure I will stay alive in a couple of days to come. I have nothing to talk about since death is right at my doorstep," Lotieng says.
At his homestead, animal skin is spread on the compound, demonstrating the devastating aftermath of the drought on his livestock.
"Our survival has become slim here since we feed on carcasses. Sometimes children get sick and diarrhea after eating contaminated goat meat," he says.
From a distance, the village situated near the Kaaleng-Lokitaung road, looks sleepy. One can only see stone pebbles, with deserted homes dotting the valley. Lotieng says his grandchildren fled home several months ago to unknown places because he could no longer fend for them.
"My starving grandchildren fled in search of food and water. I cannot trace their whereabouts at the moment since most villagers migrated to other places," says a teary Lotieng.
He is bitter that drought has wiped out his animals, living him with nothing to depend on.
A few metres from the shanties, a pile of dry animal skins hang on the fence of the homestead. Some skins have been eaten by dogs and wild animals who stray into the compound at night.
In another hut, Kanayo Ng'ichwae, 70, beg for water and food. She also looks frail and emaciated and cannot support herself from the ground.
Human suffering
Her tattered clothes tell of human suffering and agony the starving villagers undergo daily in the remote village of Kaaleng location. She says she needs a sip of water to quench her thirst before they starve to death.
Ng'ichwae says they have been sleeping hungry for weeks without food and water.
She says they have been surviving on wild berries which they hardly get from the bush. She says the national and county governments have ignored their plight despite the fact that billions of shillings allocated to the region are spent on ghost projects.
"We have nowhere to go. We will starve to death in this village. Our animals which we depend on have been wiped out by drought. Pasture and water have depleted due to failure of rains. We have been left vulnerable," says Ng'ichwae.
Another hunger victims Akeno Lochulo, 43, a mother of three, displays dead skin and some carcasses. Ms Lochulo wept as he tried to narrate her ordeal to The Standard on Saturday. "My children have not eaten for several days. Some are even sick after eating carcasses. The hospital is far away from the village. It's even impossible to access medical services in this place because we don't have money to take a patient to hospital," says Lochulo.
Akai Kataboi says one person died of hunger in Riokomor village last week in Lokitaung area. Another woman reportedly collapsed at a watering point in Kaaleng. She had taken water on an empty stomach.
Unconfirmed reports also indicated two herders had committed suicide after all their livestock died.
Kataboi says most trees and water holes have since dried up. There is no more pasture for animals to feed on.
"We face a lot of suffering in this area. We survive on one meal a day which we rarely get. We appeal to the government to come to our aid. Hunger has weakened us and we fear most people will die due to starvation," says Kataboi.
He added: "We are afraid that chances of surviving this drought are slim for residents of this region. This is why we would like to appeal to the government to provide relief food to every affected family," Kataboi says.
Deputy President William Ruto, who toured the county last week to assess the drought situation, said the government would provide relief food to starving residents for five months.
The DP said they would initiate food security projects to ensure the region becomes food secure.
He said the government had allocated Sh1.6 billion for emergency relief programmes and that Sh1.1 billion will go to irrigation projects through National Irrigation Board (NIB). Turkana, he said, would get Sh100 million for irrigation.
"We will ensure nobody dies of hunger in thisregion. We want to initiate food security projects that will provide a permanent solution to hunger and drought in this region. We want to make Turkana a food basket," Ruto said then.