Bandits deadly raids leave trail of death, destruction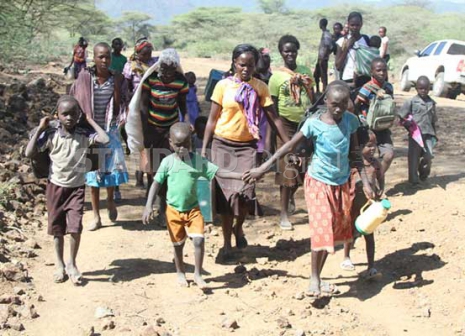 The succession of plains and undulating hills and ravines from Samburu to Kerio Valley makes for one of the most scenic swathes of Kenya's landscape and yet, tragically, one of the most dangerous terrains, too.
The landscape is pristinely alluring and tantalising to the eye, teasing you with mystic and legendary beauty of the brilliant morning after creation day. The topography speaks of heavenly and surrealistic beauty that leaves you gasping for breath, glad that you made this journey. Who knows whether you will ever come this way again – or ever go elsewhere after this mission, for that matter? For life in this idyllic territory tends to border on a covenant with death. Many have been dastardly killed in this place, gone and forgotten, as if their lives counted for nothing.
It is a treacherous terrain, a veritable valley of the shadow of death. Beneath the idyllic veener of a lovers' safari paradise is a catalogue of tragic events, fully loaded with pain and suffering, for the locals and visitors alike. Loss of limb and life, violent displacement of populations and a sense of utter hopelessness is the order of life in a landscape of incessant cattle rustling, murder and mayhem. Successive governments have issued edicts against the criminal menace that informs life here, yet none has shown the capacity to end it – less still the will.
The Standard on Sunday today reveals to you the shocking killings that have been reduced to statistics by a society that seems to place little premium on human life.
*****
In just four years, at least 962 people have perished at the hands of bandits in Samburu, Baringo, Elgeiyo Marakwet and West Pokot Counties, making the valley a cosmos of death, where marauders raid with abandon. Their target is livestock in these sprawling killing fields. In their wake they leave behind a shocking trail of destruction of limb and property. The bandits not only kill the harmless residents, they also turn their guns on the security personnel.
A litany of blunders
Despite the unending waves of pillage, the murder and the mayhem, Government has often been conspicuously missing in action. Where it is present, it has been feeble. You could argue that there is the occasional guard, armed with his AK47. But what is the worth of this solitary individual before the redoubtable and heavily equipped merchants of death? In a sense, the scanty security personnel in the vicinity seem to have come here on a mission to die. Their fate and that of the ordinary citizens is tied up in a tragic gordian knot. Both lots are akin to an antelope frozen squarely in the blinding headlights of a powerful car.
So, where is the real Government, the full force of the law? Once in a while you have heard orders and ultimatums. You hear high sounding threats that speak of intent, but they fizzle away as the person pronouncing them drifts back into slumber. That is until the next round of violent depravity jolts them to sound yet another round of hollow proclamations that will go the way of all such edicts.
*****
Last week, 14 people were killed in Lomelo, at the border point of Baringo County and Turkana County. It was continuation of normal business in the treacherous scenic valley, now aptly dubbed valley of death. Early in the year, 10 people were killed in two raids, in February and March. One incident was in the Endo Village in Baringo and the other one at Nabwel Nyang Village, in Samburu North.
During the attacks, hundreds of livestock were herded away. Right on cue, Baringo County Commissioner, Peter Okwanyo, gave the local chiefs an ultimatum of two days. They were to find and arrest the culprits. One of the suspects was believed to have been involved in the murder of yet another person in Kapedo. This is the norm; this is the way of life. The catalogue reads like a spectacle from hell.
On January 9, 2013, one person was shot dead and another one wounded in Arabal area, after heavily armed bandits attacked the villagers, forcing more than 3,000 people to flee from their homes for safety. Come February 4, 2013, six people – among them three police officers – were shot dead after they clashed with suspected raiders in the cattle rustling prone Ng'aratuko area in Bartabwa Division of Baringo North District.
The gang of 300 heavily armed Pokot raiders was said to have surrounded an isolated village in Kaptir and terrorized the residents before leaving with over 2000 heads of cattle and 500 goats. The attacks continued in the Kiserian area of Baringo South, where four people were shot dead on 25 October , 2014, after bandits staged succesful raids along the shores of Lake Baringo.
The attack, believed to have been perpetrated by Pokot bandits, came just a day after three General Service Unit (GSU) officers were killed at Cheptuimet area on the Chemolingot-Kapedo Road. Pokot bandits were suspected to have carried out the attack. They also torched a police vehicle.Two civilians, among them a female employee of Tullow Oil Exploration Company, and a teacher, who had hiked a lift in the ill-fated vehicle, were also killed and their bullet ridden bodies left to decompose in the scorching sun.
Fresh hostilities
On December 7, 2014, a retired senior sergeant, Peter Kokon, who represented Kenya several times in the Commonwealth Games, was waylaid by armed bandits. They shot him before setting his vehicle on fire. The killings sparked fresh hostilities between the Tugen and Pokot communities, with residents fleeing the area, fearing revenge attacks after the killing of the former soldier. Thousands of livestock were stolen and property worth millions of shillings destroyed.
On June 6, 2014 cattle rustlers invaded Makutuni, killed two people and fled away with over 200 cattle. Behind them, two houses were already in flames. The incident, coincidentally, happened after a ten-day ultimatum issued by Tiaty MP, Asman Kamama, for the more than 1,000 livestock allegedly stolen from pastoralists from his constituency to be returned.
On September 22, 2014 another attack was reported in East Pokot, where suspected cattler rustlers shot dead two brothers and left their sister injured, before making away with more than 300 goats. Around the same time, bandits shot dead a 55-year-old woman in Wangwachi area and stole some 30 sheep.
On November 21, 2014 at the border of Turkana and Pokot, another attack left four people dead when the attackers raided Kotaruk Villge in Loima Sub-County. The Raiders drove away about 200 camels and an unknown number of sheep and goats towards the porous border. Some of the livestock were driven towards Ombolion and Kacheliba, in West Pokot County.
On July 6, 2014 three people were killed and more than 500 head of cattle stolen in Nakwamoru Village in Turkana South District. The incident occured only three days after raiders had stolen more than 1,000 head of cattle in the same area. Earlier, on 3 July 2014, a herdsman was shot and injured in Turkana County after an attack by armed Pokot bandits, before the stealing of 800 livestock. Around the same period more than 500 heavily-armed Pokot raiders shot dead five herders in Loima Sub-County, Turkana County.
But it was in 2015 when the bandits had their most ambitious and most rewarding perverted harvest. The year began with the killing of 64 people, on February 4, when bandits raided Nadome Village, along the East Pokot–Turkana border. Their plunder turned the place into an open field of rotting bodies, as no one dared to venture into the region. It was a theatre of death which even police choppers with senior police officers on board found difficult to descend into.
A chopper with the then Deputy Inspector of Police, Grace Kaindi, on board was almost brought down by the daredevil bandits.
Yet this was only an inoculation against what was to follow. Soon after, another 92 people perished in a counter-offensive on May 6, along the borders between Pokot East, Turkana and Samburu. Among the dead were 51 Pokots, while 42 were from the Turkana community. A combined body count indicated that more than 20 women and children were killed in this raid.
The killings happened despite a warning by a tough talking President Uhuru Kenyatta, who visited the region in November, after the ambush and killing of 24 Administration Police Officers and two General Service Unit (GSU) Officers at Kapedo on October 30, 2014. The officers were were making an effort to track down and recover livestock that had been stolen by rustlers suspected to have been from East Pokot when their lorry came under a flurry of gunfire in a deathly ambush.
It was a shocking catastrophe with many questions that remain unanswered. Most of the killed officers had just graduated from Kiganjo Police Training College. They had never been involved in an operation before and had absolutely no prior knowledge of the terrain. The wisdom behind sending these greenhorns into the valley of death remains a puzzle.
Apart from the killings, the bandits carried away all the guns and thousands of bullets. They set on fire the police lorry, burning along with it a number of police officers. The Kapedo attack jolted the National Government into deploying the Kenya Defence Forces (KDF) to assist the Kenya Police in pursuing the raiders.
Area leaders are clearly worried about the unending raids and the killings. They rightly observe that after every spate of killing the country joins them in grief. There is a loud chorus calling for action. Yet everything is forgotten in a few weeks. Baringo Governor, Benjamin Cheboi, whose county is the epicenter of most of the killings, believes that the county government has done the best it possibly could, by opening up the region.
"It is unfortunate that killings continue. But as a county we have done what we can by opening up the area. As you know, security remains a function of the National Government and there is a limit to what we can do," the governor told us.
However, security experts believe that the National Government's approach to the issue has been wrong headed. Colonel (Rtd) Moses Kwonyike, says that impunity has been allowed to thrive over decades. Such impunity can only be reversed through indigenous conflict resolution mechanisms, he says. He believes that the people behind the chaos in the valleys are a select few, from specific families. Their activities do not necessarily represent the desire, or attitude, of the entire communities that are believed to be involved in the inhuman drama.
"Pokot and Turkana elders should be persuaded (to use cultural methods to end this practice). Elders are responsible for blessing and cleansing the raiders before and after war. These elders are known. Show me any other part of the world where somebody can kill you, take your cattle and despite being known to security officers – nothing is done against him,'' says Kwonyike.
Kwonyike believes that, although disarmament and forceful takeover of illegal firearms remains the final remedy, it will never be the best solution to cattle rustling.
He believes that the police are not interested in cracking down on the crooks. Their only focus is on their pay perks and allied allowances, he says.
"Cattle rustling is a primitive activity by somebody who has nothing to lose in life. Remember a raider is well trained and possess better weapons, as compared to the police, whose mind juggles between the operation and the family,'' says Kwonyike, "No matter how many soldiers you take to the mountains, unless the government knows the enemy's armoury, it cannot disarm anybody,'' warns the retired military officer.
Baringo North MP, William Cheptumo, thinks that the proliferation of illegal firearms in Kenya, brought in through porous borders, is to blame for runway banditry in the region.
The MP proposes that there should be a proper inventory of former soldiers in the cattle rustling prone areas of Baringo, Turkana, Laikipia and Samburu, amidst perceptions that some of them could be behind the deadly attacks on civilians and security officers.
But Turkana County Commissioner Stephen Ikua remains convinced that the only lasting solution to cattle rustling is ending illegal possession of firearms. All firearms should be registered. He urges residents to surrender any firearms in their possession, or get them to be lawfully registered.
Ikua also recommends proper registration of all guns assigned to National Police Reservists for accountability purposes. He also thinks that their stations of duty should be clearly known.
"The region is full of illegally acquired guns by herders, who feel that the government has not given them adequate protection from their aggressors. The people think that policing the terrain is both difficult and inadequate. Hence they need to own firearms," Ikua observes.
The gun would appear to be a necessity – a survival kit – in these places. The people believe that without one, you are a walking dead man. It is such weapons that Ikua would want to be registered.
*****
Back to the attacks, in 2012, more than 2,000 people were displaced in cattle rustling in the area. Many of the families fled from their homes, near Bartabwa and Kipsaraman areas, along the border of Baringo North and Tiaty.
A number of schools had to be shut down for a period of two years – from 2013 to 2015, as cattle rustlers reigned, roaming the villages in Baringo South and North Constituencies.
During the same period, 17 people were killed, the more reason why most of them fled and were reluctant to return, despite numerous government efforts to have them go back and start their lives a fresh.
*****
So who is really behind this mayhem?
After the infamous Kapedo attack, the names of several senior police officers in the then Rift Valley Province were featured ingloriosly. A link of sorts was made between them and the dastardly killings. Could they have been involved? Could they be still involved? In a situation where nothing has been done – and nothing appears like it will be done – what stops them from doing it again and again?
The suspects included a provincial police boss who was later interdicted, a very senior officer in the Anti Stock Theft Unit (ASTU), who was suspended, and an officer who has commanded the police division of Njoro. And a haughty, criminal police impositor, Joshua Waiganjo.
Also mentioned was a former Commissioner of Police. The validity of these mentions remains in the balance, however. Apart from their separation from the disciplined forces, nothing more has been done.
If indeed these people were involved, nothing stops them from carrying on with these activities, for they remain free people – with all the time to plan and carry out further raids and killings.
One question remains. Could we be dealing with a very powerful enemy from within? Is it possible that rogue elements from among those who are supposed to protect the people have turned their guns against them?
How do we explain the ugly killing of youthful police officers in Kapedo, an exercise that was carried out with the precision of expert marksmen?
Security camps everywhere, but no peace for residents
When 21 police officers were slaughtered in Kasarani Plains in Kapedo Baringo County, exactly three years after a similar assault had been directed at security officers, the Government – for the first time in the country's history – deployed the military to pursue bandits behind the assault.