Uhuru asks EU to relax loans terms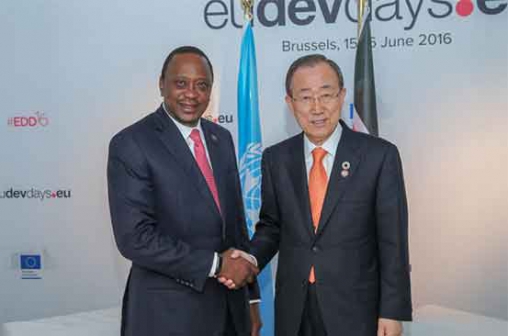 President Uhuru Kenyatta has urged the European Union (EU) to review loan conditions to allow small enterprises to access loans.
Uhuru, while delivering his keynote address at the 10th Edition of the European Development Day in Brussels, Belgium yesterday, emphasised the need to boost start-ups and small micro-economic enterprises (SMEs).
He recognised the role of women in leadership and Kenya's effort to meet the one-third gender rule.
The Head of State emphasised the importance of collective efforts in addressing global terror and its financing channels.
On trade, the President said the European Development Fund (EDF) has been faced with various hurdles and challenges that have contributed to its low uptake in some of the member states and it's a matter that should be addressed.
He said Kenya was willing to step out of the historical roles that the economies have played as suppliers of commodities and raw mineral resources to ensure this is realised.
"We are ready to speak about the impediments to this fund. We call for a review of some of the conditions. We are keen as a country to see it succeeds, even if it means going out of our historical roles," Uhuru said.
Uhuru, who joined global leaders including United Nations Secretary General Ban Ki Moon, EU President Jean Claude Juncker and World Bank Group President Jim Yong Kim said Kenya would benefit immensely if some conditions are lifted.
"Kenya as the largest economy in eastern Africa and has the best business environment coupled with sophisticated financial, legal and physical infrastructure. I welcome you all to come and share in our development prospects," he told investors at the EU meeting.