President Uhuru Kenyatta meets UN Security Council on Daadab closure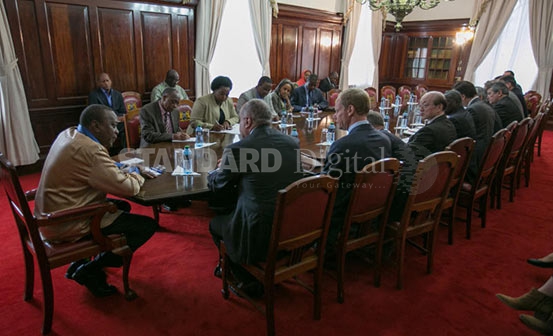 President Uhuru Kenyatta yesterday told a United Nations Security Council team that the Government's decision to close the Dadaab refugee camp was as a result of national security concerns.
During a meeting a State House, the President and the UN team discussed the African Union Mission to Somalia, where troops contributed by Kenya, Uganda, Burundi, Djibouti, Ethiopia and Sierra Leone are fighting the Al Shabaab militia.
Uhuru and the diplomats from the 15–member Security Council, led by their president who is also the Egyptian envoy to the UN Alexis Lamek, discussed the impending repatriation of refugees as well as the general situation in Somalia.
Despite mixed reactions from various institutions and the international community over the impact of the camp's closure, Uhuru maintained the decision was informed by insecurity posed by militants.
"The main reason for closing the camp and repatriating the refugees is the security risk posed to the country by Al-Shabaab radicals, who have mixed with the refugees.
The government recently formed a 14-member taskforce – the National Taskforce on Repatriation of Refugees – whose role is to develop modalities, timelines and costs for the repatriation of refugees in Kenya.
The body was also tasked with the setting up of refugee management and control strategies during the period of repatriation.
But activists led by American actress and special envoy of the UN High Commissioner for Refugees Angelina Jolie Pitt have expressed their reservations over the camp's closure, arguing there is no proof that terrorists come from the camp.
The talks come as a follow-up to UN Secretary-General Ban Ki-Moon's call to President Kenyatta, asking him not to shut down the camp.
The meeting comes at a time the president and his deputy William Ruto have embarked on a three-day tour of the North Eastern region, which often bears the brunt of Al Shabaab attacks.