Kenya fights US push to blacklist its airspace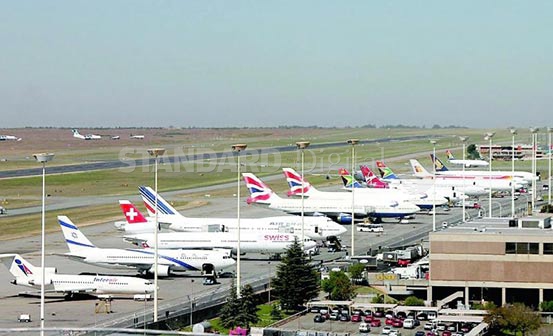 Kenya could be cut off from the rest of the world – and its economy devasted – if an ongoing campaign by the United States against the country's airspace wins global aviation support.
Key organs of the government concerned with air transport have for the past five months been locked in a frantic diplomatic battle to prevent
Kenya's airspace from being declared a conflict zone.
The campaign by the US Federal Aviation Administration (FAA) – without making known to Nairobi why it considers the country's airspace insecure – would result in most airlines discontinuing their flights to Kenyan airports.
The move would not only destroy the country's Sh586 billion tourism and horticulture industries, but would also cripple most air transportation to and from Kenya, isolating East Africa's biggest economy from the rest of the world. Kenya's Gross Domestic Product (GDP) is estimated at Sh4.76 trillion (about $55 billion). The country has already overtaken three African countries — Ethiopia, Ghana and Tunisia — to enter a World Bank table of the Top Ten economies in Africa.
Approximately 40 airlines operate from JKIA. The total contribution of travel and tourism to the country's economy is approximately Sh561.8 billion while horticultural products contribute approximately Sh25 billion to the economy per year.
Should the US government refuse to withdraw the application and in case ICAO admits it, Kenya will bear heavy economic consequences given that international airlines will avoid its airspace.
Over 10,000 passengers pass through JKIA on transit to various destinations every day. Thousands tonnes of cargo also passes through the airport daily, given that Kenya is a prominent horticultural hub.
The move could jeopardise the anticipated introduction of direct flights from Kenya to the US.
Said the Transport Ministry in a briefing paper: "Entry into the Conflict Zone Information Repository (a list of countries with insecure airspace) will have negative implications for Kenya because no state would wish their carriers to operate in airspace that is considered to be dangerous for aircraft."
It all started with a surprise application on February 25 by the FAA — the agency which regulates America's aviation industry — to the International Civil Aviation Organisation (ICAO) seeking to have Kenya entered into the Conflict Zone Information Repository
According to experts, 'Conflict Zones' refer to airspace over areas where "armed conflict is occurring or is likely to occur between militarised parties."
Dire consequences
It is also includes airspace over areas where there is a heightened state of military alert or tension which might endanger civil aircraft.
Countries currently on the list include Afghanistan, Egypt, Iraq, Libya, Pakistan and Saudi Arabia. Others are Somalia, South Sudan, Sudan, Syria, Ukraine and Yemen.
The notice sent shock waves through President Kenyatta's government, with the Transport Ministry warning of dire consequences to the country's economy and connections to the rest of the world.
In a briefing to Foreign Affairs Cabinet Secretary Amina Mohamed, the Ministry pointed out that if the application succeeds, most international airlines would avoid Kenyan airspace.
"This would force some carriers to cease operations in Kenya until such a condition is contained. The economic impact for the country would be enormously severe as tourism and trade would suffer immensely," it said.
But yesterday, Transport Cabinet Secretary James Macharia sought to play down the issue, saying negotiations were underway to resolve the matter.
"There is no cause for alarm. We are consulting at the highest levels. As we speak discussions are ongoing in Montreal at ICAO, where we are well represented," he said.
Here in Kenya, Ministry officials have been locked in frantic negotiation with US embassy officials in what is clearly a diplomatic crisis.
On February 25, the US Embassy Economic Counsellor called a meeting with Ministry of Transport officials to receive what the US Embassy described as "important information regarding Kenya".
The Kenyans were told that the US government, through the FAA, was about to issue a Notice to Airmen (NOTAM) on its website announcing that all US carriers, US-registered aircraft and pilot crew were to exercise caution when flying "into or out of and within Kenya Airspace."
CS James Macharia was immediately alerted. He wrote to his Foreign Affairs counterpart, protesting against the application, saying no such threat existed in Kenya.
The next day, however, Washington made good its threat and the notice was published on the FAA website.
On April 12, KCAA Director-General Gilbert Kibe, while attending a meeting in Montreal, received an email to the effect that US had already written to the International Civil Aviation Organisation requesting them to place Kenya on the list of states with militarily insecure airspace.
Kenya was given 72 hours to respond to the US's application. It sent a strongly-worded protest letter to ICAO. A Kenyan delegation led by Mr Kibe also visited the ICAO President and separately had a meeting with the African Group, made up of 52 states to discuss the matter.
The result of their lobbying was an offer by the US to abandon the campaign if Kenya voluntarily issued a notice to all carriers, foreign registered aircraft and pilot crew that its airspace was militarily unsafe and that they should be careful when flying below 26,000ft.
Apparently baffled by the reasons for the US action, Kenya asked for any information Washington had that its airspace was insecure or evidence of threats to aviation interests within its borders.
Instead on the evening of May 4, America's ICAO representative called the Kenya representative and informed her that Washington would the next day enforce the push for Kenya's blacklisting.