What next for South Sudan if Machar fails to honour deadline?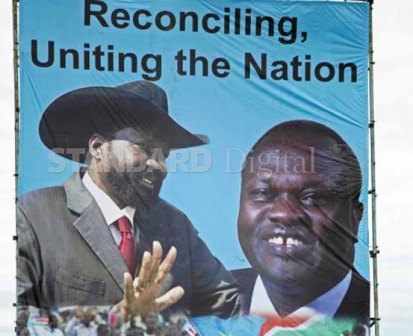 An international committee tasked with ensuring warring South Sudan parties adhere to the latest peace deal has given Dr Riek Machar today as the deadline to take up his post as the country's first vice president.
The Joint Monitoring and Evaluation Commission (JMEC) for the agreement on the resolution of the conflict in the Republic of South Sudan on Thursday night set the deadline for Machar, whose homecoming has been postponed several times, even after persuasion from the United Nation's chief Ban Ki Moon.
"Maintaining a spirit of cooperation will be crucial as the country's leaders begin the work of reversing the years of destruction this conflict has brought upon the people of South Sudan," the UN Secretary General said in a statement on Friday.
The UN boss said Machar should return to Juba "without further conditions which could jeopardise the fragile peace process and prolong the suffering of the South Sudanese people."
South Sudan has once again found itself in a seemingly inescapable rut. Another teasing moment for a citizenry battered, bruised and nearly defeated by civil war has petered out in unclear circumstances as Machar fails to honour his end of the August 2015 agreement that remains the only hope for peace in South Sudan.
Ceasefire agreement
Machar's absence and an almost continuous push and pull between the two rival factions threaten to sink the world's youngest country even deeper into conflict.
But what exactly hails this nation and is there any hope left for its 11 million citizens trying to rebuild their lives after decades of a secessionist war?
Take a quick survey and help us improve our website!
Take a survey
"If he doesn't honour this deadline then we hope JMEC will expunge him from South Sudan affairs and declare him a negative force," Jimmy Deng, South Sudan Ambassador to Kenya, told The Standard on Sunday.
Juba thinks Machar is deliberately delaying his arrival in Juba to further his own agenda. In early February, South Sudan President Salvar Kiir reinstated his one-time ally turned foe as the country's vice president to end the nation's bloody civil war.
This happened soon after a United Nations Monitoring report highlighted atrocities committed by troops loyal to both Kiir and Machar in a conflict that has been running since 2013. A subsequent agreement between the two factions, Agreement on The Resolution of Conflict in South Sudan (ARCISS), was agreed upon in principal in August 2015.
Within the agreement was a ceasefire clause that none of the two factions adhered to.
However, after a round of sanctions by the international community, hostilities between the two faded out and Machar agreed to take up his vice president slot in Juba. His highly anticipated arrival was slotted for April 18. Machar, who many believed holds half of the key to a peaceful South Sudan, was a no-show.
"Machar has a hidden agenda in all this. Why then would he be asking for things which were not in the agreement? As government we have made all the concessions we can but he keeps asking for more. Machar is holding back the peace process," Amb Deng said.
The ambassador also said Machar was single-handedly holding the nation hostage. But the Machar factions term all these as allegations.
"The SPLM/SPLA in opposition is not launching any unwarranted fresh initiatives that have the effect of further delaying his return as purported by the government of Southern Sudan. The SPLM/SPLA in opposition is in fact in full conformity with the agreement on the resolution of the conflict in South Sudan," a statement from the opposition reads.
According to the statement, a government decision that only 195 troops accompany Dr Machar and that there are forces already in Juba and hence there is no need for further support arms to be brought by the 195 military personnel is not only in bad faith, but would also be a violation of the ARCISS.
"There is no truth in this. We have even allowed him to come in with the additional troops. But he has come up with yet another demand. He says he wants his chief of general staff to fly to Juba before him. We are waiting to see if this will happen," Amb Deng said, adding that Machar wants to walk into Juba with laser guided missiles and tanks.
"What would he possible want these for? And what message would he passing to the people who will witness his march? Our citizens will think we are gearing up for war."
For South Sudan's neighbouring countries though, a lot more than the constant bickering between the former allies is at stake. Future projects dependent on an elusive peace hang on the balance.
In March, after being shunned because of internal strife, South Sudan was accepted into the East African Community, making it the newest member of the group formerly made up of Uganda, Kenya, Tanzania, Rwanda and Burundi.
South Sudan gained its independence from the Republic of Sudan in mid-2011, but only two years later a political split threw the country back into a civil war. Leaders from nearly all EAC countries have played a role in the peace talks between President Kiir and Machar.
As member states voted to let the country into the fold, the country's vice president James Wani Igga said his country's joining was of much more significance.
"South Sudan's membership of EAC is not strictly on economic benefits but has historical significance. EAC is where we belong," Igga said during the 17th ordinary Summit of EAC Heads of States held in Arusha, Tanzania.
Broken promises
For example, the success of Kenya's infrastructure project, Lamu Port-South Sudan-Ethiopia-Transport (Lapsett), pegged almost all its hope on access to a politically stable South Sudan. The absence of peace in Kenya's North Western neighbour further complicates growth ambitions for Eastern Africa's largest economy. And those charged with ensuring peace in the country might be running out of patience.
"It is now vital that the First Vice President-designate returns to Juba and the Transitional Government of National Unity is formed immediately upon his arrival. No further delay is tolerable," JMEC chairperson and former Botswana President Festus Mogae said on Friday.
South Sudan's journey towards peace is littered with numerous unmet deadlines and dishonoured agreements. At the centre of all these broken promises remain a people confined to a life of war, turmoil and untold suffering.