Largest ship docks at Mombasa Port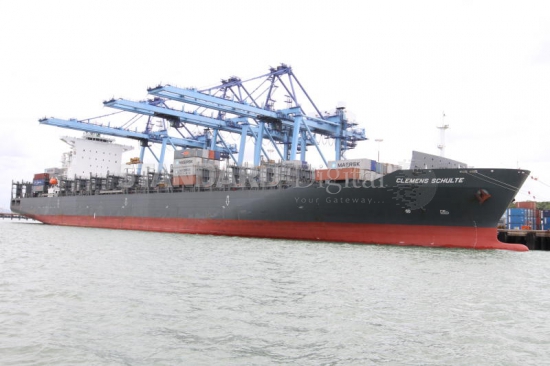 Hundreds of delighted Mombasa residents lined up at the Likoni ferry crossing to witness firsthand the massive MV Clemens Schulte as it safely sailed up the channel and docked at the Kilindini harbour.
Shipping industry players and Mombasa port workers gathered at the quayside said this was the largest cargo ship to call at the port. With a capacity to carry 5,466 containers (twenty foot equivalent units or Teus), the vessel can hold 3,484 teus on its 10-tier deck and another 1,982 on its eight-tier hold. The ship also has seven structured cargo holds and 650 reefer sockets.
Several ship-to-shore gantry cranes were deployed to discharge containers from the vessel. Chartered by Maersk Shipping Line, the vessel has a declared draft of 13.9 metres, 255 metres of length and 37.3 metres breadth.
Kenya Ports Authority (KPA) Managing Director Gichiri Ndua handed its Russian captain Cladislav Borisovsky certificate of first at the port.
"The vessel has called here to discharge 1,710 teus and load another 3,505 teus, making a total of 5,215 moves in and out," said Mr Ndua.
Maersk Shipping Line operations manager John Radier said the vessel sailed to Mombasa from the port of Salalah in Oman on its way to the port of Dar es Salaam. As the economies of the region expand, more such vessels will find their way in regional ports, he noted.