Former Pharmacy and Poisons Board members reinstated in move that overrules Health CS Macharia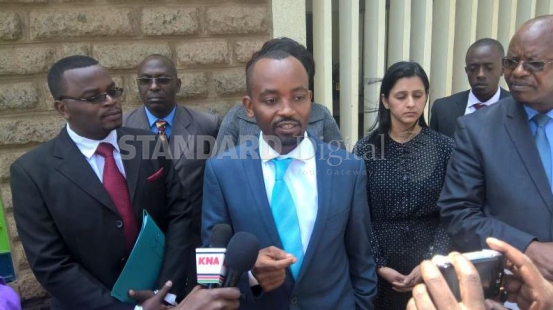 The High Court has halted appointments to the Pharmacy and Poisons Board by Health Cabinet Secretary James Macharia and reinstated former board members.
Justice George Odunga said the court had established there is a case and issued temporary orders reinstating the board, which has not been in operation for the last seven months.
Justice Odunga granted the order pending hearing and determination of the suit, and halted any further appointments to the board until the judicial review interprets the statute that regulates the appointments.
"This court is convinced that the applicant has proved a case against the respondent, and directs that a substantive motion be filed within three days," said the judge.
The Pharmaceutical Society of Kenya (PSK) had moved to court under a certificate of urgency, arguing that process of making the appointments of and to the Pharmacy and Poisons Board by the Health CS was irregular and contrary to the law.
The society wants the court to direct and compel Mr Macharia to appoint to the board by publishing the names submitted by PSK, as per their letter dated June 8, 2015.
Through lawyer Boniface Akusala, PSK told the court that Health CS had acted unlawfully by threatening to contravene the provisions of the Pharmacy and Poisons Act, by writing to PSK through the applicant (Dr Paul Mwaniki) requiring them to perpetuate an assault to the law.
Public interest
"The current board should come to existence after the formers term has expired, and act on an interim basis awaiting a new board to be constituted in accordance with the law," Akusala said.
Akusala told the court the recent appointments to the board by the Health CS has raised confusion within the pharmaceutical industry, while the interests of the public lie in jeopardy.
Mr Macharia on Wednesday rejected names submitted to him for appointment to the board for the third time by the PSK chairperson Paul Mwaniki, in a move that has heightened the stand-off between the two institutions.
In a letter to Dr Mwaniki, the Health CS said he rejected the latest list of five names because he wants at least 16 names from various sectors to choose from, rather than hand-picked names.
On March 6th, Mwaniki submitted 4 names, including himself, Dr Jennifer Orwa, Dr Sara Agak and Dr Joseph Oluoch. On 16th March, he again submitted the same names including an addition of Dr Evans Mwangangi. On 8th June, he submitted five names including himself, Dr Agak, Dr Mugi Mureithi, Dr Sarah Vugigi and Prof Isaac Kibwage.
According to the Pharmacy and Poisons Board Act, the CS is required to appoint four pharmacists to the board from a list of names submitted by PSK.