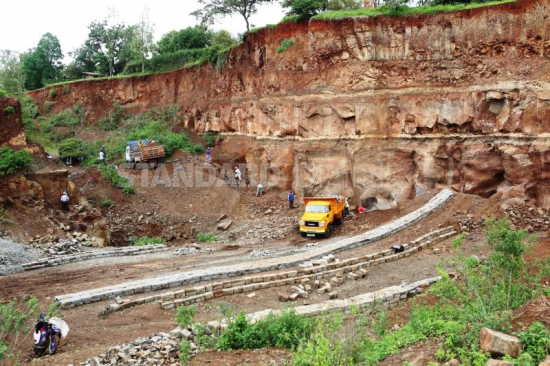 NYERI: Chaka area of Kieni East, Nyeri County, has recently been in the spotlight for having lost the highest number of quarry workers to attacks by the Al-Shabaab jihadists in the former North Eastern Province.
In the past six months, 32 people from the area have been killed by militants. Most of those killed have been in their prime, aged between 27 and 40.
A drive through Kieni East reveals many abandoned quarries that used to provide jobs for youths until they were closed some years ago due to massive environmental degradation and low uneconomical yields.
Even though part of the sub-county has the potential to boost agricultural production, another part is semi-arid and rocky, making it only suitable for stone harvesting and other mining-related activities.
Many young people who fail to further their education or secure formal jobs after secondary school venture into quarry work, which is especially common in Kiganjo and Chaka.
Nancy Mureithi, a resident of Kieni, says most of the young men are desperate to earn a living, so when the slightest opportunity arises, they do not consider the risks.
This, she says, explains why many end up working in quarries in the former North Eastern Province, parts of which have been targeted by terrorists in the past.
In addition, to ready job opportunities, the pay is almost three times as much as they were getting in the abandoned Chaka mines.
It is this migration that William Ndung'u from Gathathi Village in Chaka blames for the loss of his second-born son on July 7.
When Ndung'u received a telephone call from another of his sons at around 1 am that Tuesday, he thought he was having a bad dream.
But his wife, Joyce Muthoni, confirmed she had also received the news that their son had been killed after terrorists invaded their home in the outskirts of Mandera town.
Ndung'u says that his son, Zachary Wambugu had indicated that he was keen to move to Mandera some months back—and this interest became more pronounced after he separated with his wife who left him with a 13-year-old daughter.
Wambugu disregarded his father's counsel and secretly left for the northern Kenya county, only informing the family of his whereabouts a few days after he got to Mandera.
"I knew I had to let him chart his destiny as he was desperate for a job that would provide a stable income and enable him pay school fees for his daughter who is in Class Eight," says Ndung'u. Wambugu was not that only one who had been warned about potential job risk in Mandera.
Elizabeth Mwihaki, the sister of Joseph Wahome, another of the victims, says she had warned her brother against going to Mandera following the attack in the same county that targeted non-Muslims in December last year.
"My brother refused to heed my advice, and said he needed to make money to support his young family," Mwihaki recalls.
Like Wambugu and Wahome, many other young men desperate for a job, have been attracted by the prospects in Mandera.
"They leave the area secretly for fear of being dissuaded. They only reveal their whereabouts after they have settled down to work," Patrick Maina, another resident, says.
"The closure of local mines rendered them jobless and unable to support their young families."
John Mwangi, a former quarry worker, says the higher pay is a major motivator.
"In Mandera, quarry workers earn Sh30 for digging one foot of dressed stone compared to Sh8 paid in Chaka, where I used to work," Mwangi points out.
One quarry worker says he is lucky to be alive.
Mwangi and his friend Francis Wamae, had to cut short their journey in Isiolo on their way to Mandera when they heard about the attacks. Had they traveled earlier, they may have been among the casualties.
"I'm lucky to be alive. Had it not been for the few days that I decided to spend with my family, I may have died since we used to share a room with five of the victims," Wamae says.
In December last year, grief engulfed the neighbouring villages of Gatie, Ndiriti and Kiganjo after 16 of the 36 quarry workers were killed in Mandera's Koromey quarry.
Earlier this month, Marete Ringera of Narumoru Ward told the House that the continued killing of young people from Nyeri had raised questions about the government's ability to protect its citizens.