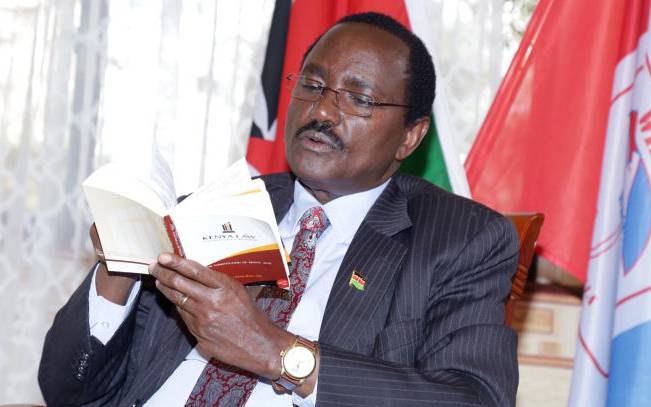 In the words of Harry Gray, an American business manager, "no one ever achieved greatness by playing it safe." Kalonzo Musyoka is the SI unit of this dictum. When he came to the scene, there was no better educated, focused and promising political gryphon in Ukambani. But let's now dissect the fall and fall of the lion of Ukambani.
He was panoplied in political grace—an unmerited favour from political transcendence. He became a Member of Parliament at 32 in a by-election when the Kitui North seat fell vacant in 1985, a seat he had failed to clinch in a general election only two years before.
He rose to become the tenth vice president of Kenya and a presidential contestant in 2007. In 2005, he was the preferred presidential candidate in Kenya. So, when did Kalonzo's star start dimming? As at 2005, the political heavens trumpeted that they knew his handsomeness, eloquence and acceptability in the four corners of Kenya. But, he had this weakness: he was neither cold nor hot. The gods wished he were either! So, because he was
lukewarm, they planned to spit him out of political consequence — and it came to pass.
I'm aware he's still the darling of Ukambani; a dalliance that might end soon as leaders like progressive Kivutha Kibwana, political PR pundit Alfred Mutua and transformative Kaluki Ngilu continue to dwarf his legacy in the region.
It all started in 2005 when ODM (not the party) that led the NO campaigns against the Draft Constitution, was birthed. It was then that opinion polling became popular in Kenya. Steadman, accurately predicted that ODM would fell the draft, which Kibaki supported. After the referendum, the opinion polling turned to the then imminent 2007 elections. The big question was who would be the likely winner of the 2007 presidential election. The polls serially projected that Kalonzo, was the preferred candidate, defeating Raila Odinga, President Kibaki and others.
Read More
The opinion polling exposed Kalonzo's Josephine dream to political jealousy. Not realising it, he continued to celebrate his dream exposed on how his political sheaths would be privileged after 2007 General Election. He was deceived!
Not long, the ODM guild thinned. Amid the nagging opinion polling, Raila faulted the pollsters, claiming their methodology was based on demeanour, rather than principles. Kalonzo ignored this warning that his geese were being fattened for the pot.
Even when political analysts warned that Raila and a section of ODM were not fair playmates, Kalonzo contradicted them. He continued to treat the political cryptograms normally. However, the ODM led political drives countrywide, and their crevices grew day-by-day.
Kalonzo committed his first political sin mid-August 2007 when it was clear Raila was also eyeing the presidency. With little experience in political trickery, he used Daniel Maanzo, the then chairman and registrant for ODM-K to run with the party original certificate to disadvantage Raila. Maanzo later kinged Kalonzo as the party presidential candidate for 2007. It was a grievous miscalculation.
The scheming Raila acquired ODM Party from Gitobu Imanyara and quickly marshalled the pentagon with political heavyweights like William Ruto, Musalia Mudavadi, Najib Balala, Joseph Nyaga and Charity Ngilu. Kalonzo was left to wallow in the political orphanage with a semblance of a kingmaker; Julia Ojiambo. Together with a few Ukambani political scions, he vainly tried to resuscitate ODM-K. Still, his geese were ready for a serving — he was no longer balloting ahead of others.
Kalonzo's second political blunder was recorded when he rushed to join Kibaki after the slipshod elections of 2007, supposedly to outstrip Raila, but again, the interpretation weighed heavily against him. As he chest-thumbed that he had 'passed between the two', he was branded an opportunist.
As if that was not enough, after becoming VP, he failed or had no power to nominate Maanzo and Ms Ojiambo in government; an act that further tainted him. Since then, Kalonzo's political career was vexed.
Fast-forward to 2010. Kalonzo supported the Draft Constitution, but his critics alleged he supported the draft during the day and 'NO' in secret. It seemed he played safe still, but he was unfortunate to acquire the moniker watermelon — green outside but red inside.
Kalonzo's final trip to the political hangman came in 2013 when he went back Raila as his running mate under CORD. After losing in the March 4 election, Raila challenged the outcome in the Supreme Court, but Kalonzo missed during the petition. He played safe again.
That's the spewed regency of Kalonzo Musyoka. Can he rise again? All things are possible!
-Dr Ndonye is a political economist of Media and Communication